Before you succumb to another unplanned cheat day, reward yourself with a Paleo-friendly indulgence without any of the guilt. 
Just because you're incorporating more fruits and veggies into your diet, doesn't mean you shouldn't get creative with it. You can actually stay Paleo while satisfying all those hankerings for something sweet and bready.
Read on to discover ways to trick your mind (and tastebuds) into thinking you're having the best cheat day possible!
Why Have a Cheat Day?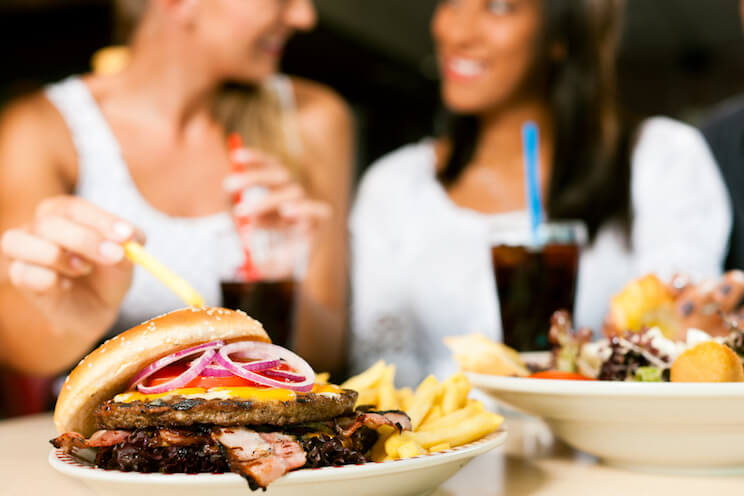 Restricting yourself from certain foods can often be self-defeating. You crave the things you can't have and suddenly work luncheons or restaurant gatherings become too much to handle. The overwhelming sight of carbs, sweets, and everything processed is suddenly inviting you to give in. The more you resist, the more prone you are to making unhealthy decisions later on. So how do we fix this? Do we simply throw caution to the wind with a cheat day?
Want to snack smarter and curb cravings? Click here to get your FREE 25 Healthy Paleo Snacks Cookbook
Not necessarily. The key is figuring out what you enjoy eating most and adjust it to better suit your Paleo needs.
So, let's cover the theory behind a cheat day and why it's been included in nutrition plans to begin with.
---
Top 3 Benefits to a Guilt-Free Cheat Day

1. Thyroid Hormone Output
When in a caloric deficit, underfed individuals produce less T3 and T4–both important thyroid hormones that play roles in the regulation of metabolic rate. A cheat day or strategic overfeed is used in part to increase these hormones.
Consequently, using a paleo approach often (not always) means adhering to a lower carb diet. Low carbs contribute to thyroid down-regulation. So, giving yourself a surge with "paleo approved" carb sources is a much needed kick to mainstream your metabolism's ass.
2. 24-Hour Energy Expenditure
A caloric surplus from a cheat day causes the body to upregulate basal metabolic rate (BMR). Some studies have shown an increase of 9% above baseline, and it's hypothesized that more is possible.
3. Psychological Boost
Finally, there's the psychological benefit of being able to take a day off from your diet; eat whatever you like and be comfortable knowing you'll still get lean. It's hard to quantify how much that actually helps, but the majority of folks who opt to use cheating protocols cite this as one of the most significant benefits. [tweet_quote]Still, psychological benefits shatter by the guilt some people feel from eating outside the Paleo realm.[/tweet_quote]
If this is you, fear not. Everything listed above can be accomplished by taking a Paleo approach. It's a great way to avoid the dreaded gastric upset, inflammation, food allergies and performance inhibitors some people feel when indulging in "junk".
Accordingly, the following recipes are some of our "go-to" dishes to help bump that carb and calorie count, while staying "clean" throughout the process. So, feel free to eat big, feel good, and achieve results.
Banana Cake Recipe with Dreamy Coconut Frosting
Courtney Hamilton
Banana Cake Recipe with Dreamy Coconut Frosting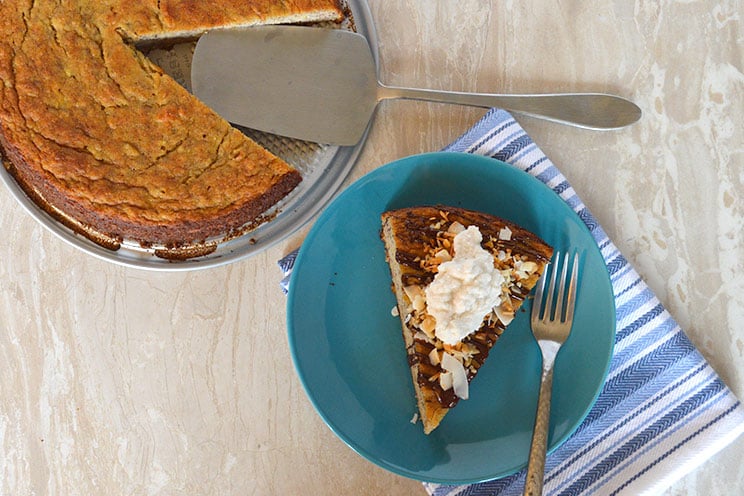 Cook Time:
40 mins
40 minutes
Prep Time:
15 mins
15 minutes
Banana Cake Recipe with Dreamy Coconut Frosting
Banana cake made with grain-free almond flour and topped with heavenly coconut frosting.
Tools
Stand mixer

Large bowl

9-inch cake pan
Instructions
Preheat oven to 350°F. In a large bowl or stand mixer, beat together bananas, eggs, coconut oil, maple syrup and vanilla extract until light and fluffy.

Using a separate bowl, sift together almond flour, baking powder and baking soda. Beat dry ingredients into wet.

Grease a 9-inch cake pan with coconut oil. Pour batter in and bake for 40 to 45 minutes, until an inserted toothpick comes out dry.

While cake bakes, whip together coconut cream and maple syrup with beaters on medium speed, until it forms stiff peaks. Chill frosting in the fridge.

When cake has completely cooled, frost it or dole out individual portions of frosting per slice.
No-Bake Superfood Sweet Potato Donut
Jennafer Ashley
No-Bake Superfood Sweet Potato Donut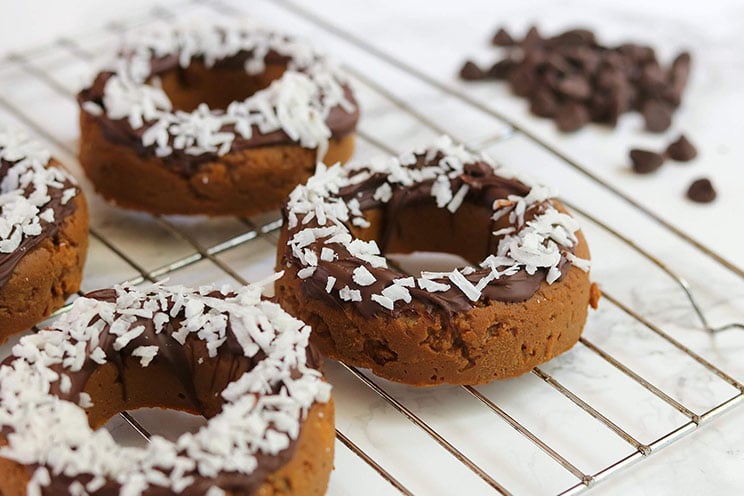 Cook Time:
2 hrs 20 mins
2 hours 20 minutes
Prep Time:
10 mins
10 minutes
No-Bake Superfood Sweet Potato Donut
Who knew donuts could be a superfood? Packed with turmeric, sweet potatoes, coconut oil and antioxidant dark chocolate, these no-bake donuts are the ultimate Paleo treat!
Tools
Small pot

Double boiler

Large bowl

Silicone donut molds

Baking sheet

Parchment paper
Instructions
Cut sweet potato into large chunks and place in a small pot with enough water to cover. Bring to a low boil and cook until fork tender, about 15 minutes. In the meantime, melt coconut oil and dark chocolate over a double boiler. Drain and mash potato in a large bowl.

Pour in melted chocolate-coconut oil mixture and stir well. Stir in maple syrup, almond meal, turmeric and black pepper.

Spoon mixture into silicone donut molds. Use the back of a spoon to smooth evenly. Place in refrigerator for 2 hours.

Melt dark chocolate over a double boiler. Line a baking sheet with parchment paper. Gently pop donuts out of molds and top with dark chocolate. Sprinkle with coconut and set on wax paper 30 minutes to allow chocolate to set. Store in a dry spot.
Almond Butter Cup Cookies Recipe
Diana Keuilian
Almond Butter Cup Cookies Recipe

Cook Time:
10 mins
10 minutes
Prep Time:
10 mins
10 minutes
Almond Butter Cup Cookies Recipe
Coconut and dark chocolate? There's no way you can't love these delectable treats.
Ingredients
1 cup almond butter

½ cup coconut crystals

1 t vanilla extract

¼ t almond extract

2 eggs

½ cup blanched almond flour

2 T coconut flour

¼ t salt

1 cup dark chocolate
Instructions
Preheat the oven to 350°F. Lightly grease a baking sheet with coconut oil.

In a medium bowl combine the almond butter, coconut crystals, vanilla and almond extracts, and eggs.

Using another bowl combine the almond flour, coconut flour and salt. Add the dry ingredients to the wet ones.

With golf ball-sized pieces of dough, form each cookie into the shape of a peanut butter cup. Place on prepared baking sheet and bake for 10-12 minutes, until golden. Allow to cool and then chill in the fridge for 30 minutes.

With a double boiler, gently melt the chocolate over low heat. Allow to cool for 15 minutes then pour over the tops of the cooled cookies. Place in the freezer for 30 minutes or until the chocolate is solid.
Paleo Cauliflower Bagel recipe
Felicia Lim
Paleo Cauliflower Bagel Recipe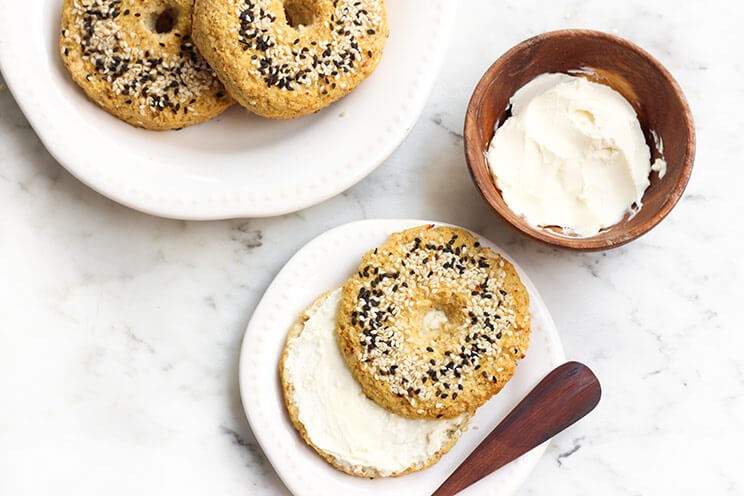 Cook Time:
20 mins
20 minutes
Prep Time:
20 mins
20 minutes
Paleo Cauliflower Bagel Recipe
These Paleo Cauliflower Bagels make an amazing gluten-free alternative to wheat bagels.
Tools
Baking sheet

Parchment paper

Blender

Large skillet

Medium bowl
Ingredients
1 head small cauliflower (sliced into chunks)

1 T coconut oil

2 large eggs (beaten)

1 t apple cider vinegar

2 T almond flour

1 t tapioca starch

1½ t unsweetened shredded coconut

1 t baking powder

½ t garlic powder

Black and white sesame seeds (for topping)
Instructions
Preheat oven to 400°F. Line a baking sheet with parchment paper or a silpat.

In a blender, blend the cauliflower pieces in small batches until you get a rice-like texture (also known as "cauliflower rice").

In a large skillet over low heat, sauté the cauliflower rice until it's lost almost all of its moisture, but it's still not browned. (This process will take about 10 minutes.) To prevent the cauliflower rice from burning, continue stirring.

Place the cooked cauliflower rice in a medium bowl. Add coconut oil, eggs, apple cider vinegar, almond flour, tapioca starch, unsweetened shredded coconut, baking powder, and garlic powder. Mix well to combine.

Form 4 baseball-sized balls of the cauliflower mixture. Compact each ball by squeezing out as much moisture as possible. Place the balls at least 3" apart on the prepared baking sheet.

Flatten the balls and poke a hole in the center of each ball with your finger.

Sprinkle the tops of each bagel with black and white sesame seeds.

Bake for 15 to 20 minutes, until the bagels are golden brown on the edges.

Serve the bagels warm. Store in an airtight container in the refrigerator for up to 3 days.

(Read this Next: Rest Days: You're Biggest Mistake When You Get Hurt)