Serotonin and GABA help stabilize the brain and keep us balanced. When levels get out of whack, scary side effects can occur. Here's how to battle them.
When most people think of stress, insomnia, or depression, they think about circumstances in their lives that might be causing them. But in many cases, underlying neurotransmitter imbalances can be fueling these problems. Sometimes they develop as a result of chronic stress, genetics, or nutrient deficiencies.
Understanding the teeter-totter balance of neurotransmitters can be an essential step in resolving chronic conditions like anxiety, sleep problems, depression, and more. Here's what you need to know about two important neurotransmitters – GABA and serotonin.
Struggling to lose weight? Unable to focus? Chances are, your hormones are out of whack.
Grab Our FREE Guide To Fixing Your Hormones By Clicking Here!
What Are GABA and Serotonin?
GABA, short for gamma-aminobutyric acid, and serotonin are neurotransmitters that help to send messages between the brain and the nervous system. Neurotransmitters are chemical messengers and are required for a well-functioning body and good mental health. There are both inhibitory and excitatory neurotransmitters, and both are needed in a balance referred to as homeostasis.
Serotonin and GABA are inhibitory neurotransmitters that provide stability to dopamine, which functions as both an inhibitory and excitatory neurotransmitter. When there isn't enough serotonin or GABA, dopamine can be excessively produced in response to outward stimuli (like sugar or other dopamine-boosting addictive behaviors), sending the nervous system out of balance.
Serotonin and GABA are required to bring order to the nervous system, so we aren't always caught in a series of mountains and valleys. (1) Many prescription medications are designed to boost serotonin and GABA in the brain to treat conditions like anxiety, depression, and sleep disorders.
---
10 Symptoms of GABA Deficiency and Low Serotonin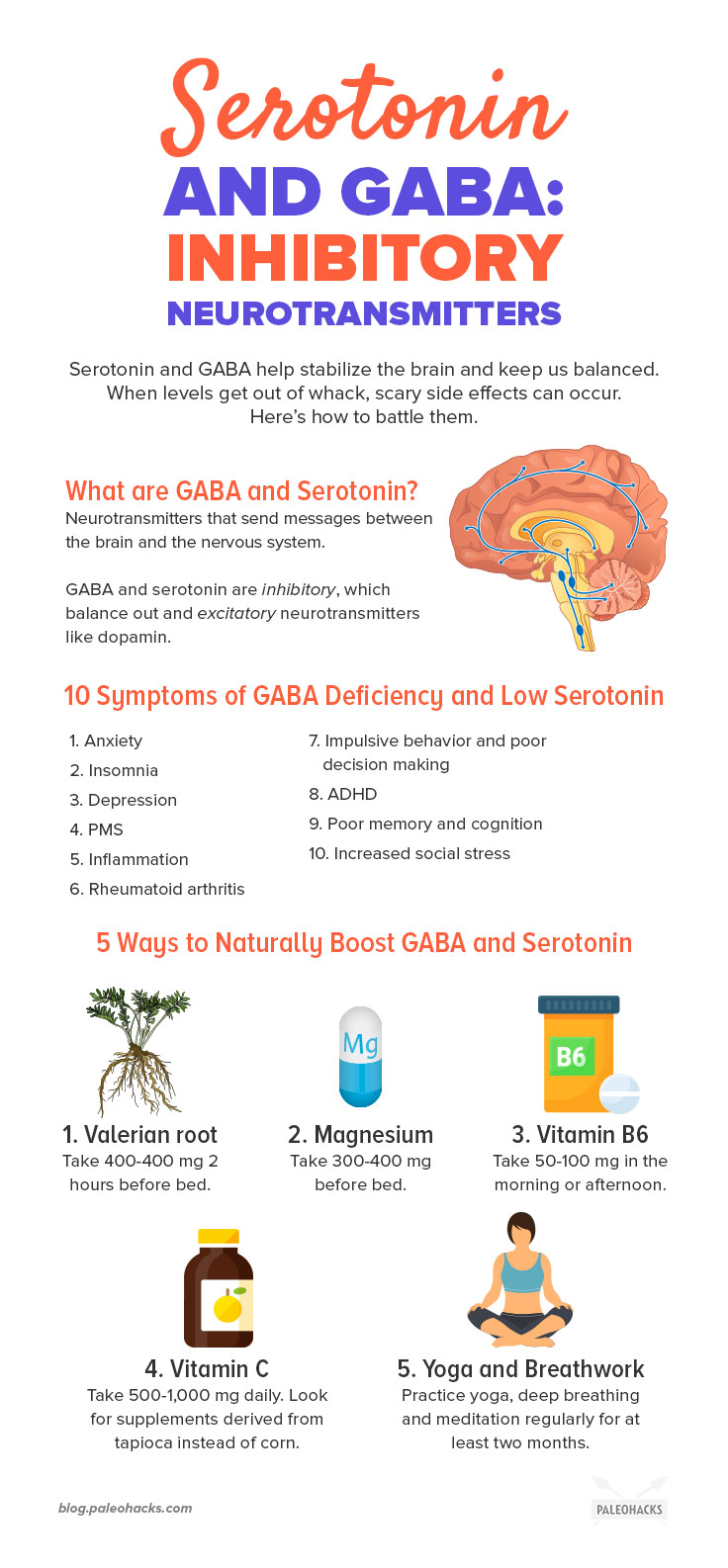 Low levels of neurotransmitters can be an unfortunate side effect from genetics, stress, nutrient depletion, trauma, or lifestyle factors. Regardless of the reason, you're going to feel these low levels nearly everywhere in your body.
Symptoms of GABA deficiency and low serotonin can include:
These aren't the only negative associations with not having enough GABA and serotonin. Without the balancing push-and-pull of inhibitory and excitatory neurotransmitters, the brain and overall nervous system will function in a lopsided fashion, resulting in a feeling of overall imbalance.
---
5 Ways to Naturally Boost GABA and Serotonin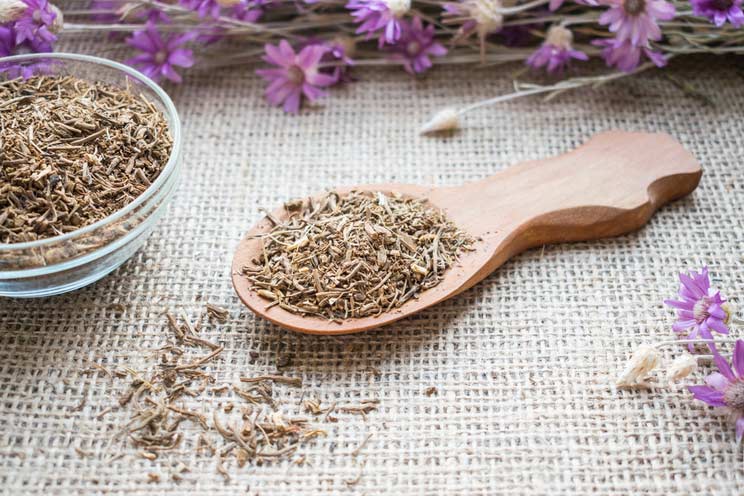 While GABA supplements are on the market, it's best not to supplement directly with GABA. It absorbs poorly, and can come with unwanted side effects.
Instead, opt for more natural supplements to help the body boost its own GABA and serotonin supplies, which will have a more balanced result.
Before trying any of the following supplements, check with your doctor to ensure that there are no interactions with your current medications or health conditions. If your anxiety, depression, or other symptoms are severe, seek professional assistance.
1. Valerian root
An herb that is sometimes used as a sleep aid or anti-anxiety remedy, valerian root can help to increase levels of GABA in the brain and inhibit overstimulated nerve activity. It can also provide relief for severe PMS. (16)
For best results, take valerian root one to two hours before bed. (17) Dosage recommendations range between 400 and 500 milligrams. You may need to wait up to four weeks to see results, since this herbal supplement works slowly to naturally correct GABA levels.
2. Magnesium
An essential nutrient for the function of neurotransmitters, magnesium is also a common mineral deficiency. In fact, anxiety can be a symptom of low magnesium.
Magnesium helps to alleviate symptoms by binding to GABA receptors and helping to increase its activity in the brain. (18)
Magnesium is found in many food sources, especially those that are high in fiber, like broccoli, squash, leafy greens, nuts, and seeds. It's also found in dark chocolate, meat, and coffee. Even so, dietary intake can be low enough to result in nutrient deficiency, and supplementation is often beneficial.
Daily recommended allowances for magnesium are 300 to 400 milligrams for adult men and women, and it's best taken before bed, since it can also promote muscle relaxation and can help to alleviate sleep issues like restless legs.
3. Vitamin B6
The family of B vitamins are well-reputed to help provide calming, stabilizing effects on the brain, nervous system, and body as a whole. B6 in particular can help to produce GABA and is also required for amino acid metabolism. (19) It also helps relieve PMS symptoms and hormonal anxiety. (20)
B6 is naturally found in foods like liver, meat, eggs, and some vegetables. The daily recommended intake is 50 to 100 milligrams, and supplements are best taken in the morning or afternoon.
4. Vitamin C
GABA receptors don't function as they should without adequate levels of vitamin C, a water-soluble vitamin that needs to be replenished daily. (21) While vitamin C is found abundantly in fruits and many vegetables, it's especially rich in broccoli, Brussels sprouts, cauliflower, bell peppers, leafy greens, sweet potatoes, tomatoes, and winter squash.
Because vitamin C functions as an antioxidant within the body, it is needed in higher amounts when the body is under periods of stress, inflammation, or illness. Even a diet high in vitamin C foods may need supplementation to correct or balance a deficiency or depletion. Supplemental amounts can range from 100 milligrams to 2,000, with little side effects.
Most practitioners recommend a daily supplemental dosage of 500 to 1,000 milligrams. Look for supplements of vitamin C that are derived from tapioca instead of corn.
5. Yoga and Breath Work
Serotonin and GABA are both produced in response to movement, especially the calmer, relaxing forms of movement like yoga.
Yoga was found to boost GABA in the brain versus other "relaxing" behaviors, like reading, which didn't alter GABA activity. (22) This means that relaxation itself isn't as important for balancing neurotransmitters as calm, structured physical movement. In order to see improvements in depression and anxiety, practice yoga regularly for at least two months. (23) Deep breathing and meditation on their own can also have beneficial effects on serotonin and GABA levels. (24)
---
The Bottom Line
Serotonin and GABA are stabilizing neurotransmitters needed to keep the body in balance. Try any of the above methods to increase levels, and be sure to get plenty of natural sun exposure and eat a gut-healthy diet for best results. (25, 26)
Read This Next: What Is Cortisol and How to Naturally Lower Levels