Just a cup of Gymnema tea can stop those sweet cravings in their tracks.
If you trying to cut back on sugar or are concerned about your blood sugar, Gymnema can help get you on the right track.
Gymnema sylvestre is a tropical herb hailing from India that has been used in the Ayurvedic system of medicine for over 2,000 years. (1) Its leaves were traditionally used to treat snakebites, malaria, and diabetes.
Suffering from Diabetes or blood sugar imbalance?
Grab our FREE Diabetes Guide & 7 Day Meal Plan here!
Modern research reveals Gymnema to have anti-diabetic and anti-obesity properties, as well as a unique ability to block the taste of sugar on your tongue, making sweet foods less appealing. This is good news for all those sweet cravings!
---
5 Health Benefits of Gymnema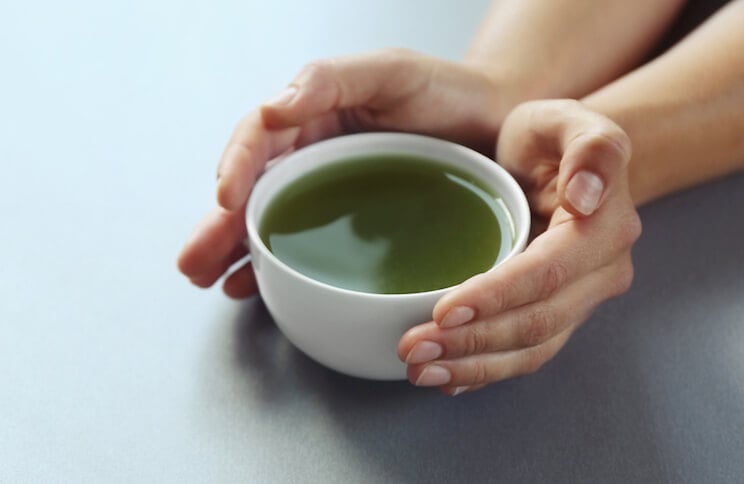 Gymnema's widely studied benefits may be enough to convince you to brew up a nightly cup of tea.
1. Improves Diabetes Symptoms
In Hindi, Gymnema is called gurmar, or "destroyer of sugar". (2) This comes from its unique ability to reduce the symptoms of diabetes, including one of the most important: high blood sugar.
Researchers found that Gymnema lowers blood sugar levels by blocking the absorption of sugar molecules in your intestines. Remember how Gymnema can block the taste of sugar on your tongue? It uses the same process here to stop the absorption of glucose through your intestinal wall and into your bloodstream. (3) Plus, it helps your pancreas release more insulin, the hormone that brings down blood sugar. (4)
Studies show that participants with Type 2 diabetes supplementing with Gymnema, experienced 11 to 15 percent lower glucose levels after eating a meal as well as lowered blood sugar levels over time. This suggests that Gymnema has a long-term blood sugar reducing effect. (5)
2. Promotes Weight Loss
This unique herb also shows promising effects when it comes to weight loss. This is likely because its ability to block sweetness on your tongue results in fewer sugar cravings. (6)
One study found that obese participants taking Gymnema extracts reduced their body weight by 5 to 6 percent while also reducing their overall food intake. (7)
3. Lowers Cholesterol and Cardiovascular Disease Risk
While the majority of studies on Gymnema focus on blood sugar effects, researchers found that it can also help reduce cholesterol and triglyceride levels.
Interestingly, the herb doesn't just lower cholesterol levels overall, but instead reduces "bad" LDL cholesterol levels, while also raising "good" HDL cholesterol by a significant percentage. (8) Another study showed that animals fed Gymnema have lower triglyceride levels. (9)
Since high cholesterol is a risk factor for heart disease, it's likely that Gymnema could also reduce your risk of heart disease. (10)
4. Reduces Cravings
You may be able to take the edge off of your cravings using this herbal extract. Studies show its main active component, gymnemic acid, helps blocks sweet taste bud receptors on your tongue. (11)
It works best when taken right before a meal. In one study, participants that took Gymnema extract before meals exhibited fewer cravings for sweet foods than those who didn't. (12)
5. Calms Inflammation
Sugar and inflammation are closely linked, and studies prove that high sugar intake results in higher markers of inflammation. (13)
Chronic inflammation is a key factor in many health issues such as fatty liver disease, obesity, type 2 diabetes, and arthritis. (14, 15)
Researchers believe that Gymnema can help reduce overall inflammation by blocking excess sugar from entering your bloodstream, which would also stop the inflammatory effect of sugar on your body. (16)
Studies also show that the herb helps regulate your immune response, which controls your inflammation response. (17)
---
How to Take Gymnema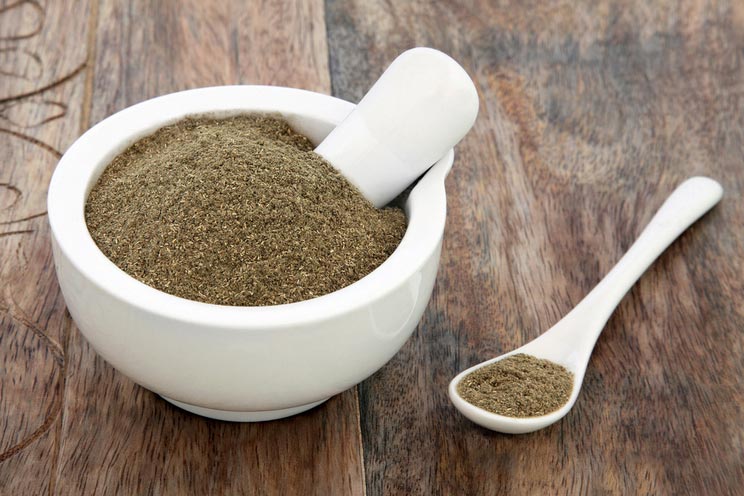 While Gymnema is traditionally consumed as a tea, there are a few other ways you can get your daily dose. (18)
Tea: If you do decide to take the herb as a tea, pour boiling water over the leaves (roughly one to two teaspoons of crushed leaves) and steep for 10 to 15 minutes before drinking.
Powder: Aim for a ½ teaspoon in powder form mixed in water.
Capsules: Take one to three capsules of 100 to 200 mg, divided with meals.
---
Is Gymnema Right for You?
Gymnema is generally regarded as safe for most people, with very minimal side effects. Just be sure to talk to your doctor before taking it if you're pregnant or nursing.
Also, Gymnema should never be used as a replacement for your diabetes medication, so also talk to your doctor before you change up your regular prescription regime.
Side Effects
Gymnema has very few side effects. The main one to watch out for is blood sugar levels that are too low from combining Gymnema with blood sugar-lowering medications.
Be careful not to take Gymnema while on your regular blood sugar-lowering medications (or at least not at the same time), as this can lower your levels too much and cause nausea, dizziness, faintness, and headaches.
When in doubt, talk to your doctor before combining it with any other herb or medication that regulates your blood sugar levels.
---
The Bottom Line
Gymnema has been cherished for thousands of years by ancient cultures for its benefits. Modern research has followed along and discovered its powerful abilities to lower blood sugar, help you lose weight, and even reduce your sweet cravings.
We say give this powerful herb a shot (or a cup of tea) and see how it benefits you.
(Read This Next: 27 High-Fiber Foods to Fight Cravings)