Simmer these Dutch oven chicken thighs with tomatoes and peppers for an easy meal with practically zero prep.
This one-pot Dutch oven chicken recipe comes together in a cinch, and it makes enough to feed an entire family. In less than an hour, you'll have ultra-tender chicken stewed with antioxidant-rich veggies for a healthy meal everyone will adore.
How To Cook The Juiciest Chicken
Dutch ovens are heavy pots that hold heat well, allowing everything inside to cook evenly. In this recipe, chicken drippings meld with more stock and oregano to create a warm sauce that stews the veggies to perfection.
Trying to figure out exactly what to eat on Paleo? Look no further than our FREE 21 Day Paleo Meal Plan.
Grab Our FREE Paleo Meal Plan By Clicking Here!
The key to extra-rich flavor here is browning the chicken thighs in ghee first. This will allow the skin to crisp for better texture. For best results, make sure to use pasture-raised chicken thighs with the skin attached.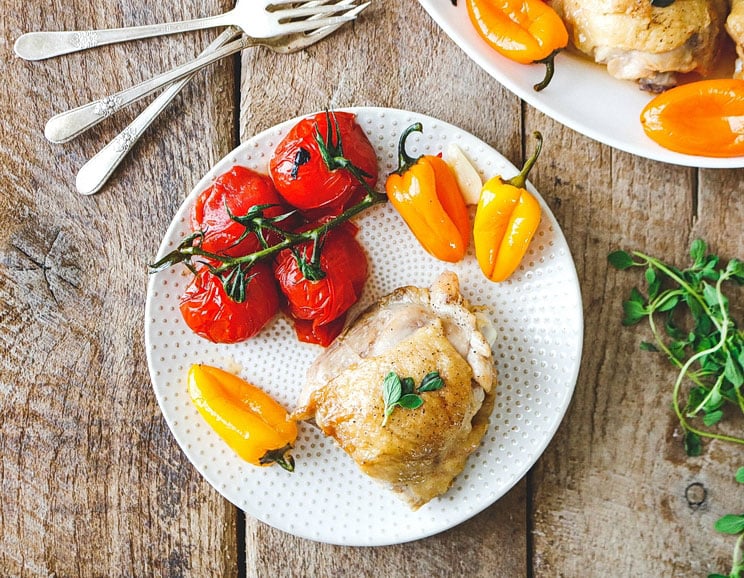 Getting Saucy With Peppers And Tomatoes
To keep this recipe simple and practically prep-free, we used whole sweet mini bell peppers and small Campari tomatoes. Both vegetables add a dose of antioxidants and help tenderize the meat with juicy nutrients (like vitamin C) while lending this dish its signature spicy-sweet flavor.
You can really use small to medium vine tomatoes here, or even loose Roma tomatoes. If you want, try adding some pitted olives or canned artichoke hearts to help complement the acidity of the tomatoes.
If you prefer a thicker sauce, whisk in two teaspoons of arrowroot flour after removing the chicken and veggies from the pot. Allow the sauce to simmer for about four minutes to thicken.
Helpful Tips To Get Started:
Try drumsticks. You don't have to stick with plain chicken thighs. Use other cuts of chicken as well for more variety!
Switch up the herbs. If you don't have oregano, you can use 4 sprigs of fresh thyme or 1 sprig of fresh rosemary.
Store some for later. Refrigerate leftover chicken and veggies in an airtight container for up to two days.
Jennafer Ashley
Dutch Oven Chicken Stewed with Tomatoes and Peppers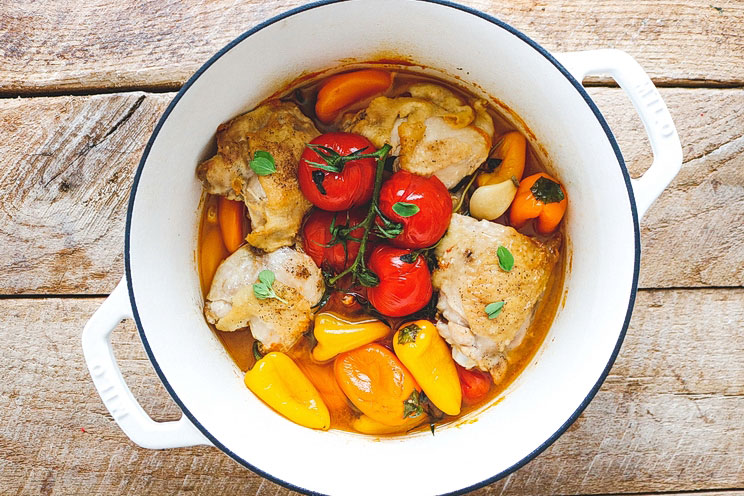 Cook Time:
35 mins
35 minutes
Prep Time:
5 mins
5 minutes
Nutrition facts:
26 grams of protein
16 grams of carbohydrates
14 grams of fat
Dutch Oven Chicken Stewed with Tomatoes and Peppers
Simmer these Dutch oven chicken thighs with tomatoes and peppers for an easy meal with practically zero prep.
Ingredients
4 bone-in chicken thighs

½ t sea salt

¼ t black pepper

1 T ghee

4 cloves garlic

1 cup chicken stock

2 sprigs fresh oregano

2 cups mini bell peppers

10 Campari tomatoes
Instructions
Blot the chicken thighs dry with a paper towel and season the skin with salt and pepper.

Heat the ghee over medium-high heat in a Dutch oven for 3 minutes.

Place the chicken thighs onto the pan, skin side down, and brown for 5 minutes on each side. Set the chicken thighs aside on a plate.

Add the garlic and chicken stock to the pan. Use a wooden spatula to scrape up any brown bits, then bring to a simmer.

Reduce the heat to medium-low and add the cooked chicken thighs, bell peppers, tomatoes, and oregano sprigs.

Cover the pot, leaving it slightly cracked, then simmer for 25 minutes or until the chicken thighs are fully cooked.

Serve immediately and enjoy!
Looking for Paleo ingredients? Here are a few we'd recommend:
Sea salt (REDMOND)
Black pepper (Frontier)
Ghee (Pure Indian Foods)
If you liked this super simple chicken recipe, you'll love the variety of delicious, simple, and gourmet meals in Paleo Eats. Enjoy healthy yet hearty Paleo meals like Mongolian Red Pepper Beef, Pulled Pork, Bacon Bars, and more. Get your copy HERE.