Face masks are one of the most crucial parts of your self-care routine. Masks allow us to really relax, treat ourselves and let our skin soak in all the goodness.
With the right ingredients, your mask can have any number of functions: They can purify and detox your skin, brighten your skin tone, or help diminish the appearance of wrinkles. With this DIY recipe, we're zeroing in on a mask that firms and hydrates – leaving your skin feeling dewy and fresh.
Moisture vs. Hydration: Here's The Difference
When it comes to skincare, moisture refers to oil. The term "moisture" is often interchanged with "hydration" in the industry. But, when we mention hydration, we're actually talking about water – which is a vital component to a good skin care routine. Hydration and moisture are certainly interconnected, but it's important to know the difference in order to get an idea of what your skin needs when looking closely at your routine.
Want naturally radiant skin? We've created a FREE guide to give you the best tips & tricks for natural skincare.
Click here to get your FREE copy of our Skincare Guide!
When we talk about moisture, our main goal is having the right level of oil to keep our skin balanced. We don't want our skin to be dry, but we don't want it to be oily either. Everyone has their own sweet spot, and it takes the right amount and the right kind of moisturizer to achieve the perfect level of dewy delight.
DIY masks can be ideal for both hydrating and moisturizing. When you control the ingredients and the portions, you can ensure you're creating a balanced recipe, ideal for your skin type.
A Closer Look at What We're Making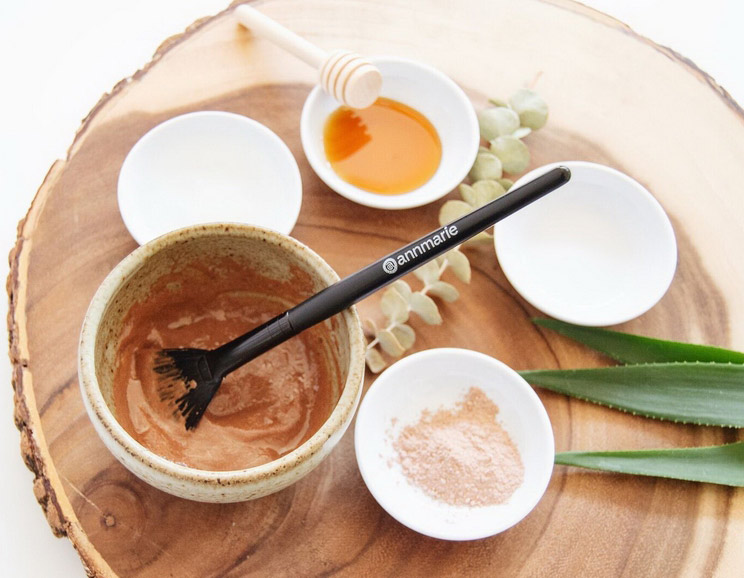 We picked four ingredients to whip up the ideal firming and moisturizing mask – take a look at what makes each of these so beneficial.
Aloe
One of the great things about this plant is its natural components. It has almost 20 amino acids: minerals like calcium, magnesium, and sodium; enzymes; polysaccharides and more – all helpful components in producing young-looking, beautiful skin. It penetrates quickly and deeply, moisturizing at the lower levels of the skin and nourishing it with the natural enzymes and amino acids. These properties also make aloe vera a great ally in reducing the visible effects of aging. (1)
Sunflower Oil
Sunflower oil is truly our secret weapon here. This oil contains a generous dose of beta-carotene and a unique combination of fatty acids – including linoleic, oleic, palmitic, and stearic acids – which can help the skin look firmer and tighter. The Vitamin E found in sunflower seed oil is crucial in protecting the skin from environmental stressors, and can help smooth the appearance of wrinkles. Of course, it also moisturizes! (2)
Honey
Honey is one of our all-time favorite skin care secrets. This superfood is jam-packed with minerals, provides a calming sensation, and helps increase hydration in the skin. Because of its ability to hold onto water, it moisturizes as it hydrates without creating an oily feel. It's also great for oily skin, helping to keep pores clean and reducing oiliness. (3)
Honey is especially beneficial in skin masks that you leave on your face for 10 – 20 minutes. As you sit back and relax, the natural components go to work cleaning out pores, hydrating your skin, reducing the appearance of fine lines, imparting protective antioxidants, and delivering nutrients way down deep – all without a bit of irritation. Find some locally sourced, raw honey and let it work its magic on your skin!
Purifying Mud Mask
We'll be using Annmarie's Purifying Mud Mask to firm and tighten the look of your skin, naturally. This powder-to-paste clay mask is made with Rhassoul clay, rich in the minerals silica and magnesium; Chlorella algae which provide phytonutrients and rose clay that absorbs excess oil.
This mud mask is incredibly effective in drawing out impurities, but it doesn't get too tight on the skin while it dries. Not to mention, it's fun to apply! The powder form renders it completely customizable, so you can add it to DIY masks, like this one!
Tip: If you don't have the Purifying Mud Mask, simply purchase some Rhassoul clay from your local health food or wellness shop!
Annmarie Skin Care
DIY Mud Mask That Firms + Moisturizes Your Skin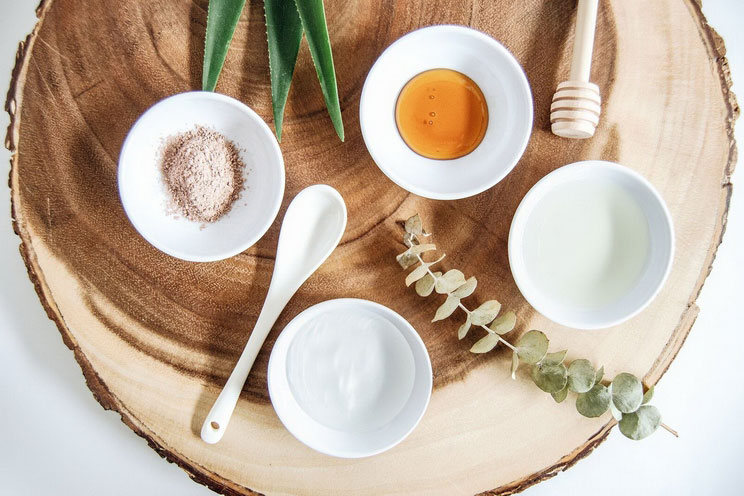 Inactive Time:
15 mins
15 minutes
Cook Time:
5 mins
5 minutes
DIY Mud Mask That Firms + Moisturizes Your Skin
With this DIY recipe, we're zeroing in on a mask that firms and hydrates - leaving your skin feeling dewy and fresh.
Ingredients
1 t honey

1 T sunflower oil

1 T aloe vera gel

½ T Annmarie Purifying Mud Mask powder (or ½ T of Rhassoul Clay)
Instructions
In a small bowl, mix together the ingredients to form a smooth paste. Play around with the consistency you like, adding more powder for a thicker mask or more gel for a lighter one. In general, you want it thin enough to mix and spread comfortably, but not so thin that it's watery.

Apply generously to a clean face, avoiding eyes. Leave on for 15 minutes or until completely dry. Rinse. Pat your face dry. Follow with toner, serum, and moisturizer.
Looking for ingredients? Here are a few we'd recommend:
Raw honey (Bee Farms)
Annmarie Purifying Mud Mask (Annmarie Skin Care)

(You'll Also Love: DIY Detoxing Charcoal Face Mask with Coconut Oil)