There's nothing like a hot bowl of soup on a breezy day, and nothing screams summer quite like a creamy Paleo New England clam chowder.
Ask any New Englander and they'll tell you how amazing clam chowder is. This recipe has all the classic flavors of New England clam chowder without the the added dairy and flour. To keep it Paleo, this recipe also replaces the potatoes with turnips.
Turnips are the perfect substitute for regular potatoes and have the same mouth-feel. Tip: You could also swap in sweet potatoes if you don't have any turnips on hand.
Want to go Paleo? Not sure where to start?
Start with this FREE Paleo For Beginners Guide Today!
Cauliflower may be one of the most versatile Paleo ingredients out there. By cooking and pureeing cauliflower with a few spices, you get a flavorful, creamy, and thick soup base that you won't believe is dairy-free!
This recipe is also very simple, and only takes about 40 minutes from start to finish. Finding good quality canned clams is the key to this recipe's simplicity, however, using fresh clams will only be a few extra minutes of prep work, if you wanted to take that route.
This clam chowder is the perfect soup for any season and pairs nicely with a salad or a Paleo sandwich.
Deanna Dorman
Paleo New England Clam Chowder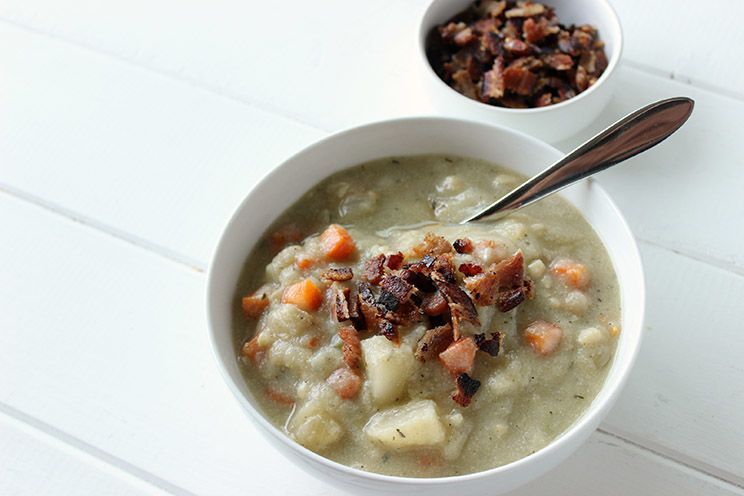 Cook Time:
30 mins
30 minutes
Prep Time:
5 mins
5 minutes
Paleo New England Clam Chowder
Put a Paleo spin on a New England classic by swapping out potatoes for turnips and adding in cauliflower, bacon, and some fresh clams.
Tools
2 Large Stockpots

Food Processor
Ingredients
2 medium heads of cauliflower, chopped into florets

3 slices of bacon

2 large turnips, diced into 1/2 inch cubes

2 small carrots, diced

1 small onion, diced

1 rib of celery, diced

2 cloves of garlic, minced

2 cans of clams, not drained (chop clams if whole)

2 cups vegetable broth or chicken bone broth

1/2 t sage

1/2 t thyme

Salt and pepper to taste
Instructions
Place the cauliflower florets in a stockpot and cover with water. Bring the pot to a boil and boil about 10-15 minutes or until the cauliflower is fork tender.

While the cauliflower is cooking, heat a large stockpot over a medium high and brown the bacon for about 10-15 minutes. Once the bacon is crispy, transfer to a paper towel-lined plate, reserving the bacon grease in the pot.

In the bacon grease, sauté the turnips and carrots for about five minutes, and then add the onion and celery. Cook for another five minutes until all the vegetables are softened and the onions are translucent. Add the garlic and cook an additional minute.

Add your broth and clams (juice and all) and simmer on medium low while you make your cauliflower sauce.

Drain the cauliflower and transfer to a food processor. Add the sage, thyme, and salt and pepper to taste, purée on high speed and blend until smooth.

Carefully pour the cauliflower sauce into the clam chowder and mix well. Cook for about three minutes to warm everything through.

Crumble the cooked bacon, ladle the clam chowder to soup bowls and sprinkle with bacon for garnish.

(You'll Also Love: 39 Cozy Paleo Soup Recipes)