You probably heard all kinds of cold weather "facts" growing up.
For instance, you probably heard more than once, "Come inside before you catch a cold", or "Wear a hat so all your heat doesn't escape".
But are these "facts" really true, or does science tell another story? We deconstruct these myths and get to the cold hard truth.
Fight inflammation and create easy, healthy meals! We've created a FREE 7-Day AIP Meal Plan
Get Your FREE 7-Day AIP Meal Plan here.
7 Winter "Facts" You Were Told Growing Up
1. Cold Weather Causes Depression
Verdict: Fiction
Cold, cloudy days can make us feel a little down – but can they actually cause or worsen depression?
Research shows cold, wet areas have more depressed people than places with warmer, sunnier climates. (1) However, the cold weather itself isn't to blame – it's the amount of sunlight. Studies show that lack of sunlight in the winter can trigger seasonal affective disorder, and one of its main symptoms is depression. (2)
To avoid the winter blues, consider investing in a UV lamp. These lamps mimic the light from the sun, which could help boost your mood. (3)
2. Going Outside Will Make You Catch a Cold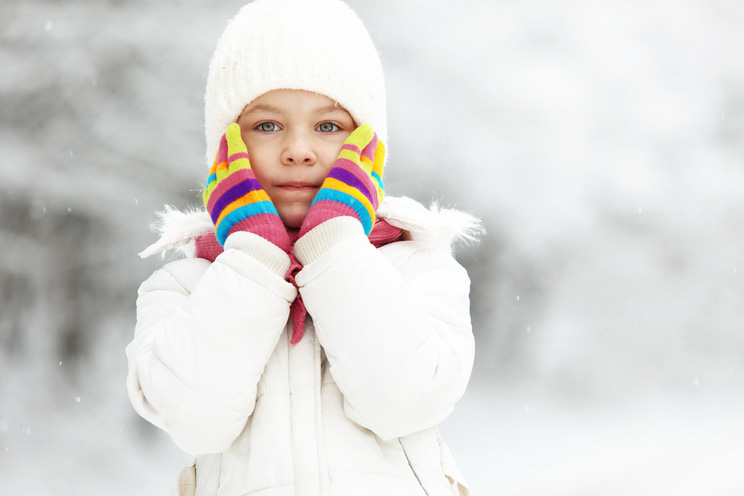 Verdict: It Depends
While it's a popular theory (we've all experienced our mothers telling us to come back inside before we catch a cold), cold temperatures alone won't necessarily cause a cold. However, evidence lies on both sides of the fence for this one.
On one hand, studies show that our immune system cells are actually stimulated when exposed to cold temperatures, which could reduce the risk for catching the cold bug. (4)
However, studies also show that the cold virus replicates more efficiently in colder temperatures. (5) This could make you more likely to catch a cold if your immune system were lowered and your core body temperature was reduced due to cold weather.
We vote dressing as warm as possible for the cold weather, and perhaps taking some immune-boosting vitamins, like vitamin C, to help boost your immune system during the wintry months. (6)
3. Heat Escapes from Your Head
Verdict: Fiction
This myth was based on experiments by the army in the 1950s that showed people in the Arctic wearing cold-protective gear around their entire bodies (but not their heads) lost most of their body heat.
However, recent studies mention that we will experience heat loss from anywhere our body is exposed in the cold. If we go outside with no shoes or mittens on, we will lose a proportionate amount from these areas as well. (7)
In summary, while it's a myth that 90% of your body heat comes out through your head, it certainly doesn't hurt to wear a hat!
4. You Shouldn't Exercise in Cold Weather
Verdict: Fiction
We know: the last thing you probably want to do when it's freezing outside is crawl out of your warm covers and dive into the cold to exercise. However, exercising in the cold actually has more benefits than exercising in warmer conditions.
Interestingly, shivering alone can burn calories. It does this by stimulating certain types of fat to generate heat for energy, in the same way exercise does. When you exercise in the cold, this effect ramps up as your body works to keep your core temperature up. (8)
Of course, we don't recommend you exercise in a tank top and shorts in the winter to further increase your calorie burn. Be sure to dress according to the weather, but don't fear being slightly chilly during an outdoor winter run or workout.
5. You Don't Have to Wear Sunglasses or Sunscreen in Winter
Verdict: Fiction
It's easy to assume that just because it's winter, the sun isn't as strong, so we don't need to worry about wearing sunscreen or sunglasses.
UV radiation is still strong in the wintertime, even in the Antarctic. In fact, snow on the ground acts as a reflector, bouncing additional UV radiation off the ground and back into your skin and eyes. (9)
In short: don't forget your sunscreen.
6. Drinking Alcohol Will Keep You Warm
Verdict: Fiction
It's true that a glass of alcohol can make you feel warm and fuzzy, but this has less to do with actually warming your body as it does with warming your skin.
Alcohol is a vasodilator, meaning it dilates your blood vessels, which can result in more blood flowing to the small vessels near the surface of your skin. (10) This creates that signature "warm and flushed" sensation you get after a couple glasses of wine, but it doesn't actually warm your core body temperature.
Tip: Don't reach for another drink just because you're feeling chilly! Drink that spiked eggnog in moderation, and grab another layer of clothing or a blanket to warm up.
7. Cold Weather Causes Achy Joints
Verdict: Fact
Many people suffering from arthritis and aching joints notice a change in their symptoms when the weather changes.
While most of the studies around this phenomenon are related to changes in barometric pressure (the pressure put on our bodies from the atmosphere), temperature may play a role as well. Studies show that changes in barometric pressure and temperature directly influence osteoarthritis symptoms such as joint pain and stiffness. (11)
If your joints feel achy and stiff in the wintertime, try keeping the house nice and toasty, and supplement with omega-3s to help decrease inflammation and lubricate your joints. (12)
(Read This Next: 11 Natural Remedies to Stop the Cold and Flu)