Loaded with herbs and protein, this breadless cauliflower stuffing is Thanksgiving in a bowl.
You can't have a Thanksgiving feast without the stuffing, and this hearty Paleo-approved version is loaded with nourishing veggies. Tender florets of cauliflower replace the bread, and maple syrup and herb-seasoned pork bring hearty flavor to this must-have side dish.
Thanksgiving stuffing recipes often call for crumbled breakfast sausage for meaty flavor, but most store brands contain commercially-raised pork and too many additives. To recreate that same sweet and savory sausage flavor, dried sage and maple syrup is added to ground pasture-raised pork. You could even use grass-fed beef or ground turkey if you prefer!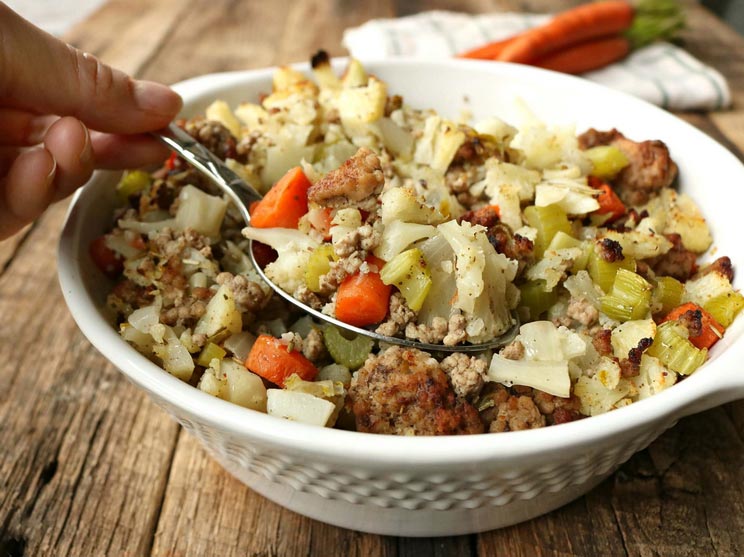 Start by browning the ground pork in ghee, breaking it up into crumbles using a wooden spatula. Ghee adds another dimension of flavor in this stuffing recipe, but grass-fed butter will also work in a pinch. Once the meat is browned, add herbs and maple syrup and stir to coat.
Add power-packed superfood veggies to every meal with these cauliflower recipes.
Get our FREE Recipes Cookbook of 25 Delicious Ways to Eat Cauliflower here!
Next, add the must-have Thanksgiving veggies: cauliflower, carrots, onion and celery. Cover the pan and cook for 15 minutes to tenderize. Transfer the stuffing to a casserole dish and broil until the top is lightly browned. This step creates a delicious, crispy layer, and is not to be skipped! Serve hot alongside turkey for a Paleo feast.
Jennafer Ashley
Breadless Cauliflower Stuffing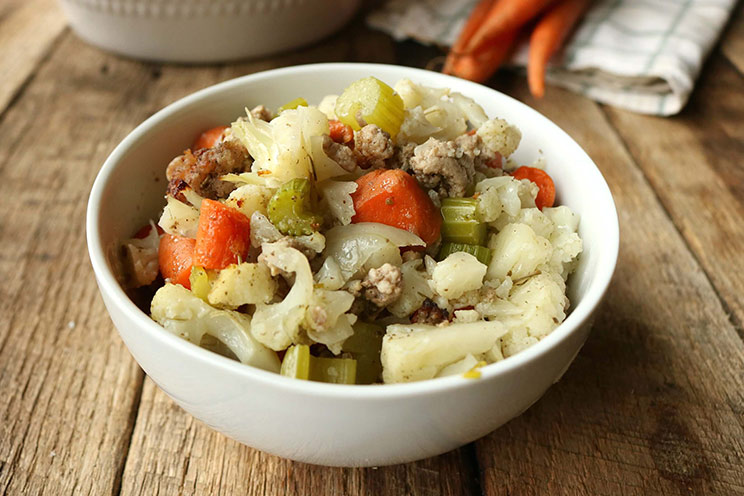 Cook Time:
25 mins
25 minutes
Prep Time:
10 mins
10 minutes
Breadless Cauliflower Stuffing
Loaded with herbs and protein, this breadless cauliflower stuffing is Thanksgiving in a bowl.
Tools
Large skillet

Wooden spatula

Large casserole dish
Ingredients
1 T ghee

1 lb ground pork

1 T maple syrup

1 t dried sage

1 t dried rosemary

1/2 t sea salt

1 head cauliflower, finely chopped

1/2 cup carrots, chopped

1/3 cup white onion, chopped

1 cup celery, thinly sliced
Instructions
Melt the ghee in the large skillet over medium heat. Add the pork and break it up using a spatula. Cook for 5 minutes.

Add the maple syrup, sage, rosemary and sea salt. Stir to combine.

Add cauliflower, carrots, onion and celery. Stir well. Cover and cook an additional 15 minutes.

Preheat the oven to broil at 550°F. Pour the stuffing into a large casserole dish. Broil for 5 minutes to brown the top. Serve hot.
Tip: Try adding leeks or crumbled bacon to make this stuffing even more flavorful!
Looking for Paleo ingredients? Here's what we recommend:
Ghee (Pure Indian Foods)

(You'll Also Love: 30 Fall Recipes That Will Make You Feel Warm & Fuzzy Inside)