Perfectly sweet, sticky chicken legs with an irresistible garlicky caramelized glaze.
Chicken legs are ideal for quick weeknight meals. They're budget-friendly, a healthy source of protein and make for great leftovers for lunch!
Everything you need for the recipe is already in your kitchen too. The ingredients for the sauce are minimal, and pack huge flavor. The secret to getting the sauce to stick is the nut butter. It's the glue that holds the rest of the ingredients together, so that when the chicken legs bake they get a super saucy glaze on the outside. This recipe uses sunflower butter, but any creamy nut butter will work. Just make sure it's a raw nut butter with no other sneaky, hidden ingredients.
Love slow cooker recipes?
Click here to get your FREE copy of our delicious Slow-Cooker Recipes!
To give the sauce an extra spicy flavor, add one or two teaspoons of Sriracha to the ingredients. It adds a lot of heat, almost like a spicy chicken wing, but the taste is incredible with the garlic and honey.
Serve your Caramelized Chicken Legs with roasted vegetables or with a simple side salad. Perfect for a crave-worthy lunch or dinner.
Megan Olson
Sticky Sweet Caramelized Baked Chicken Legs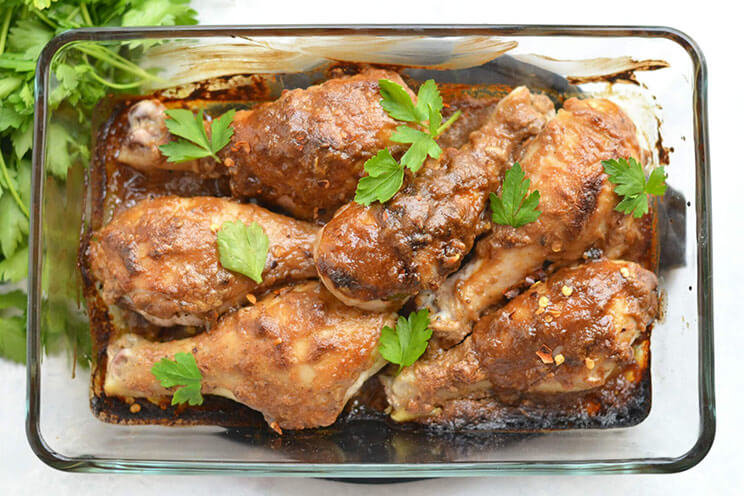 Cook Time:
25 mins
25 minutes
Prep Time:
10 mins
10 minutes
Sticky Sweet Caramelized Baked Chicken Legs
Perfectly sweet, sticky chicken legs with an irresistible garlicky caramelized glaze.
Tools
Baking sheet

Aluminum foil

Small bowl
Ingredients
For the Chicken:
5-6 large drumsticks

Salt and pepper, to taste
For the Sauce:
½ cup coconut aminos

4 T white rice vinegar

1 T melted coconut oil

2 T raw honey

4 T raw, creamy sunflower or almond butter

½ t garlic powder

¼ t crushed red pepper flakes
Instructions
Preheat oven to 475°F. Prepare a baking sheet with aluminum foil.

In a small bowl, mix together the ingredients for the sauce. Set aside.

Place each drumstick on the prepared baking sheet, leaving space in between each drumstick. Salt and pepper each drumstick to taste.

Using a kitchen brush or spoon, place a generous amount of the sauce on each drumstick. Fully cover each drumstick with the sauce, reserving a small amount of sauce for dipping!

Bake for 25 minutes until golden brown.

Brush with reserved sauce and serve!
Looking for Paleo ingredients? Here are a few we'd recommend:
Organic Coconut Aminos (Coconut Secret)
Organic Virgin Coconut Oil (Thrive Market)
Organic, Raw, Unstrained Honey (Thrive Market)
Sunflower Butter (Thrive Market)
(You'll Also Love: Slow Cooker Honey Sesame Chicken Recipe)
Lose weight, fight inflammation, and soothe your digestion with delicious meals like juicy skirt steak with cucumber & radish salad, succulent pulled pork, and more!
FREE Cookbook:
80 Gourmet Paleo Recipes from
a Professional Chef trained at Le
Cordon Bleu in Paris
FREE Cookbook:
80 Gourmet Paleo Recipes
from a Professional Chef
trained at Le Cordon Bleu
in Paris