A creamy avocado basil dressing with just a touch of honey. Perfect as a dip for veggies or served over zoodles and salads.
Avocado not only provides the smooth, rich texture of milk-based dressings, but this fruit (yes, it's a fruit!) also adds a dose of healthy fats, potassium and fiber – trumping the nutrition of most creamy dressings. Plus, this Paleo-friendly recipe has infinite pairing possibilities, from tacos to salads.
Get your blender ready and add one peeled and pitted avocado along with red wine vinegar, basil, garlic, honey and water – yes, water. I've made similar avocado dressings in the past and found through trial and error that my dressing comes out more like a creamy pesto with the ingredients not as combined as I would have liked. By adding a small amount of water, the dressing becomes whipped and velvety in texture, ideal for pouring over zucchini noodles and salads. Blend on high speed until the dressing is thick and smooth.
It's not just a sweetener -- it's medicine, too! Discover The Benefits of Nature's Superfood: Honey
Click here to get your FREE copy of our Honey Guide!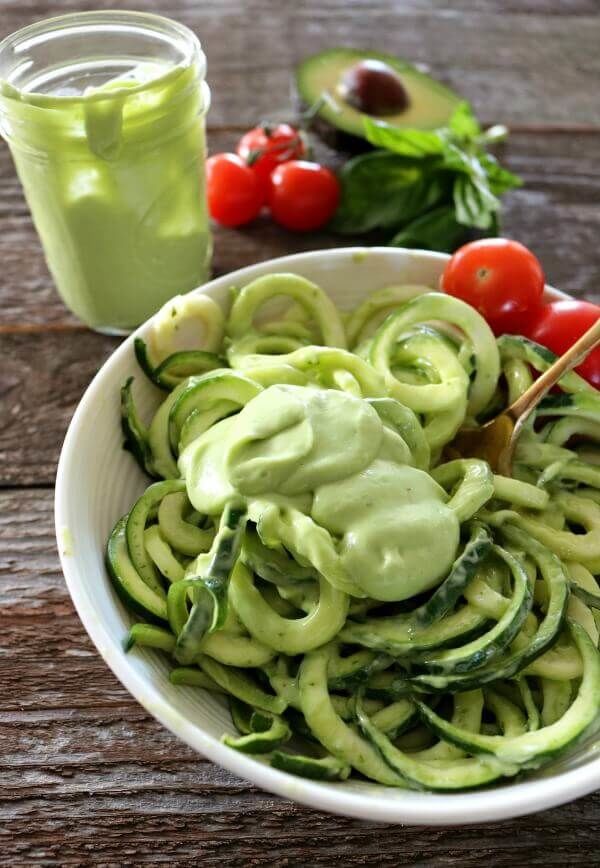 If you find that your dressing is too thick, add an extra tablespoon or two of water. Store the dressing in a jar or airtight container in the refrigerator. Although the acidity from the red wine vinegar will slow the browning of the avocado, the dressing is best enjoyed within a day of making.
Tips:
This dressing can be served with hot or cool dishes. You can add different herbs depending on the type of cuisine you are pairing it with. Try it with Coconut Crusted Shrimp or with Buffalo Cauliflower Bites.
Try adding cilantro and cumin for an extra kick or dill and onion powder for more of a "ranch" flavor.
Jennafer Ashley
Creamy Avocado Basil Dressing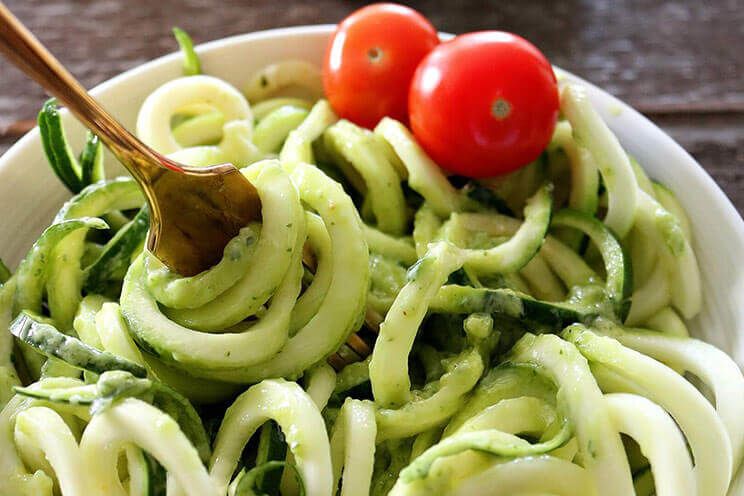 Prep Time:
10 mins
10 minutes
Creamy Avocado Basil Dressing
This creamy avocado dressing with basil and honey is perfect as a dip for veggies or served over zoodles and salads.
Ingredients
1 ripe avocado, pitted

1/2 cup olive oil

1/4 cup water

1 T red wine vinegar

1 T raw honey

5 large basil leaves

1/2 t garlic, minced

1/2 t sea salt

1/4 t black pepper
Instructions
Place all ingredients into a blender.

Blend on high speed until smooth and creamy. Store in an airtight jar in the refrigerator.

(You'll Also Love: Zucchini Noodles Drizzled in Tahini Bacon Sauce)