If you're using baby powder after your showers, think again: Some talc products are contaminated with cancer-causing asbestos. Here's what you need to know.
Most of us trust that the products that we buy at stores are safe thanks to FDA regulation, but some products may contain ingredients that pose a threat to our health.
Case in point: Many cosmetics and other skincare products contain talc, the mineral at the center of more than 6,600 lawsuits that link it to mesothelioma-causing asbestos exposure and ovarian cancer.
Want naturally radiant skin? We've created a FREE guide to give you the best tips & tricks for natural skincare.
Click here to get your FREE copy of our Skincare Guide!
Cosmetics and other skincare products containing talc are particularly risky since they can be absorbed directly into our skin or inhaled. This also includes products used on vulnerable populations, like baby powder.
So, what's the issue with talc, and should you throw out your baby powder and blush? Read on for an in-depth breakdown of the issue with talc.
What Is Talc and What is the Controversy?
Talc is short for talcum powder, a magnesium silicate mineral used in makeup, skincare products, and baby powder. It is deemed safe by the Cosmetic Ingredient Review and the FDA, though their research on talc may be limited.
In an FDA study, only four suppliers submitted samples, which the FDA acknowledges, "Do not prove that most or all talc or talc-containing cosmetic products currently marketed in the United States are likely to be free of asbestos contamination". (1)
Johnson & Johnson, a large manufacturer of talc-containing products, found itself at the center of more than 6,600 lawsuits. The company lost several of these lawsuits, and recently, was ordered to pay $29.4 million in damages. (2)
Who filed these lawsuits? Mostly women who had been diagnosed with ovarian cancer after using talc-containing baby powder on their genitals.
---
What Does the Research Say?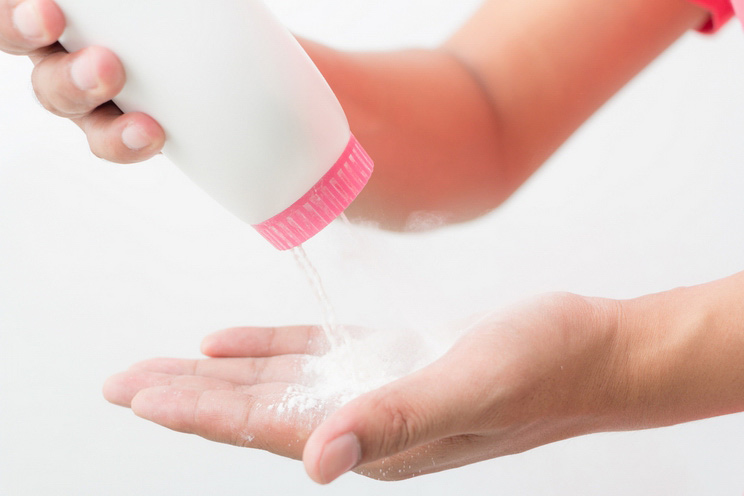 Research isn't clear about the safety of talc, fueling controversy over the use of the mineral in cosmetics and body care products.
Researchers first studied the association between talc and ovarian cancer in the 1970 and '80s, when ovarian tumors were shown to contain particles of talc. (3) Harvard Epidemiologist Daniel Cramer led the research, finding that talc increased the risk of ovarian cancer by a whopping 30 percent. He urged Johnson & Johnson to warn the public of talc's risk.
Still, the quality of Dr. Cramer's research was called into question, with claims of bias and less rigorous testing conditions. Other research into the link between talc and ovarian cancer is mixed. (4)
Johnson & Johnson never changed their labels to reflect a warning about talc. On the contrary, they've published sites like factsabouttalc.com, where they claim that talc is safe and does not cause cancer. (5) Recent investigative reporting shows that Johnson & Johnson is deceptive about the health risks associated with talc.
---
What's the Link Between Talc and Asbestos?
A recent report from Reuters reveals that Johnson & Johnson previously deceived the public about the safety of their talc-containing products.
The company repeatedly claimed that their products do not contain asbestos, a collection of naturally occurring products and known carcinogens that can lead to mesothelioma.
Asbestos is the only known cause of mesothelioma, a deadly cancer affecting the lungs, heart, and abdomen.
Uncovered internal documents prove otherwise, though. The company knew in the past it's baby powder contained asbestos, and covered it up. (6, 7)
Since talc is a mineral that is mined near asbestos found in the earth, it can become naturally contaminated with asbestos fibers. (8) Asbestos is the only known cause of mesothelioma, a deadly cancer affecting the lungs, heart, and abdomen. (9)
In 2018, Johnson & Johnson lost a case and were ordered to pay damages in response to the claims that its products contained asbestos. (10)
---
Does Talc Cause Ovarian Cancer?
Some studies link talc exposure to increased ovarian cancer risk, though again – the research is mixed.
In the 1980s, one study released evidence that talc was associated with ovarian cancer. (11) In 1992, a study of 235 women with ovarian cancer found that there was an association between increased risk for epithelial ovarian cancer and a lifetime pattern of use, but that it's unlikely to be the cause of most other types of ovarian cancer. (12)
It appears that the amount of exposure plays a significant role in risk factors. In 2000, an analysis of more than 78,000 women found a low association between genital talc use and overall cancer, though it did note that it may "modestly increase the risk of" invasive ovarian cancer. (13)
A 2014 study did not find any association between perineal powder use and cancer risk; however, it relied entirely on self-reported data over the course of 12 years. (14)
Ultimately, we can conclude that a link between talc-containing products and ovarian cancer is at least plausible – so says Washington University epidemiologist Adetunji Toriola. He told Reuters, "We know that inflammation increases ovarian cancer risk. We know talcum powder causes inflammation. The question is, does talc cause cancer by causing inflammation in the ovaries?" (15)
He concluded that cohort studies would provide more definitive answers; however, Dr. Cramer and other researchers suggest that cohort studies would be unethical due to the known potential risk for cancer.
---
So, Should You Use Talc-Containing Products?
A number of authoritative sources and experts advise against using products with talc.
The Environmental Working Group, or EWG, is well-respected for its Skindeep database, which ranks cosmetic and body care products based on ingredients and their levels of toxicity. Talc earns a 10, the highest risk rating, for contamination concerns with asbestos fibers. (16)
The International Agency for Research on Cancer, or IARC, is part of the World Health Organization. It lists talc used on the genitals as a possible human carcinogen, particularly talc that could be contaminated with asbestos. (17)
There are no medically necessary uses for talc powder in cosmetics or baby products, so opting for talc-free versions seems to be the safest approach.
Concern over talc is brewing outside of the United States, too. The Canadian government recently announced that it is "considering measures that would prohibit or restrict the use of talc" due to its impact on human health, particularly among females. (18)
The bottom line is that there is no definitive proof linking talc powder and cancer, but there is mounting evidence that it's a risky product to use. Note, there is conclusive proof that asbestos is a dangerous carcinogen, and talc-containing products have in the past included asbestos. (19)
There are no medically necessary uses for talc powder in cosmetics or baby products, so opting for talc-free versions seems to be the safest approach.
---
Healthier Alternatives to Talc
Talc is a mineral that provides a soft, moisture-wicking effect in cosmetic and body care products. You'll find it in products like:
Baby powder
Blush
Powder
Eye shadow
Bronzer
Foundation
The FDA offers a complete list of products that contain talc, including makeup from Maybelline, Physician's Formula, Revlon, Cover Girl, Almay, and Clinique. (20)
You can replace talc easily by using alternative products. Baby powder that is made from cornstarch, arrowroot, or tapioca starch instead of talc avoids the risk of asbestos contamination.
You can also use a zinc-based diaper cream instead of a powder to avoid chafing and irritation, or even an oil-based ointment when needed.
Tip: If you want to DIY your own baby powder, simply combine ½ cup arrowroot powder with ¼ cup baking soda. Use as little as you need to be effective. If you store it in a cool, dry place, the powder will last indefinitely.
For cosmetic alternatives, choose one of a handful of companies that are committed to making talc-free products, like Pacifica, Honest Beauty, and Shea Moisture.
---
Bottom Line
Talc lends a soft feel to cosmetic and body care products, but it might not be entirely safe. We know that when it's contaminated with asbestos, it can cause serious health issues, but research isn't 100 percent clear on whether pure talc is problematic or not.
We recommend looking for talc-free alternatives and remember to be your own health advocate. While the government hasn't found conclusive evidence to link talc with health issues, that doesn't mean it's proven to be safe.
(Get More Health News: Your Favorite Cereal is Probably Full of Glyphosate – Check This List)