Candied Apple Pops drenched in chocolate, drizzled with caramel sauce and topped with nuts are the perfect fall treat!
This Paleo twist on candy apples is an easy dessert you can make in less than 20 minutes! With zero dairy or refined sugar, it's a treat you can feel good about eating.
Start by dipping sliced apples in melted dark chocolate (make sure the chocolate is dairy free and has no artificial sweeteners). Next, drizzle them with Paleo caramel sauce, then top with your favorite ingredients. We topped ours with chia seeds, chopped raisins, shredded coconut and pecans, but you can use any combination of your favorite toppings!
Love Paleo Desserts? Then you'll love our FREE Paleo Dessert Cookbook.
Click here to get your FREE copy of our delicious Dessert Recipes!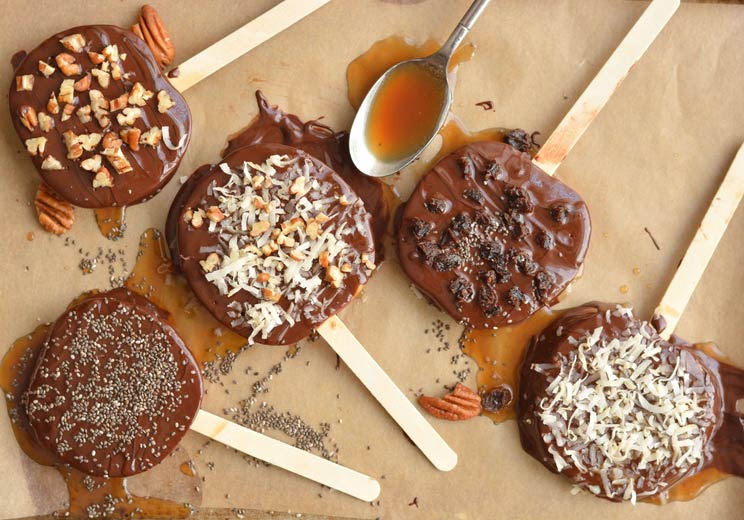 This recipe will work with any apple, but larger apples (like a Fuji) work best since they make the thickest slices and hold the ingredients well. Regardless of the type of apple you choose, be sure to remove any seeds before dipping them into the melted chocolate.
These apple pops keep in the fridge for one or two days. Enjoy them right away as a snack or dessert, or serve them at parties for a crowd-pleasing fall treat!
Tip: Looking for a healthy, homemade caramel sauce? Click here for our Paleo caramel sauce recipe!
Megan Olson
Easy Apple Pops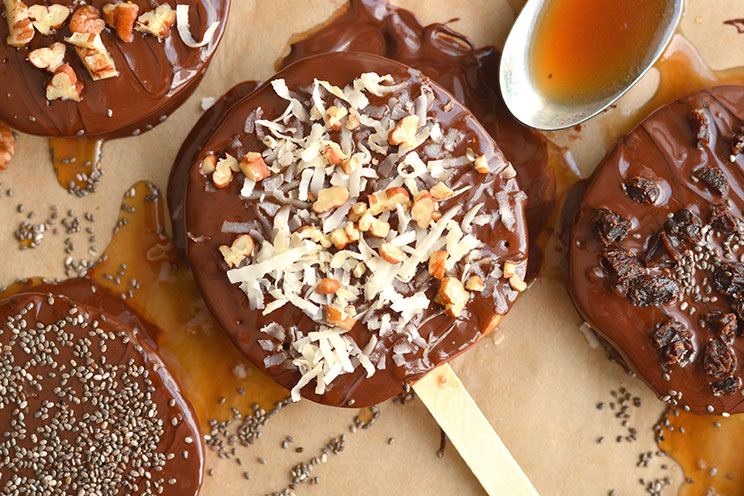 Prep Time:
20 mins
20 minutes
Easy Apple Pops
Candied Apple Pops drenched in chocolate, drizzled with caramel sauce and topped with nuts are the perfect fall treat!
Tools
Baking sheet

Parchment paper

Wooden sticks

Saucepan

Glass bowl

Spatula
Ingredients
2 large apples

1 cup dark chocolate chips

1 T coconut oil

¼ t sea salt

½ cup of Paleo caramel sauce

Optional toppings: shredded coconut, chia seeds, chopped raisins or pecans
Instructions
Prepare a baking sheet with parchment paper.

Slice apples into ½-inch slices with a knife, then make a slit at the bottom of each apple slice and insert a wooden stick. Place on the baking sheet.

Place a glass bowl over a boiling pot of boiling water and add dark chocolate chips, coconut oil and sea salt. Stir the ingredients continuously until the chocolate is melted and smooth.

Dip each apple slice into the melted chocolate to thoroughly coat, then place back on the baking sheet.

Drizzle the caramel sauce over the apple slices, then sprinkle with optional toppings as desired.

Freeze for 1 hour to harden, then serve.
Looking for Paleo ingredients? Here are a few we'd recommend:
Cold pressed coconut oil (Viva Naturals)
Chia seeds (Viva Naturals)

(You'll Also Love: 36 Bite-Sized Snacks for Perfect Portion Control)
Lose weight, fight inflammation, and soothe your digestion with delicious meals like juicy skirt steak with cucumber & radish salad, succulent pulled pork, and more!
FREE Cookbook:
80 Gourmet Paleo Recipes from
a Professional Chef trained at Le
Cordon Bleu in Paris
FREE Cookbook:
80 Gourmet Paleo Recipes
from a Professional Chef
trained at Le Cordon Bleu
in Paris