Slice into a piece of this irresistibly good cake made with olive oil, poppy seeds, and juicy blood oranges!
I've always loved a good citrus cake, and this recipe is no exception. Along with its refreshing aroma, it's made with zero grains, a natural sweetness, and comes completely gluten-free. Enjoy a slice for breakfast or serve it as a light snack to curb any sugar craving.
Instead of using traditional dairy butter, we opt for olive oil to fill the cake with healthy fats and vitamins. This helps keep the cake tender and moist while allowing the sweet flavors of blood oranges to shine through. The poppy seeds also provide a surprising light crunch while complementing the rich flavors of vanilla and maple syrup.
Love Paleo Desserts? Then you'll love our FREE Paleo Dessert Cookbook.
Click here to get your FREE copy of our delicious Dessert Recipes!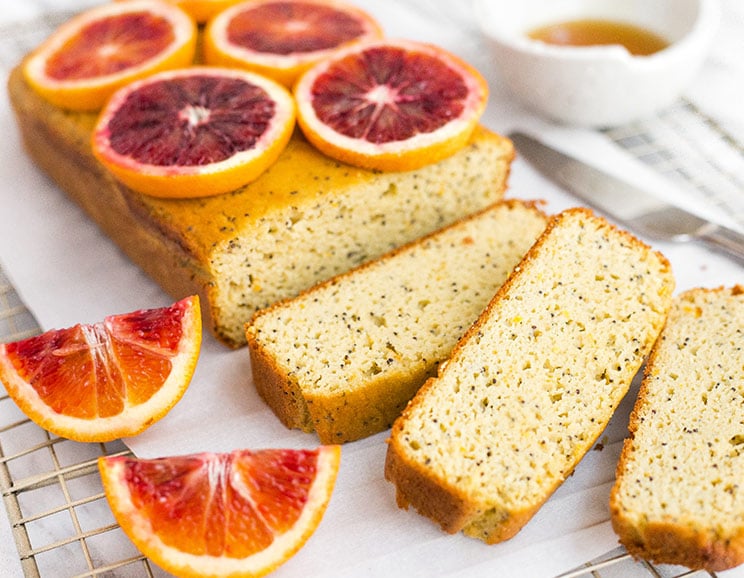 Helpful Tips for Getting Started:
Use a wet spatula to spread the batter. Adding a little moisture to your spatula will help prevent the batter from sticking and make it easier to smooth out when adding to the baking pan.
Check for readiness with a toothpick. Although this recipe suggests one hour for baking time, it's always a good idea to stick a toothpick into the center of the cake before removing it from the oven. If the toothpick comes out clean, your cake is good to go. Otherwise, allow the cake to bake for 10 more minutes before checking again.
Be patient with cooling times. We know it's tempting, but you'll want to give your cake time to cool in the pan at room temperature before serving. This will allow the cake to absorb residual heat while preventing it from breaking when you handle it.
Experiment with substitute ingredients, if needed. While this recipe calls for maple syrup, you can also swap in equal amounts of honey instead. If you're out of almond flour, try subbing in equal amounts of cashew or walnut flour.
Felicia Lim
Almond Flour Poppyseed Blood Orange Cake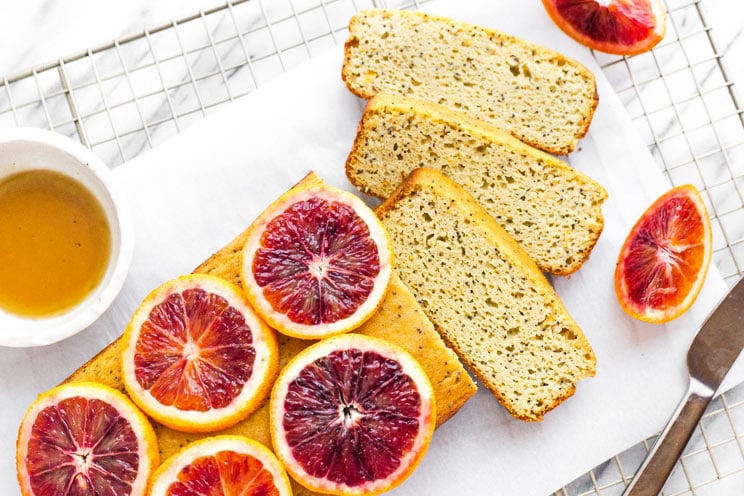 Cook Time:
50 mins
50 minutes
Prep Time:
10 mins
10 minutes
Almond Flour Poppyseed Blood Orange Cake
Slice into a piece of this irresistibly good cake made with olive oil, poppy seeds, and juicy blood oranges.
Tools
Large mixing bowl

9x5-inch loaf pan

Parchment paper
Ingredients
4 eggs

1 t vanilla extract

6 T maple syrup

¼ cup olive oil

1 T fresh blood orange zest

¼ cup unsweetened almond milk

¼ cup fresh blood orange juice

¾ cup almond flour

½ cup coconut flour

1 t baking powder

¼ cup poppy seeds

6 blood orange slices, for garnish
Instructions
Preheat the oven to 350°F. Grease and line a loaf pan with parchment paper.

In a large mixing bowl, beat the eggs, vanilla, maple syrup, and oil together.

Add the orange zest, almond milk, and juice into the bowl and whisk for about 30 more seconds.

Sift in the almond flour, coconut flour, baking powder, and poppy seeds. Whisk together until you get a smooth, homogeneous batter.

Pour the batter into the prepared loaf pan and smooth out the top with a wet spatula.

Bake for 50 minutes or until an inserted toothpick comes out clean from the center.

Allow the cake to cool for 15 minutes before removing from the pan.

Top the cake with blood orange slices for garnish and serve immediately.
Looking for Paleo ingredients? Here are a few we'd recommend:
Vanilla extract (Frontier)
Olive oil (Sky Organics)
Almond flour (Hodgson Mill)
Coconut flour (Nutiva)
Baking powder (Hain)

(You'll Also Love: Dream-Worthy Orange and Avocado Oil Cake)