Hello, nostalgia! These almond butter and jelly chocolate treats are the grown-up, Paleo-friendly version of creamy peanut butter and jelly. It's an all-in-one simple, chocolate-covered package.
Like the classic peanut butter and jelly's humble ingredients, this recipe also uses only a handful of wholesome ingredients – four to be exact. You'll need grape juice, gelatin, almond butter, and, of course, dark chocolate. No gluten-filled bread in sight.
Naturally sweet grape juice and gelatin is a far healthier alternative to conventional, store-bought jelly, which is typically loaded with refined sugar or even high fructose corn syrup. A meager tablespoon serving of typical grape jelly packs 13 grams of sugar, with high fructose corn syrup serving as the primary sweetener. (1) It offers virtually no nutritional value, with calories and carbs stemming entirely from sugars.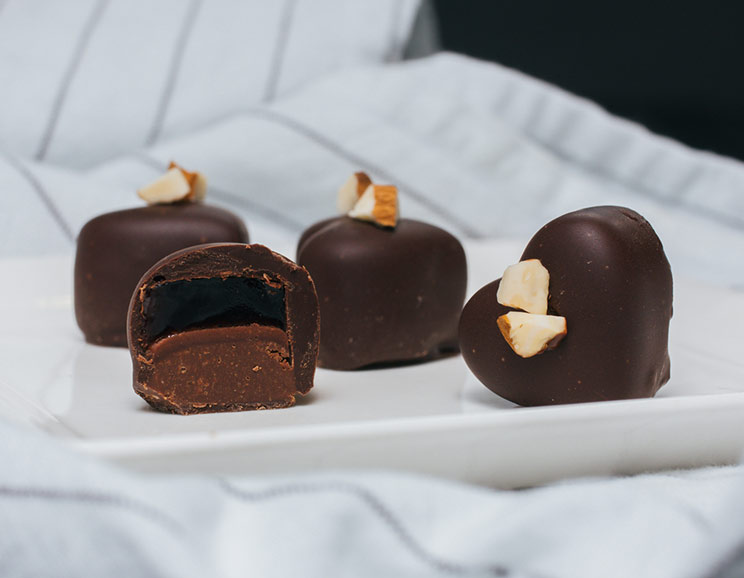 Love Paleo Desserts? Then you'll love our FREE Paleo Dessert Cookbook.
Click here to get your FREE copy of our delicious Dessert Recipes!
Subbing in almond butter for peanut butter is a smart switch here, too. Not only do you avoid the pitfalls of legumes (because peanuts are not nuts, but legumes), but you get more nutrition, as almond butter boasts a higher monounsaturated fat content and markedly more vitamins and minerals than peanut butter. Plus, almond butter offers a rich, creamy flavor that blends beautifully with chocolate and naturally sweet grape jelly.
As if you needed another excuse to dig into these almond butter and jelly treats, their dark chocolate coating is loaded with health benefits. Extra dark chocolate (the higher the cocoa content, the better) offers significant doses of iron, magnesium, copper, and manganese. It's also rich in antioxidants. (2) See the recipe below on how to temper the chocolate for that perfect glossy coating.
All in all, if you're going to enjoy a treat, you can't do much better than these nostalgia-fueled almond butter and jelly ones.
PaleoHacks Team
AB&J Sweetheart Chocolates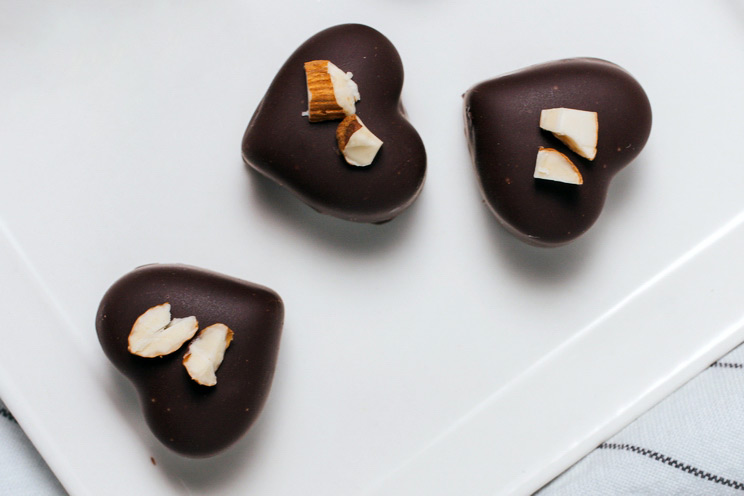 Inactive Time:
4 hrs
4 hours
Prep Time:
10 mins
10 minutes
AB&J Sweetheart Chocolates
These almond butter and jelly chocolate treats are the grown-up, Paleo-friendly version of creamy peanut butter and jelly.
Tools
Heart Shaped Candy molds

Double boiler
Ingredients
1 cup grape juice

3 T gelatin

1/2 cup almond butter

1/2 cup tempered dark chocolate

2 cups chopped dark chocolate, or more as needed
Instructions
To Make The Grape Jelly: Bring the grape juice to a boil and remove from heat. Sprinkle gelatin over the hot juice and whisk thoroughly until absorbed.

Pour the grape juice into molds halfway up. Place in the refrigerator to set.

To form the almond layer, carefully melt the almond butter and tempered chocolate together over a double boiler until completely homogenous. Allow to cool slightly.

Pour on top of the set grape molds and refrigerate to set the almond layer.

When AB&J's are totally set, pop them out of the molds and place on parchment paper. Using a fork, dip them into tempered chocolate (recipe below), and remove the excess chocolate using the dipping technique.

Set on parchment to allow the coating to crystallize at room temperature. Handle only after the chocolate is completely set.

How to Temper Chocolate: Measure out ⅓ in weight of the chocolate you would like to temper.

In a double boiler, melt ⅔ of the chocolate, stirring constantly, to 122°F.

When 122°F is reached, "seed" or add in the remaining ⅓ chocolate to bring the temperature down, constantly agitating the chocolate with a spatula.

When the temperature of the seeded chocolate hits 83°F, return to gentle heat and bring the temperature of the chocolate up to 90°F before using.
Looking for Paleo ingredients? Here are a few we'd recommend:
Unflavored gelatin (Great Lakes)
Almond butter (Barney)
Sunspire baking chocolate (SunSpire)
Semi-sweet chocolate chips (Enjoy Life)

(You'll Also Love: Dark Chocolate Honey Beehives)