This Spanish cauliflower rice will compliment all of your favorite entrées for a flavor-packed side dish.
Stumped on what to serve as a side dish for dinner? This Spanish-style cauliflower rice is coated in a rich tomato sauce and pairs beautifully with everything from tacos to seafood. Best of all, this one-skillet dish cooks up in under 20 minutes with minimal fuss or cleanup.
Start by melting ghee in a large skillet. It adds lots of rich flavor and has a higher smoke point than butter, making it better for sautéing and cooking at higher temperatures. Next, add finely chopped onion and cook until softened. Your mouth should already be watering!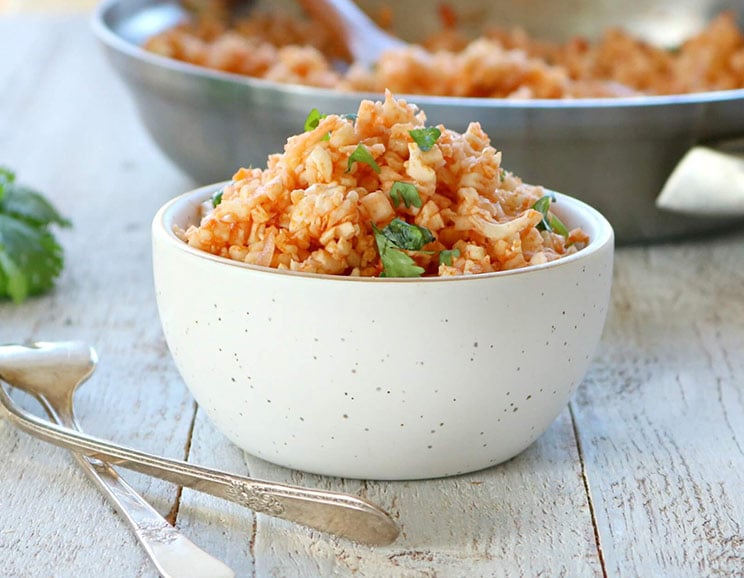 Next, add riced cauliflower and tomato paste. Both ingredients are rich in vitamin C!
Note: For riced cauliflower, you can process florets in a food processor until you get a rice-like texture, or use a cheese grater to grate the cauliflower into fine pieces.
Trying to figure out exactly what to eat on Paleo?
Look no further than our FREE 21 Day Paleo Meal Plan
Then add just enough chicken or vegetable stock to help lightly steam the rice. A dash of sea salt and cumin adds a warm scent and tons of Spanish flavor! Continue to cook your Spanish cauliflower rice, stirring occasionally until the cauliflower is tender and heated through. Garnish with fresh chopped cilantro and serve hot.
Jennafer Ashley
Easy Spanish Cauliflower "Rice"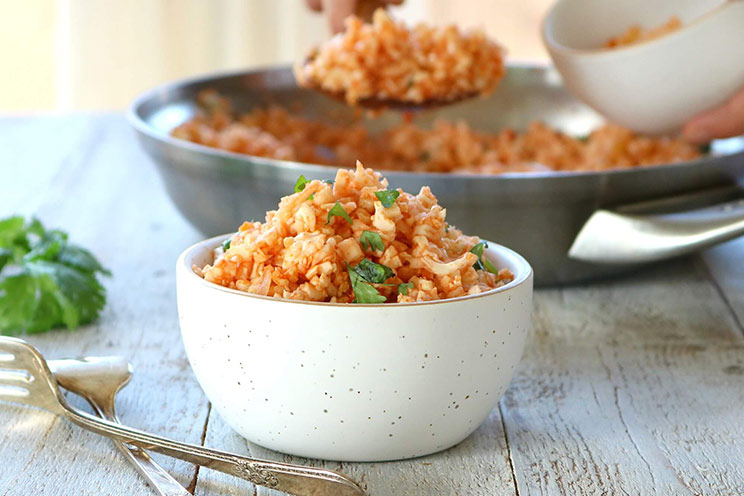 Cook Time:
15 mins
15 minutes
Prep Time:
5 mins
5 minutes
Easy Spanish Cauliflower "Rice"
This Spanish-inspired "rice" will compliment all of your favorite entrées for a flavor-packed side dish.
Ingredients
1 T ghee

1/2 cup white onion, finely chopped

4 cups cauliflower, riced

1/4 cup tomato paste

1/2 cup chicken or vegetable stock

1 t ground cumin

1 t sea salt

1/4 cup fresh cilantro, chopped
Instructions
In a large skillet over medium heat, melt the ghee and stir in the onion. Sauté 5-7 minutes or until the onions are softened.

Add the cauliflower, tomato paste, stock, cumin and sea salt. Stir to combine.

Cook an additional 7 minutes. Serve hot, garnished with cilantro.
Looking for Paleo ingredients? Here are a few we'd recommend:
Ghee (Pure Indian Foods)

Need entrée ideas to serve alongside your Spanish Cauliflower "Rice"? Look no further than these Paleo recipes…