These "Whatever Floats Your Boat" Raw Cacao Energy Bars are easily customizable and naturally sweetened with no added sugar!
Store-bought bars can be difficult to navigate. Many of them have processed ingredients and added sugar snuck into them. Unless you're reading ingredients on food labels carefully, it's easy to buy a bar that's not Paleo-friendly and that contains poor quality ingredients.
Luckily, these no-bake cacao energy bars are perfect for getting your chocolate fix and let you control the ingredients. These bars are nut-, date-, and apricot-based. Cashews, almonds and pumpkin marry cacao powder to make a yummy snack you can't resist.
Love Paleo Desserts? Then you'll love our FREE Paleo Dessert Cookbook.
Click here to get your FREE copy of our delicious Dessert Recipes!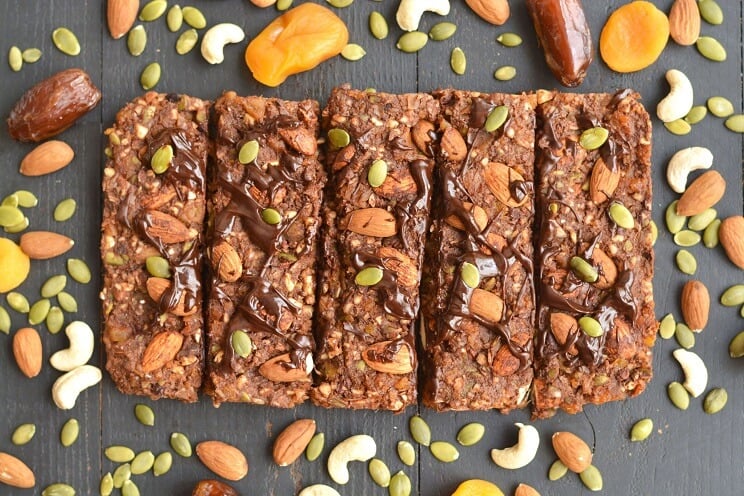 The best part of this recipe is that you can use any combination of nuts and fruits you like. Brazil nuts, hazelnuts, and sunflower seeds would be amazing additions – whatever floats your boat!
Naturally sweetened with apricots and dates, the cacao energy bars are low in sugar and filled with fiber. Note: In the recipe, the fruit is needed for binding the bars together, so maple syrup or honey won't work as replacements without drastically changing the composition of the recipe.
If you make these bars, you'll just need a food processor or high speed blender to make everything come together. Then transfer the mix to a pan and let them harden in the refrigerator before drizzling the bars with dark chocolate.
Enjoy these cacao dark chocolate bars for breakfast on-the-go or as a curb-craving snack.
Tip: When mixing the ingredients, using your hands is best. Wet them to prevent food from sticking.
Megan Olson
'Whatever Floats Your Boat' Raw Cacao Energy Bars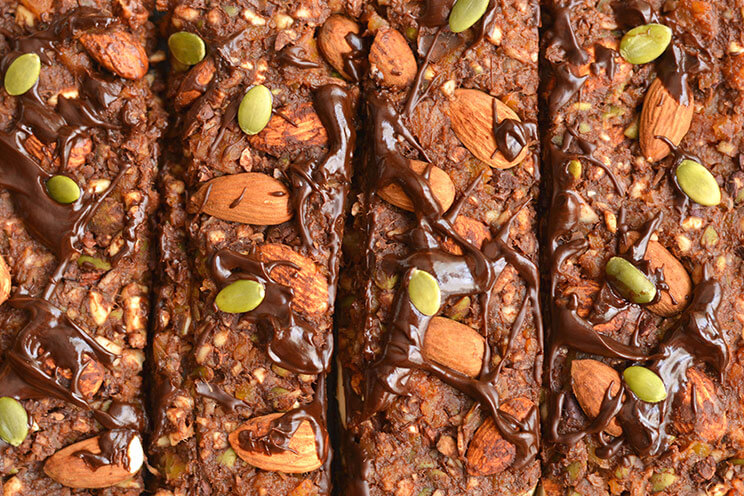 Prep Time:
20 mins
20 minutes
'Whatever Floats Your Boat' Raw Cacao Energy Bars
These no-bake, vegan chocolate bars are easily customizable and naturally sweetened!
Tools
Food processor

Large bowl

Meatloaf pan
Ingredients
½ cup dates, pitted and soaked in water

1/3 cup dried apricots

1/4 cup raw almonds

½ cup raw cashews

1/3 cup pumpkin seeds

3 T raw cacao powder

1 T raw cacao nibs

Pinch of sea salt

¼ cup raw dark chocolate chips (optional)
Instructions
In a food processor or blender, add cashews and pumpkin seeds. Pulse several times until finely chopped.

Transfer the mixture to a large bowl. Add the cacao powder and cacao nibs. Set aside.

To the food processor, add the pre-soaked dates and apricots. Add 2 tablespoons water and process on high until a paste forms.

Transfer the date-apricot mixture to the bowl and combine the ingredients. The ingredients should be sticky and slightly crumbly.

Transfer the batter into a meatloaf pan with parchment paper and smooth into an even layer. Press firmly into the sides and bottom of the pan.

Add the almonds on top, pressing them into the mixture.

Place the pan in the refrigerator for 2-3 hours to set.

Once set, add dark chocolate to a double boiler to melt and drizzle over bars (optional).

(You'll Also Love: How to Make Super Seed Energy Bars)