The fetal position can crunch up your neck, leading to shoulder pain. Here are five stretches that side sleepers can do in the morning to get rid of that achy shoulder!
If you're like most people, you probably prefer sleeping on your side to your stomach or back. (1) This comfortable sleeping position is great because it reduces peripheral nerve compression, which can sometimes turn into carpal tunnel syndrome. (2)
Unfortunately, sleeping on your side places tremendous pressure on your shoulder joints. All this force on your shoulders can cause inflammation in the surrounding muscles and tendons, including your neck, back, and chest. Plus, when you sleep on your side, you put your body in poor postural alignment that causes muscular imbalances.
Do you wake up feeling fatigued, depressed, and restless? Break the cycle of bad sleep with our FREE Sleep Guide.
Click here to get your FREE copy of our Sleep Guide!
The best way to battle shoulder pain from sleeping on your side is to release tension in those tight muscles. These five easy stretches are a wonderful way to alleviate shoulder pain for all you side sleepers out there.
This stretching routine will only take you a few minutes each day and can be done either in the morning to fix shoulder pain, or before bed to help prevent it. All you need is a wall, a couch, and an optional yoga mat!
Side-to-Side Neck Stretch | 30 sec per side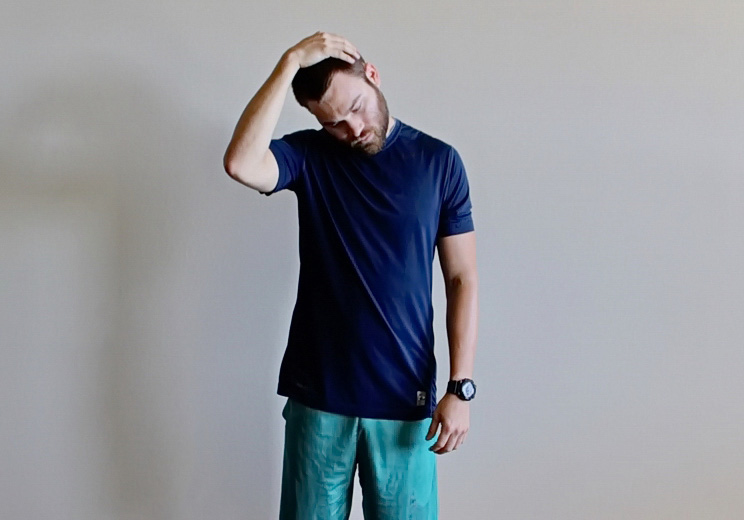 This stretch quells shoulder pain stemming from your neck.
Start standing. Place your right hand at the top of your head while relaxing the other arm at your side.
Pull your head downwards and towards the right with your right arm. You should feel the stretch on the left side of your neck.
Hold for 30 seconds, then switch sides
Wall Upper Chest Stretch | 30 sec per side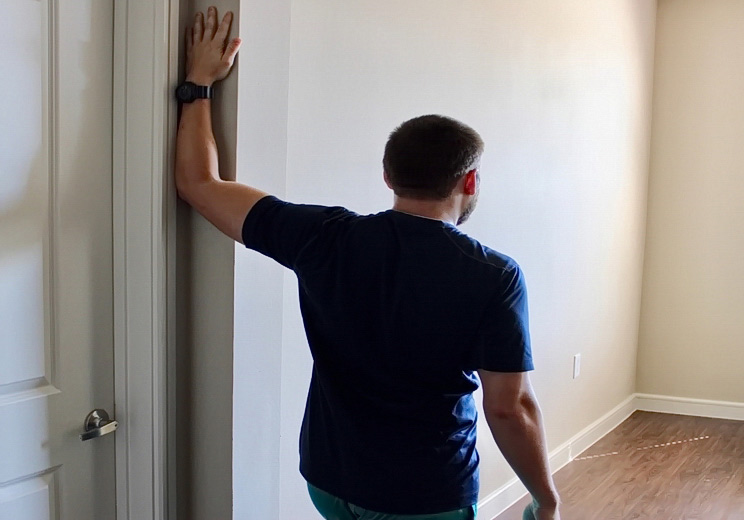 Side sleepers can perform this upper chest stretch to re-mobilize those achy shoulders.
Stand with your left side to the edge of a wall.
Place your left arm slightly above shoulder height on the edge of the wall. Your elbows should be at a 90-degree angle. Step forward with your left leg until you feel the stretch on your left upper chest.
Hold for 30 seconds, then repeat on the other side.
Belly Shoulder Stretch | 30 sec per side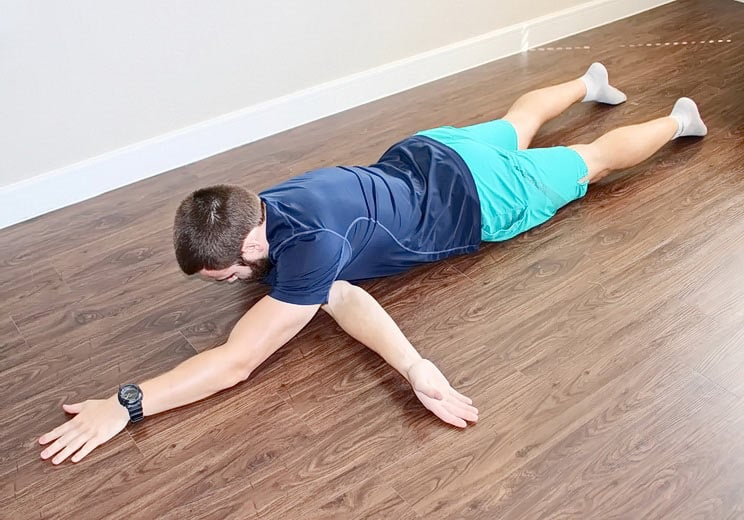 Side sleeping puts stress on your shoulders. This stretch helps soothe the backsides of your shoulders.
Lie down on your belly.
Extend your right arm under your chest with your palm facing up. Use your left arm for support and lie it straight out in front of you.
Slightly lift up your torso to decrease weight off your right arm. You should feel a stretch on the back of your right shoulder.
Hold for 30 seconds, then switch sides.
Wall Front Shoulder Stretch | 30 sec per side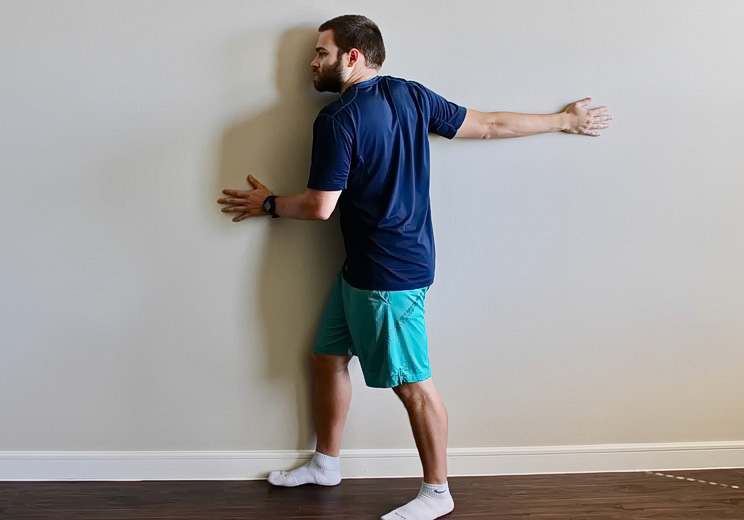 This stretch relieves stress and tension from the front of your shoulders.
Stand facing a wall, then straighten your right arm out and press it firmly against the wall. Your right arm should be parallel to the ground. Turn your body to the left, resting your left arm lightly on the wall to control the stretch.
Step your right leg forward about 1 or 2 feet. Keep your back straight.
Hold for 30 seconds, and then switch sides.
Couch Outer Back Stretch | 30 sec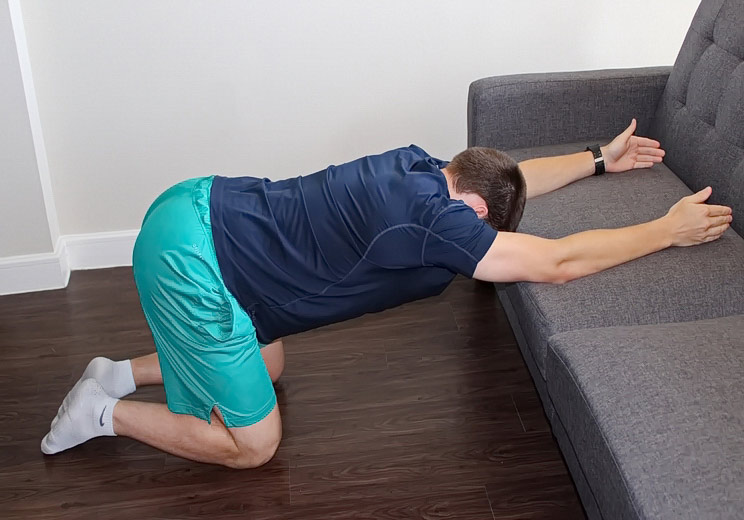 This stretch targets your outer back, which helps relieve shoulder tension.
Kneel down in front of a couch.
Hinge at your hips and extend both arms, palms facing each other, shoulder-width apart on the couch. Your arms should come in contact with the couch right behind your elbows.
Keep your back straight, relax your neck, and look down.
Hold for 30 seconds.
If these morning stretches aren't enough to keep aches and pains at bay, try The Release Rebalance Method! Our mobility program is proven to overcome lower back and hip pain with hundreds of success stories. You only need to commit to 9 minutes a day to get the fix you need. Click here to start your recovery now!