Bored with almonds and walnuts? Pili nuts are about to break your routine in the best possible way!
If you're on the keto diet, there's no better addition to your high-fat, low-carb meal plan than Pili nuts.
This little nutrient-dense snack is making big waves in the health sphere. After learning about its taste and benefits, you'll want to get some in your pantry, stat.
Curious about ketosis?
Click here to get the FREE Easy Keto Guide to learn the right way to go keto!
What Are Pili Nuts?
Pili, pronounced "peeley", is a water drop-shaped nut native to Southeast Asia. It's commonly roasted, sugar-coated, or used in chocolate-making on the islands.
The flavor of Pili lies somewhere between the buttery richness of a macadamia nut and the light savory essence of a sunflower seed.
Flavor aside, the Pili is keto dream for nut lovers. This nutritional powerhouse is filled with healthy metabolism-boosting fats and protein, and it has the lowest carbohydrate count of any nut. (1)
---
5 Benefits of Pili Nuts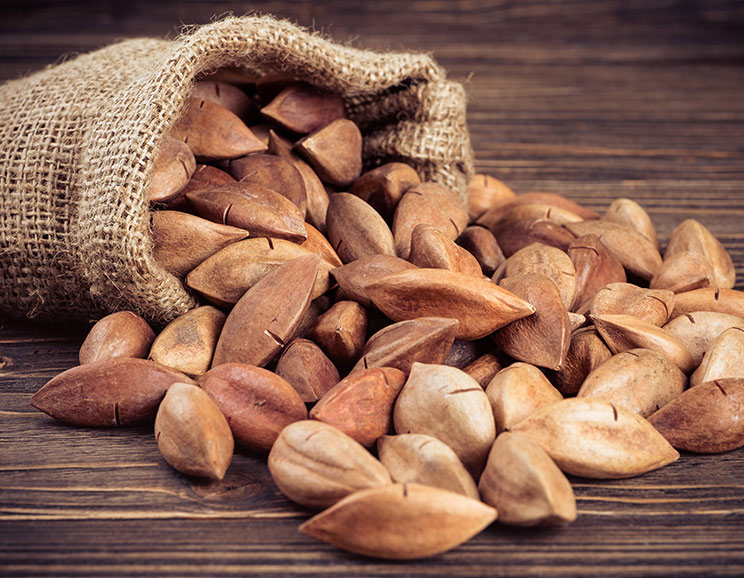 Even if you aren't on the keto diet, you can reap the many benefits of Pili. Here are the top five reasons you should seek some out.
1. Prevents Aging
If you want to look younger, Pili may be a good nut to eat regularly. It's high in vitamin E, an antioxidant that can help reduce free radical damage.
Free radicals are DNA-damaging molecules that are produced in our bodies in response to a bad diet, stress, environmental pollution, and other toxins. This causes the telltale signs of aging, such as wrinkles and sagging, along with many diseases such as cancer and Alzheimer's.
Research shows that vitamin E can protect cells from the damaging effects of free radicals, which may help slow down aging. Studies also find that low vitamin E levels are associated with age-related brain disorders, and supplementing can help improve symptoms. (2)
Pili nuts also contain a good dose of zinc, which inhibits acne and reduces dermatitis and other types of skin inflammation. (3)
2. Great for Keto
Pili nuts are extremely low in carbs. According to research, Pili nuts are only two to four percent carbohydrates. Compare this to say, cashews, which are closer to 20 percent carbohydrate. (4)
Instead of carbs, they're mostly made up of healthy fats, and they contain several important minerals like magnesium, zinc, and copper.
Mineral deficiencies are common on the keto diet, since high-mineral foods are often higher in carbs. When you eat Pili nuts, you keep the carbs low while keeping your mineral levels up to par, which may keep you from feeling lethargic while low carb. (5)
3. Reduces Stress
Chronic stress is common in our today's lifestyle, and not getting a chance to relax can tax your nervous system.
Fortunately, Pili are rich in magnesium, which studies show could significantly reduce anxiety and stress. Magnesium acts as a mild sedative for your nervous system, reducing heart rate and decreasing sensitivity to stressors. (6)
Studies also show that magnesium can help reduce depression and symptoms of other mental disorders like bipolar disorder and mania by acting as a mood stabilizer. (7)
4. Fights Bacteria
Similar to coconuts, Pili contains antimicrobial and antibacterial fatty acids. Studies show that these compounds are effective even against some of the most potent bacteria, such as Staph. (8)
In fact, these fatty acids are also key ingredients in some antimicrobial food additives. (9)
5. Boosts Immunity
If you're feeling under the weather, Pili may also help boost your immunity thanks to its zinc content. Zinc plays a huge role in immunity, and deficiencies can cause immune dysfunctions by disrupting the function of immune cells.
Research shows that zinc is crucial for protecting cells from damage during inflammation. It can also help prevent and reduce the duration of diarrhea and respiratory tract infections in infants and children. (10)
One study found that getting more zinc can reduce the length of the common cold by up to 33 percent, so be sure to eat your Pili nuts when you're feeling under the weather. (11)
---
Where to Find Pili Nuts
Pili nuts are still relatively new to the global health scene, so finding them in your local health food store might still be challenging.
The Philippines is the main exporter of Pili nuts, and their production is limited to certain central regions of the islands. Plus, Pili nut trees take years to bear fruit and are harvested by hand to preserve their delicate oils from being damaged by the Phillipine heat. These factors make global production and export slower than other nuts. (12)
However, you can still find Pili nuts online. You can also find Pili nut yogurt by the brand Lavva at mainstream health food stores like Whole Foods. If you're lucky, you might also find Pili nut butter!
If you're able to get your hands on whole Pili nuts, here's a few ideas about what to do with them:
---
The Bottom Line
We're always excited to hear about new foods with promising benefits, especially nuts, since there haven't been new additions in a while. Try to find them the next time you go to your local health food store. It might be a great stress-relieving, anti-aging, and immune-boosting addition to your keto or Paleo diet.
If you're crazy about nuts and consider snacking your favorite past time, you're going to adore the gourmet recipes in our Paleo Snacks cookbook. Get your snacking fingers ready for things like Pecan & Banana Mini Bars, No-Bake Hazelnut Brownies, Vanilla Toasted Almonds, Fig & Walnut Biscuits and over lots more ridiculously tasty between-meal treats. Get your copy of this must-have recipe book HERE.