Are your brushes starting to look cakey? Did you recently have a breakout? If so, it may be time to give your makeup brushes a good cleaning.
To prevent breakouts and the buildup of excess bacteria, it's important that you clean your makeup brushes on a regular basis. Fortunately, keeping your makeup brushes clean is a simple and quick process.
To make this DIY makeup brush cleaner, you'll just need three ingredients: tea tree oil, castile soap, and water. Many studies have been conducted on the benefits and uses of tea tree oil and other essential oils. Some of the many popular uses include healing bacterial infections, itchiness, fungal infections, halitosis, headaches, eczema, and acne. It can even treat mold. (1)
Want naturally radiant skin? We've created a FREE guide to give you the best tips & tricks for natural skincare. Click here to grab your copy!
Castile soap is multipurpose, and it can be used for detergent, handsoap, body wash, home cleaner, face wash, and even shaving! It's great for cleansing and moisturizing your skin. However, it's known to be quite potent, so diluting just a few drops of this soap with water is powerful enough to clean most items in your home. (2)
After you create this makeup brush cleaner, leave a small bowl in your bathroom handy to clean your brushes. Simply pour your cleaner into the bowl, and dip your brush into the mix. I recommend cleaning your brushes once a week. But don't worry: the whole process takes just 10 minutes, and your face will thank you.
You can also use this mixture to clean the outside and inside of your makeup kit or bag. Bacteria builds up on your skin and makeup materials, which can quickly make your kit a germ party. So be sure to wipe them down after they come into contact with dirty sinks or tabletops.
Destiny Lalane
3-Ingredient Makeup Brush Cleaner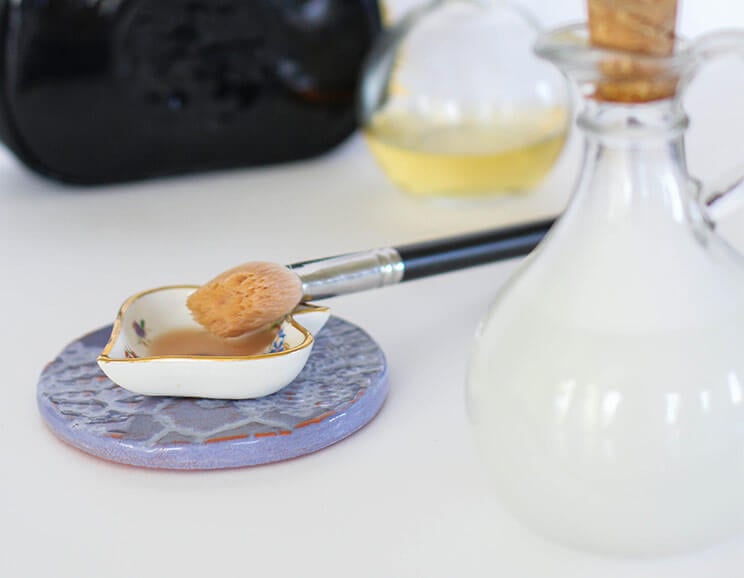 Cook Time:
5 mins
5 minutes
Prep Time:
5 mins
5 minutes
3-Ingredient Makeup Brush Cleaner
Wear makeup? Here's a simple 3-ingredient DIY makeup brush and kit cleaner.
Tools
Medium bowl

Glass Container

Funnel

Brushes or makeup to sanitize
Ingredients
2.5 t castile soap

10 drops tea tree essential oil

1.5 cups water
Instructions
Place the ingredients to the side of a medium-sized bowl.

Add water into the bowl.

Add 10 drops of tea tree oil, and stir well.

Add castile soap into bowl.

Funnel mixture into a glass jar for storage.

Shake well. You'll notice it foams when mixed.

To clean brushes, place a brush in a jar filled with brush cleaner. Stir brushes in cleaner.

Let the brushes sit for 30-60 minutes before rinsing with water. Repeat if needed.

Place a small towel on a flat surface with an edge (such as a countertop or tabletop). To dry the brushes, place them on a towel (with the bristles hanging over the edge).

Store the remaining cleaner in a cool place.
Tips:
Store cleaner in a cool location.
If it's hard for you to remember when it's time to clean your brushes, set a weekly reminder on your phone to help build the habit.
To help keep your brushes clean throughout the week, gently wipe them off on a towel after each use.
To ensure the brush dries evenly and preserves its shape, dry your brushes flat on a counter or tabletop (with the tips hanging off the edge).
DO NOT dry your brushes upright. If you do, water can trickle down into the ferrule (the metal ring at the end of the brush handle) and loosen the glue holding it together, which could cause the bristles to shed.
Before use, always test the brush on your palm to see if it's dried.

(Read This Next: DIY Organic Powder Foundation Recipe + Beetroot Blush Recipe)