Give store-bought brands the boot with this natural homemade Minty Mouthwash!
Proper oral hygiene is nothing to take lightly. It can be difficult to reverse the damage caused by neglecting your pearly – or not so pearly – whites. Incorporate an alcohol-free rinse into your regular routine to help keep your smile bright and prevent oral health issues from starting in the first place. This invigorating minty mouth uses only three ingredients and takes just five minutes to whip up!
Hydrogen peroxide is an antiseptic that makes an ideal mouth rinse for killing bacteria, along with regular brushing and flossing. This minty mouth rinse can also help treat canker sores, mouth wounds, and swollen gums (1). Best of all, it's easy to make and is more cost-effective than most commercial mouthwash brands.
Love slow cooker recipes?
Click here to get your FREE copy of our delicious Slow-Cooker Recipes!
Commercial mouthwash often contains artificial sweeteners and alcohol, which kills bacteria, but can also burn and irritate sensitive gums. An alcohol-free wash is gentle on delicate mouth tissues and can combat dental ailments, all while whitening your teeth!
Why Go Alcohol-Free?
Alcohol-free mouthwash has proven to have a better effect on the gloss, color and wear of teeth, and dental restorations (2).
Because alcohol is not selective, it wipes out both the good and bad bacteria in the mouth. This can cause an imbalance in saliva production. Alcohol-free mouth rinse helps maintain a balance of saliva without drying your mouth out (3).
Additionally, hydrogen peroxide helps eliminate plaque-causing bacteria and can halt gingivitis in its tracks (4).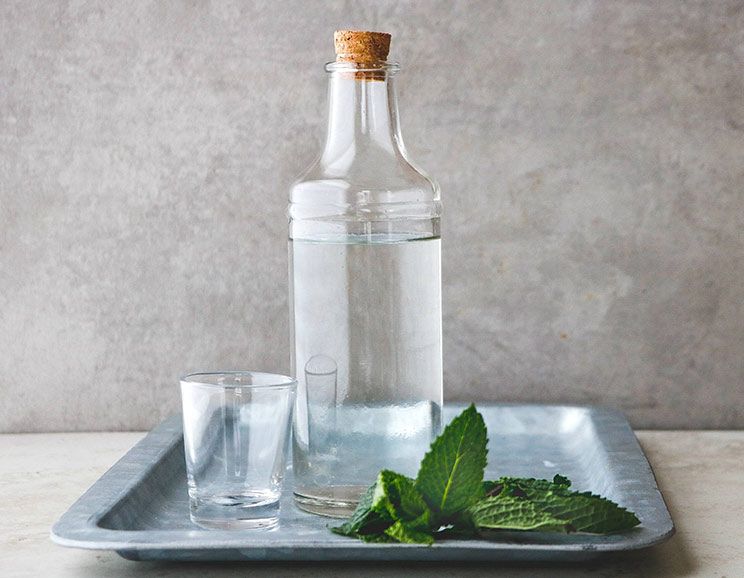 Peppermint essential oil is not only a natural breath freshener, but also contains its own antibacterial properties. These properties help keep oral bacteria at bay and fight germs that typically cause bad breath (5).
Note: Although this rinse is not intended for swallowing, do not use peroxide above 3% concentration. High doses of hydrogen peroxide can have toxic effects on the neurological and respiratory systems (6).
To get started, combine water, hydrogen peroxide and peppermint oil in a glass jar, then shake to blend. Swish one ounce of the rinse inside your mouth for 10 seconds, gargle, and spit. Store the mouthwash on your bathroom counter and use it when you need a fresh minty rinse!
Jennafer Ashley
3-Ingredient Homemade Minty Mouthwash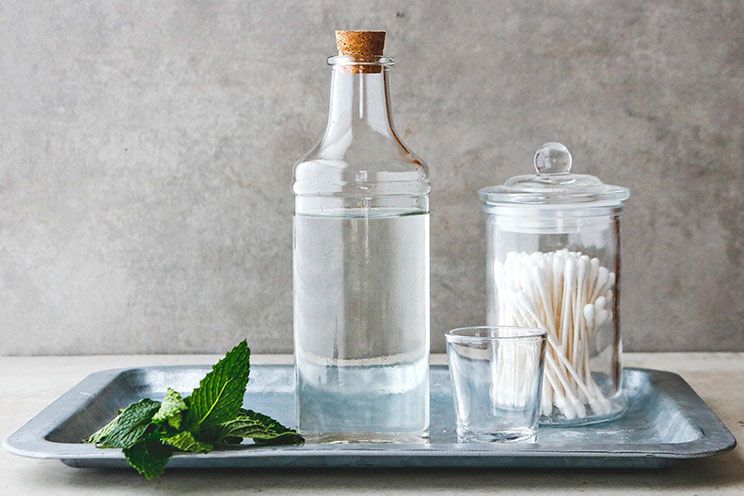 Prep Time:
5 mins
5 minutes
3-Ingredient Homemade Minty Mouthwash
Give store-bought brands the boot with this natural homemade Minty Mouthwash.
Ingredients
1 cup filtered water

1 cup 3% hydrogen peroxide

6 drops peppermint essential oil
Instructions
To make it: Combine water, hydrogen peroxide, and peppermint essential oil in glass jar.

Shake to blend.

To use: Swish one ounce in your mouth for 10 seconds and spit!

(You'll Also Love: DIY Charcoal Face Mask with Coconut Oil)