One of the most common questions our readers ask us is if the Paleo diet can truly help heal those suffering from Crohn's disease.
While there is never a one-size-fits all solution, what we often find is that eating whole and nourishing food is a great first step to easing many chronic conditions.
This is why many of our readers credit the Paleo diet to their success when fighting Crohn's. The Paleo diet removes triggers that can cause severe inflammation, digestive issues, nausea, and other unfortunate signature symptoms of the disease.
Do you struggle with bloating, gas, constipation, or other digestive issues? We've created a FREE guide to healing your gut naturally.
Click here to get your FREE copy of our Digestion Guide!
For real-life advice, we asked those of you in the PaleoHacks community living with Crohn's to share how you manage flare-ups and overcome the daily challenges of this chronic disease.
What we found was that many of you not only adapted the Paleo diet to fit your lifestyle and individual needs, but also championed the importance of self-care. Whether it was finding natural ways to reduce stress or practicing meditation, nutrition and mindfulness were key to your journeys.
Below are your stories. We want to thank you for sharing with the Paleo community, as your advice helps inspire others to find their paths to healing.
---
"Diet is huge! I use supplements, try to keep stress to a minimum, and exercise when I'm able. It's a daily fight!"
– @mindykia
"A whole food organic diet is the single most important change to make. No GMOs, no processed foods, and limit eating out. Drink bone broth. Try stress reducing activities – exercise, yoga, meditation."
– @kristi.hard
"Currently, I follow Whole30 eating while limiting raw foods and nuts. I drink apple cider vinegar each morning and a half bottle of JT's Kombucha daily. I take high-quality fish oil, turmeric, vitamin D, and occasional digestive enzymes. I've been off Remicade for almost three years and I never want to go back!"
– @homeskoolmommy
"Glutamine! It helps decrease inflammation and restore integrity to the gut, and lots of other cool stuff. Check it out."
– @bergen.bokeh.bourbon
"I've had too many ups and downs to count. I live day to day, and make sure I pay attention to what I'm eating and how it's impacting me. I eat lots of raw veggies, drink plenty of water, get my electrolytes, and avoid gluten whenever possible. I'll turn to protein smoothies or bars when I don't feel like eating a meal but need a little nutrition."
– @hatomilayla
"I have suffered from Crohn's disease for over 15 years. Through tons of trial and error, I have found a lifestyle that works for me.
"While I still take immunosuppressant medication, I've come a long way since my early diagnosis. A normal day for me used to include over 15 pills and little attention to my diet and lifestyle.
"Today, I follow an adapted Paleo diet to suit my needs. I eat good quality dairy such as full-fat yogurt, and incorporate some grains such as quinoa and rice. I have fallen in love with CrossFit and am humbled every day by all my 'sick' body is capable of. CrossFit relieves any stress and the community that surrounds it is unparalleled."
– @livewellalli
"I was diagnosed in 2001 at 16 years old. I made the rounds through all the medications out there. In 2015, three months after getting married, I entered the worst flare-up of my life.
"Medications stopped working, and, in fact, the side effects made it worse. I ended up in the hospital having eight inches of my intestines removed. I started following the AIP diet and three years later, have yet to go back on medication. I just had my first colonoscopy since my surgery and it confirmed that there is still no inflammation!"
– @andreakomos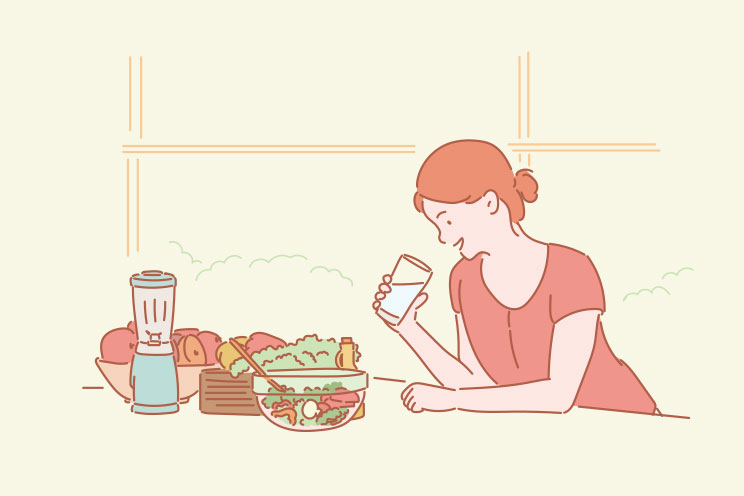 "It's all about connecting your mind and body. I tackled some serious childhood trauma through talk therapy, and then started practicing yoga again every day. I eat an ayurvedic and anti-inflammatory diet when possible, and came off all my meds and have been in remission now for six months. I can't say enough about mindfulness practices and getting to the root cause of the disease."
– @trestmanjody
"I am very strict with my diet. Food is medicine. Focusing on positivity is also essential for me. It gets you through some very difficult times and long flares."
– @crohnscooking
"I was diagnosed with Crohn's disease in elementary school. Getting diagnosed at such a young age was actually a positive, as I was able to establish healthy habits early in life that help me manage my disease.
"After many treatments and eventually surgery, I was able to put my disease into remission. While I'm taking Humira as a maintenance drug, I find that managing stress levels and diet has made the biggest difference in my symptoms. I exercise regularly and especially enjoy yoga.
"I recently started transitioning into the autoimmune Paleo diet and have had a ton of luck with it! It's amazing how food truly is medicine. I'm hoping that through continued stress maintenance, mindfulness, dietary control, and just listening to my body, I can one day be medication free! Big goal considering the trickiness of Crohn's disease, but I'm hopeful."
– @katedixon4
---
These stories were collected in response to an Instagram call, and participants are credited by their Instagram handles. Responses were revised for grammar, punctuation, and clarity.
PS: We'll be adding to this list as more of you reach out with the ways you handle the daily challenges of Crohn's. If you'd like to share your story, please send us a direct message on our Instagram. Hope to hear from you soon.
(Read This Next: Why it Takes 4 Years to Diagnose an Autoimmune Disease + Signs You May Have One)