Combine the flavor of spicy wings with low-carb noodles in this buffalo chicken spaghetti squash!
If you want to turn your favorite appetizer into a full-blown meal, this fun fusion recipe is made just for you.
Grab your fork and pull up some noodles in this filling buffalo chicken spaghetti squash. It's got an addictively mild spicy flavor and comes with plenty of protein and healthy fats.
Trying to figure out exactly what to eat on Paleo? Look no further than our FREE 21 Day Paleo Meal Plan.
Grab Our FREE Paleo Meal Plan By Clicking Here!
The Easiest Way To Bake Spaghetti Squash
Spaghetti squash is a grain-free alternative to wheat-based noodles and is full of essential vitamins and fiber. Since it can be difficult to slice when raw, the trick is to bake it in the oven to tenderize the outer skin. This is a hassle-free technique that allows you to easily slice, deseed, and rake out the strands with a fork.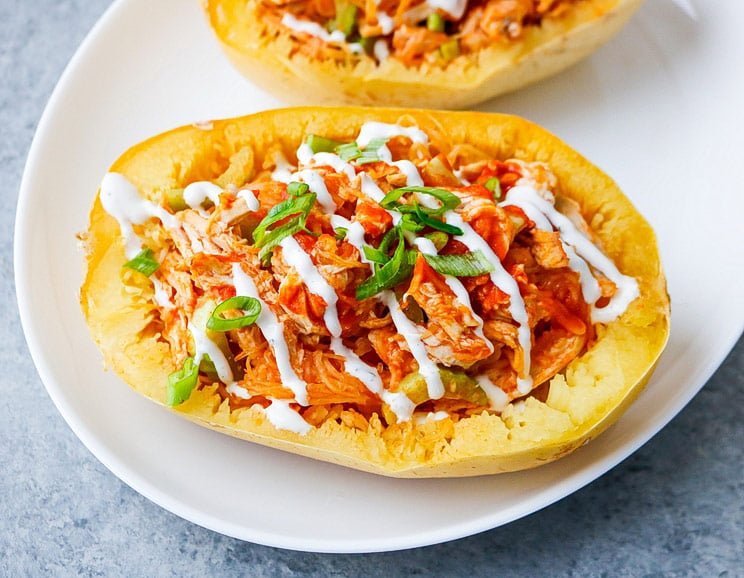 Make sure to save the outer squash halves to use as bowls for serving. You can set them aside as you combine the noodles with chicken, celery, and sauce. Once everything is complete, place the mixture back into the shells and reheat to marry all the flavors.
DIY Your Buffalo Sauce
This buffalo sauce is made by mixing Paleo hot sauce with buttery ghee, but you can also use grass-fed butter instead. You can easily make your own hot sauce with apple cider vinegar, tomato sauce, and spices, but if you're in a pinch, be sure to buy a bottle of hot sauce that doesn't contain any added sugars or cornstarch.
To balance out the heat from the hot sauce, we suggest drizzling creamy, herb-rich Paleo ranch all over the top of this buffalo chicken spaghetti squash.
Helpful Tips To Get Started:
Cook the chicken in advance for easy prep. Store the cooked chicken in the fridge until you're ready to combine it with the veggies and sauce.
Double-up on the buffalo sauce. You can use leftover sauce to bake buffalo wings or serve as a dipping sauce for Paleo chicken tenders.
Store leftovers for later. You can place them in an airtight container in the fridge for up to five days.
Jennafer Ashley
Buffalo Chicken Spaghetti Squash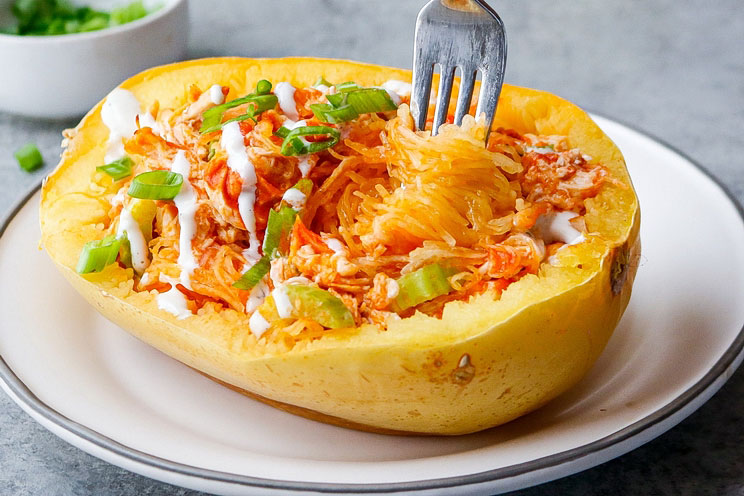 Cook Time:
1 hr 10 mins
1 hour 10 minutes
Prep Time:
10 mins
10 minutes
Nutrition facts:
53 grams of protein
6 grams of carbohydrates
35 grams of fat
Buffalo Chicken Spaghetti Squash
Combine the flavor of spicy wings with low-carb noodles in this buffalo chicken spaghetti squash.
Tools
Small baking sheet

Medium mixing bowl
Ingredients
1 medium spaghetti squash

1 lb cooked and shredded chicken breast

½ cup finely chopped celery

⅓ cup Paleo hot sauce

¼ cup melted ghee

¼ cup chopped green onion for serving

Optional: ¼ cup Paleo ranch dressing
Instructions
Preheat the oven to 375ºF and poke holes in the spaghetti squash with a fork 5 times.

Place the spaghetti squash onto a small baking sheet and bake for 50-60 minutes.

Remove the squash from the oven, leaving the oven on. Let the squash cool for 10 minutes, then slice it in half and scoop out the seeds. Use a fork to pull out the noodles and place them in a mixing bowl. Set aside the empty squash shells.

To make the buffalo sauce, stir together hot sauce and melted ghee in a small bowl. Add the shredded chicken and buffalo sauce to the bowl of noodles and stir well to coat.

Divide the mixture between the reserved squash halves and return it to the oven for 10 minutes.

Drizzle the spaghetti squash bowls with ranch, then sprinkle green onions on top. Serve hot and enjoy!
Frank's red hot sauce (Frank's RedHot)
Ghee (Pure Indian Foods)
Ranch dressing and marinade (Primal Kitchen)
If you liked this super simple buffalo chicken spaghetti squash, you'll love the variety of easy, delicious and gourmet meals in Paleo Eats! Enjoy healthy yet hearty Paleo meals like Mongolian Red Pepper Beef, Pulled Pork, Bacon Bars, and more. Get your copy HERE.