Glucomannan, a type of plant soluble fiber used as a food additive, has gained recent popularity as a weight loss supplement. But is it too good to be true?
Glucomannan, pronounced gloo-ko-man-an, is a nutritional soluble fiber supplement derived from the roots of Japanese elephant yam, also known as the plant Konjac. It's commonly used in the food industry to emulsify and thicken processed foods such as tofu, pastas and flours, as well as shirataki noodles (which are translucent, gelatinous noodles often hailed as "zero-calorie miracle noodles"). But in recent years, glucomannan has been introduced to North America and Europe as a high fiber dietary weight loss supplement.
But here's the thing: an alarming number of dietary fiber supplements like glucomannan claim to promote fast and easy weight loss. Unfortunately, many supplements that make such promises end up being too good to be true. Not only do most fast-acting weight loss supplements fail to deliver on their claims, but some may have side effects, such as interfering with calcium absorption (1).
Can you spare 10 minutes a day? Then you can do this 7-Day Paleo Weight Loss Bodyweight Workout Challenge!
Click here to get your FREE copy!
So, is glucomannan as a weight loss supplement worth raising an eyebrow at?
---
Can Glucomannan Help You Lose Weight?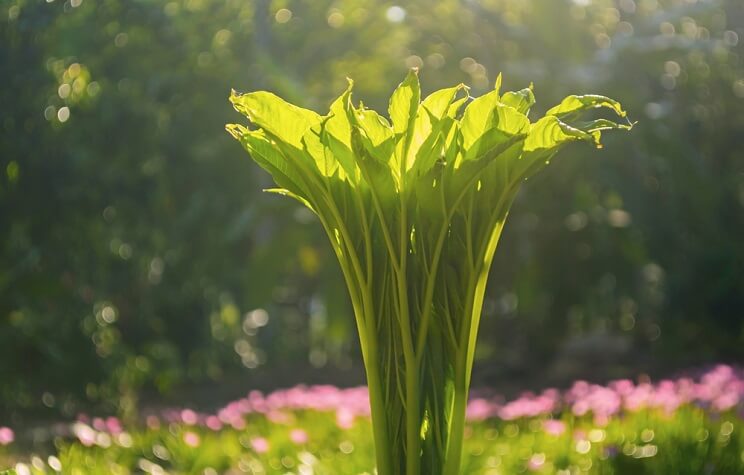 In a nutshell, glucomannan works as a weight loss supplement by keeping your appetite satiated for longer periods of time. As we covered above, glucomannan is a soluble fiber supplement and has the ability to absorb a ton of water—in fact, it is said to absorb up to 50 times its weight! This allows it to form a gel-like consistency when it's dissolved—much like how your chia seeds expand when you make a mean chia pudding. [tweet_quote] Glucomannan is a soluble fiber supplement that can absorb up to 50 times its weight![/tweet_quote]
The emulsifying properties of glucomannan force it to digest slowly and expand in your stomach, which may promote a stronger sense of satiety, suppress your appetite and reduce cravings for unhealthy foods (2).
The Bottom Line: Glucomannan expands in your stomach and digests slowly—which may suppress your appetite and food cravings, reducing overall caloric intake.
---
What The Science Says About Glucomannan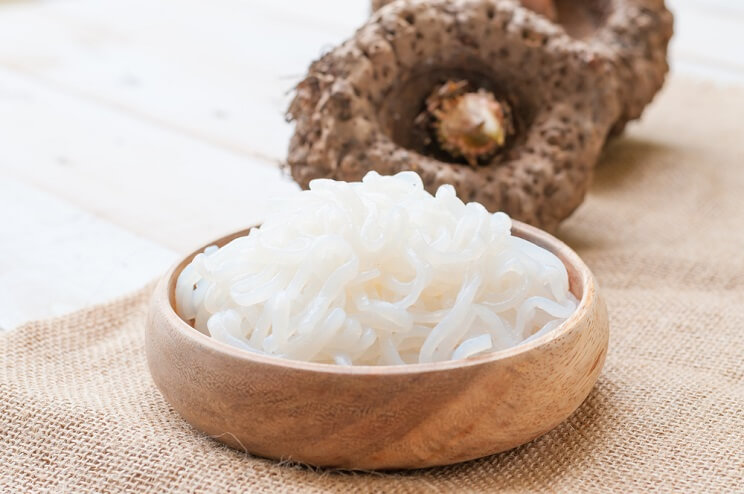 So far, glucomannan isn't sounding so bad. If nothing else, fewer sugar cravings are never a bad thing, right?
In one study, 53 overweight and moderately obese participants between the ages of 18 and 65 were divided into two groups: one group was assigned to take 1.33 grams of glucomannan, and the control group took placebo capsules (3).
Both groups took the capsules with eight ounces of water one hour before breakfast, lunch, and dinner over the course of 8 weeks. Results showed no significant differences between the supplement group and the control group. This particular study did not find glucomannan effective for weight loss in overweight individuals.
However… some studies say otherwise.
In another study, 176 participants were placed on a balanced, but restricted, 1,200-calorie diet and divided into two groups. One group took fiber supplements with glucomannan before meals, while the other took placebo pills (4). Participants were monitored over the course of 5 weeks. The study's results showed those taking fiber supplements lost an average of 1.7 pounds per week, which was more than those with the placebo supplements and diet alone. [tweet_quote] Glucomannan is most effective when taken before meals.[/tweet_quote]
This information suggests glucomannan is most effective when consumed before meals by controlling your appetite, but it's not a miracle supplement substitute for a well-balanced diet.
The Bottom Line: Some studies show glucomannan can induce greater weight loss when taken right before meals and paired with a low-calorie diet.
---
More Glucomannan Health Benefits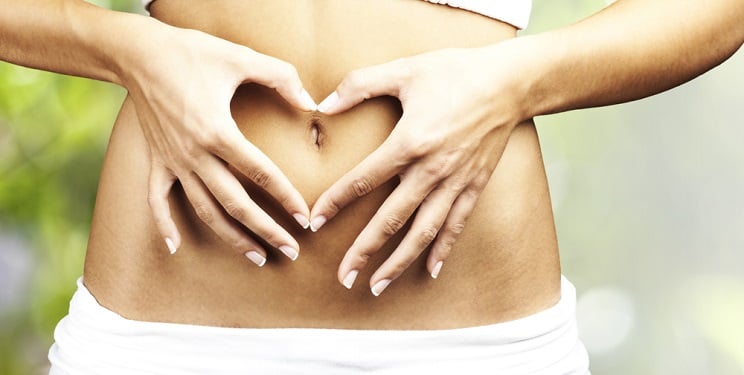 We've discussed weight loss supplements—but does it have any other health benefits that make it worth taking?
The answer is yes: as a source of soluble fiber, it may improve your gut health.
Soluble fiber acts as a prebiotic and feeds your healthy gut bacteria, which supports your overall digestive health and immunity (5)(6). When your healthy gut bacteria digest or "ferment" this fiber, they produce a short-chained fatty acid called butyrate. Butyrate has been shown to improve insulin sensitivity and prevent fat gain, which brings us back to the potential benefits of glucomannan as a weight loss supplement (7). [tweet_quote] Soluble fiber acts as a prebiotic and feeds your healthy gut bacteria.[/tweet_quote]
While you can increase your fiber intake with supplements like glucomannan, if you already follow a well-balanced Paleo diet, you're likely already eating plenty of fiber from fruit, veggies, nuts, seeds and dark leafy greens—which means the need for a fiber supplement may not be necessary.
The Bottom Line: As a source of soluble fiber, glucomannan can feed the healthy bacteria in your digestive tract, which supports digestive health.
---
Is Glucomannan Safe?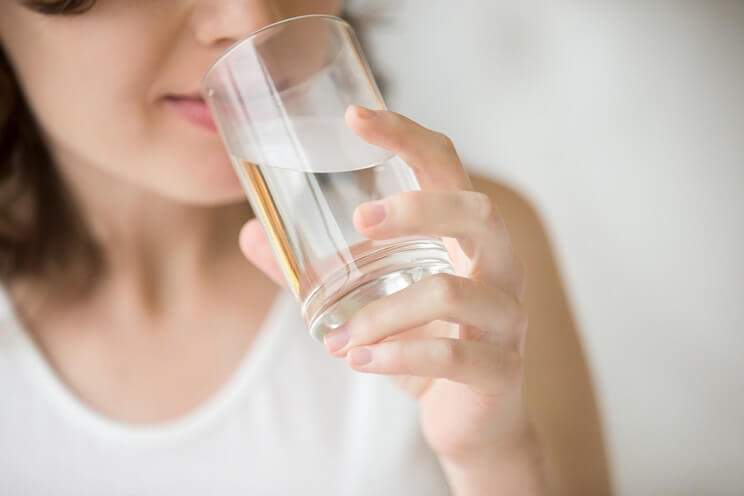 Yes, glucomannan is considered safe and well tolerated in most people. However, it's best to check with your healthcare practitioner before adding any supplement to your diet, and always start with small doses to see how your body reacts.
When it comes to increasing the soluble fiber in your diet, it's also important to work with a healthcare provider to make sure you're not over consuming fiber, which may prevent the absorption of certain essential vitamins and minerals when consumed in excess (8).
Fiber supplements should always be consumed with 1-2 glasses of water or other liquid to prevent choking or throat blockage, which could occur if glucomannan expanded before reaching your stomach.
---
Potential Side Effects of Glucomannan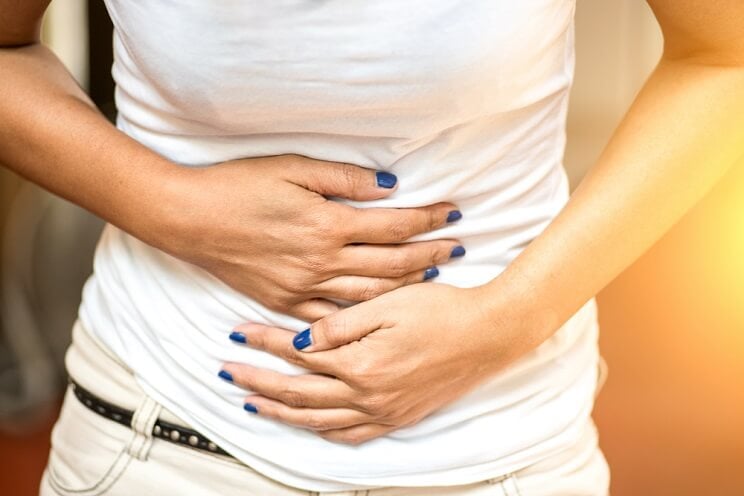 Increasing your fiber intake may come with initial digestive discomfort, such as bloating, gas and diarrhea. Digestive symptoms with fiber supplements are more common in people who eat a diet rich in processed foods, and can cause symptoms if you have a low water intake, which helps move fiber through your digestive tract to properly digest (9).
---
How to Take Glucomannan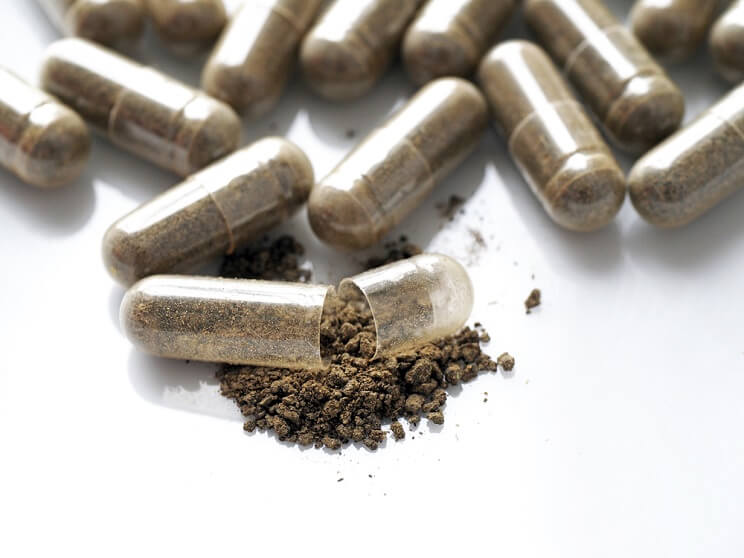 In the supplement aisle of your local health food store, you're most likely to find it in powdered form or as konjac flour, which can be mixed with any beverage. It is also available in capsules and tablets.
When it comes to promoting weight loss, glucomannan is said to be most effective when 1 gram is taken 3 times per day (10). It is recommended that you supplement 15 minutes to 1 hour before a meal. As suggested above, studies have shown it's most effective when taken prior to food consumption.
---
Where to Find Glucomannan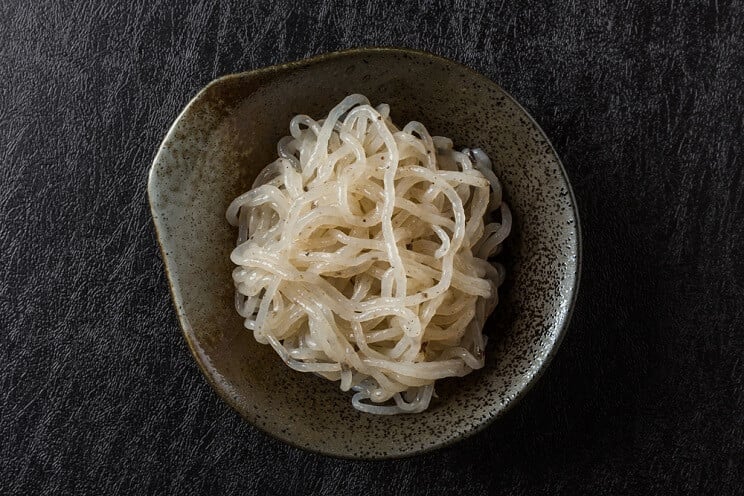 You can find various forms of glucomannan at most pharmacies, health food stores or online wellness retailers.
Glucomannan is also used in foods such as Shirataki noodles, which can be found at your local Asian supermarket. As a grain-free noodle made from elephant yam, shirataki noodles are also Paleo-friendly. Paleo Noodle Bowl night, anyone?
To sum it up, glucomannan has few negative side effects and is a good source of dietary fiber to promote general health and well-being. Although it's not a miracle weight loss supplement, it may promote weight loss in some people when taken before meals, particularly for those who follow a healthy, well-balanced diet.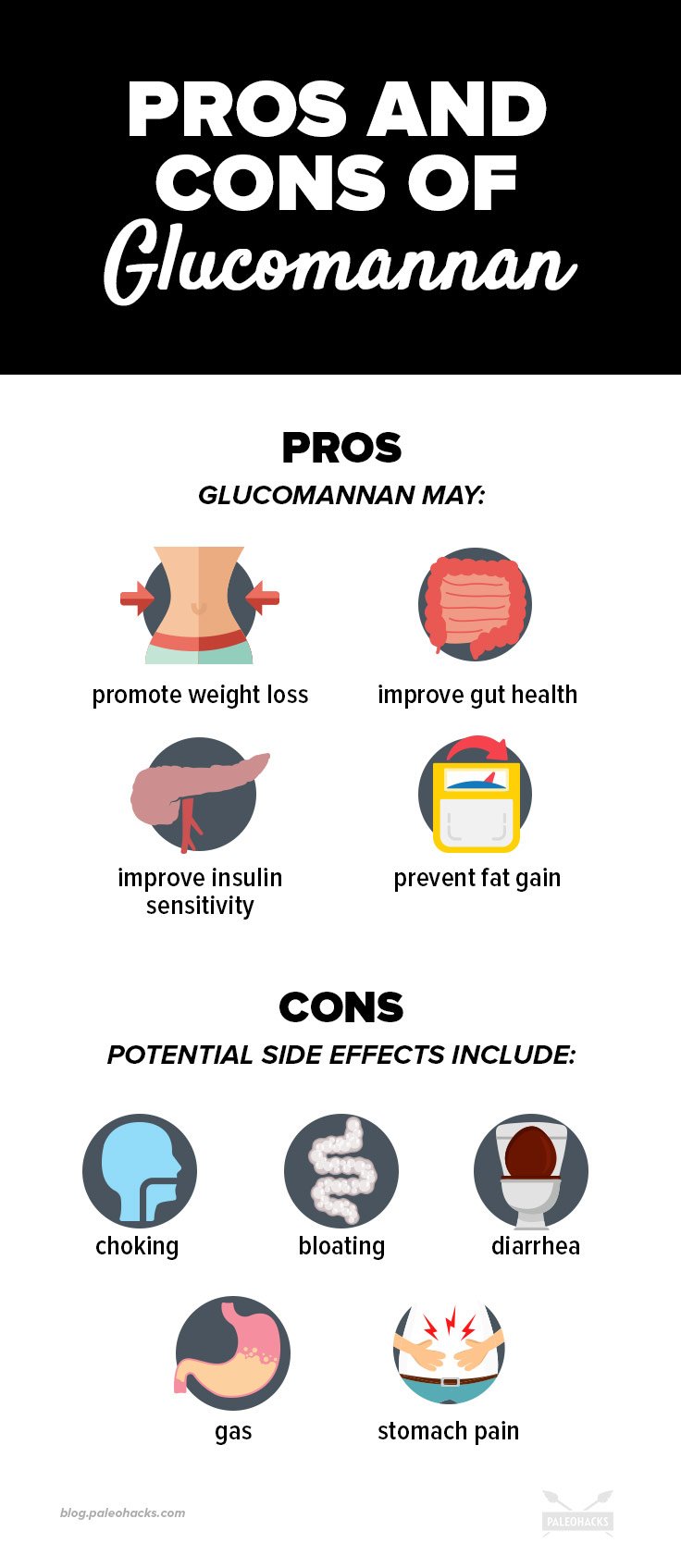 (Read This Next: Glutathione Benefits and Natural Ways to Boost Your Levels)