Want a boost of motivation, a way to track your progress, or just a new workout to get fit? There's an app for that.
There's thousands of fitness apps on the market, but only a handful earn a place in your smartphone. We scoured the web to bring you the top apps to help you reach your health goals. We made sure there was something for everyone on this list — from an app to help you get started on your first marathon to an app that finds the best beats for your workout. There's even one for running with zombies (trust us, it's amazing).
Mobile apps are like having a personal trainer 24/7 — they're always there for you and ready to guide you in the right direction.
Looking for an easy way to get started working out?
Grab our FREE Beginners Workout Guide - 3 Weeks To Tighter Abs, Sculpted Arms, And Toned Legs, by clicking here!
The Top 11 Fitness Apps

Couch to 5k
This training program guides newly awakened fitness buffs from the status of couch potato to 5k runner in as little as 9 weeks. This app talks you through your runs, telling you when to walk, when to run, and how far you've gone throughout your 20-30 minute workouts.
Once you finish your 5k, you can even check out their 5k to 10k app to take it to the next level.
App: Couch to 5K
Good for: New Runners
Price: $1.99
Strava
If you love a little friendly competition, this app is perfect for you — it compares your workout to those in your surrounding area. There are special awards to win, such as "King of the Hill", when you beat the running time of your local "rivals" on a neighborhood route.
This easy to use app is perfect for those of you who enjoy both running AND cycling. Strava also tracks of your workouts so you can check you stats and keep up with the local competition. It also estimates calories burned and records total miles traveled, elevation gain, total time, speed plotted over distance, average speed, max speed, and heart rate if you wear a heart rate monitor.
App: Strava
Good for: Competitive Types
Price: Free
Zombies, Run!
If you're the video game type, this is the fitness app for you. You choose a "mission", or storyline, where you're the main character during a narrated run. Each "mission" furthers your story, and every now and then, a horde of zombies will begin chasing you, forcing you to increase your speed, and sometimes even sprint during your workout. But don't worry, you never actually become a zombie's protein shake, though you can lose vital supplies, which keeps you engaged during your run.
This app can be used anywhere — outside, or even on the treadmill. You can create your own music playlists or use an outside music source, such as Spotify or Pandora. There are over 200 missions to choose from — so you'll never get bored with your runs!
App: Zombies, Run!
Good for: Gamers-Turned-Runners
Price: Free
7 Minute Workout Challenge
If you need something quick and effective, this app will be your best friend. This anytime, anywhere, no equipment fitness app is perfect for busy moms, business professionals, and anyone who thinks they don't have time to exercise.
The workouts are just over 7 minutes with 12 exercises lasting 30 seconds, followed by a 10 second rest. Each exercise comes complete with full video, audio, image, and text instructions for every exercise. You can also track your activity & monitor your progress within the app to keep you motivated.
Also, be sure to check out our version of the 7 Minute workout!
App: 7 Minute Workout Challenge
Good for: Busy Excuse-Makers
Price: Free
Spotify Running
If you're the type who needs music to work out, the Spotify Running app will be your lifesaver. (Well, technically, it's a feature in the original Spotify app, but you get the picture). Instead of running and trying to keep pace with your music, the Spotify Running app matches the music to you.
The apps picks tunes matching your tempo to help you keep pace. It works both outside and on the treadmill while detecting tempos from 140-190 beats per minute.
App: Spotify Running
Good for: Music Lovers
Price: Free
StrongLifts 5×5
For those of you looking to get stronger without having to think about how much to increase your lifts each week, this app take all the guesswork out of it. This app sets you up on a 3 times per week workout schedule lasting only 45 minutes. It shows you which exercise pairs with each workout, with how much weight, and how long to rest between sets.
App: StrongLifts 5×5
Good for: New Bodybuilding Enthusiasts
Price: Free
Nike Training Club
No matter what level you're at, the Nike Training Club app has a program for you. With over a hundred different workouts geared towards getting, lean, toned, and strong, you'll find something that fits your goals. The app also connects you with friends for added motivation, letting you share and customize photos together.
The workouts require a mat, dumbbells and resistance band as equipment, and can range anywhere from 15 minutes to 45 minutes depending on what category you choose. With exercises from mountain climbers to squats to plank walks and everything in between, there are tons of exercises you can do from the comfort of your own home or at the gym.
App: Nike Training Club
Good for: Strengthening and Toning
Price: Free
Charity Miles
With Charity Miles, you can choose a charity to donate money to for every mile that you walk, run, or bike… without ever dipping into your wallet. The app, backed by large corporate sponsors, donates to the charities of your choice in proportion to the miles completed for each. This year's pool is currently at $530,000. What a simple and easy way to donate to those charities closest to your heart…literally!
App: Charity Miles
Good for: 'Sponsored' Athletes
Price: Free
Yoga Studio
For those of you needing a good stretch or wanting to unwind after an intense workout, the Yoga Studio app is just the ticket. Classes are sorted by level, focus, intensity and duration. They offer a variety of specialty classes, including deep meditations and quick 10-minute practices.
The classes are led by a soothing voiceover, with video clip demonstrations for each pose. The clear instructions and video encourage proper posture, making this app perfect for beginners.
App: Yoga Studio
Good for: The Zen-Minded
Price: $3.99
Fooducate
This app is a good option for those looking to be more informed about the calories they put into their body. The goal of the app is help users quickly reference and compare foods. You can search with a barcode scan or search field to find information about food you buy at the store. The app also gives suggestions of alternatives that may have a healthier composition, lower sugar, or fewer GMO ingredients. There is also a food log, so you can easily track your meals.
App: Fooducate
Good for: Anyone Who Wants a Free Nutritionist
Price: Free
My FitnessPal
This app has been around for a long time and for good reason. It's not only a calorie-counting app, but also tracks your workouts and has a built-in step tracker. My FitnessPal even connects with many other apps including Strava, and devices like FitBit and Garmin GPS.
Their food database has over five million foods, so you can always find the food you want to add to your food diary. The best feature tracks your major nutrients – including protein, carbs, fat, fiber, sugars, and major vitamins and minerals. Perfect for those of you who don't necessarily count calories, but want to know where you are with your macro-nutrients.
App: My FitnessPal
Good for: Anyone Wanting a Tried and True, All-in-One Food and Fitness App
Price: Free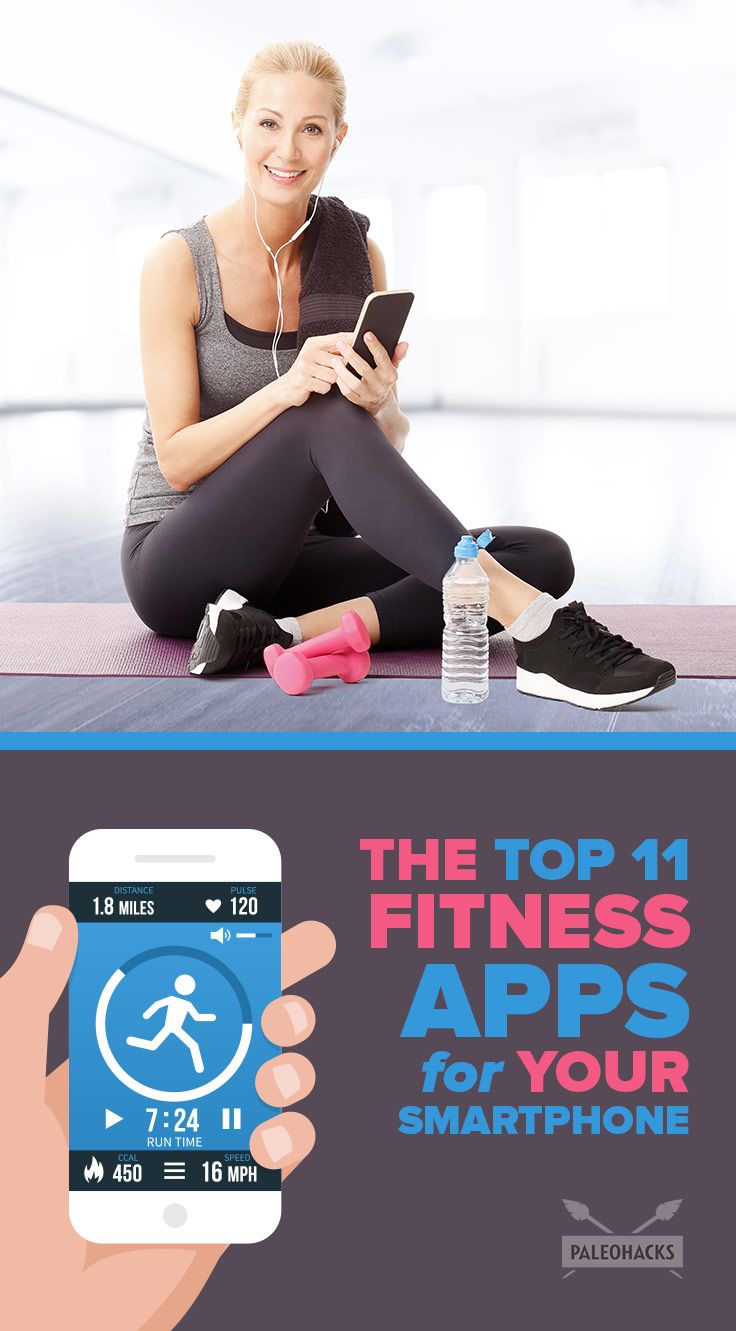 (Your Next Workout: 44 Resistance Band Exercises to Tone Every Inch)