Of all the bootie-lifting exercises out there, these are the ones that really work.
There are a lot of glute exercises out there, and it can be hard to tell which ones will be the most effective. Luckily, there's a science to targeting the butt muscles, and I'm here to make it easier for you.
The butt is made up of three main muscles: the gluteus maximus, gluteus medius, and the gluteus minimus.
Your gluteus maximus in the powerhouse of the three. As the largest of these muscles, it determines the shape of your booty and is used for daily movements like standing and sitting. The gluteus maximus is also used when force is required in movements like running or jumping. It is known to be one of the strongest muscles in the body but can weaken rapidly when not used, like during prolonged periods of sitting.
The gluteus medius is the second largest and rests between the gluteus maximus and minimus – the smallest and deepest of the three. These two smaller gluteal muscles are stabilizer muscles, securing the pelvis during movements like walking and balancing.
While the gluteus maximus is the main muscle you want to target for aesthetics, all three muscles play an important role in your day-to-day functionality and posture. This is why it is important to hit all three with a variety of different movements during your butt workout.
The combination of these five butt exercises effectively targets all areas of your glutes, which is why they are my favorite exercises for strengthening and toning your booty.
Do this workout up to two times per week. All you need is an exercise band, a chair or bench, and a yoga mat!
Hip Thrust | 15 reps

This is one of my favorite butt exercises of all time and you'll quickly see why. This exercise targets the gluteus maximus and has been proven to be even more effective than squats. (1)
Start by sitting on a chair. Press your hands down into the chair to lift your hips up, then slide your hips forward and slowly lower your upper back, shoulders, and head to rest on the seat of the chair.
Reach your arms back to hold onto the back of the chair and bring your feet hips-width distance apart with your toes pointing straight ahead.
Inhale to lower your hips down as far as you comfortably can. Then, exhale to lift your hip back up in line with your knees. Squeeze your glutes and your lower abs.
Repeat for 15 reps.
Single Leg Glute Bridge | 12 reps per side

I love to use this exercise for shaping the booty. It makes the gluteus maximus pop while also strengthening the smaller stabilizing glute muscles.
Lie on your back with your legs together, knees bent and your feet flat on the mat. Reach your arms down alongside your body with your palms facing down.
Straighten your right leg up towards the sky. Engage your abs.
Exhale to lift your hips up towards the sky, keeping the right leg straight up the entire time. Squeeze your glutes and lower abs at the top.
Inhale to slowly tap your hips back down, then immediately repeat.
Continue for a total of 12 reps, then switch sides.
Squats with Hip Abduction | 8 reps per side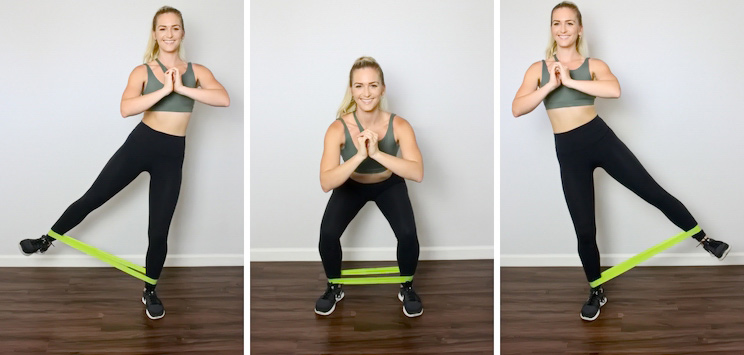 This exercise is great for targeting all three gluteal muscles. Studies show that turning the toes out at 45-degrees and sitting your weight back into the heels increases glute activation. (2) You'll need a lightweight band for this exercise.
Start by placing a light band around your ankles. Then, stand with your feet a little wider than hips-width distance and turn your toes out slightly. Bring your hands to heart center and engage your abs.
Inhale and squat down. Keep your chest lifted with your shoulders back. The weight should be mostly in your heels.
Exhale to stand back up and squeeze your glutes. Then, lift one leg straight out to the side, keeping your hips facing forward.
Inhale to set your foot back down and come back into your squat. Exhale and stand up, squeeze your glutes, and lift the other leg straight out to the side.
Repeat for a total of 16 squats.
Single Leg Deadlifts | 10 reps per side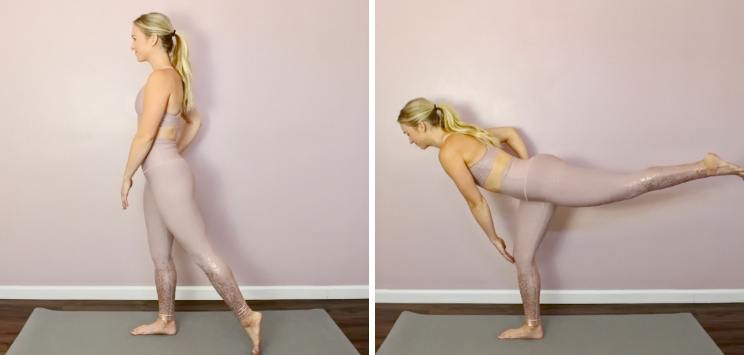 This is my favorite butt exercise for creating more stability around the pelvis while also shaping and strengthening all three butt muscles. You'll need a lightweight band for this exercise.
Begin by looping a band on the bottom of your right foot and standing on it. Hold the other end of the band in your left hand and stand up. Point your left toes back and stand tall, engaging your abs.
Inhale to slowly lift your left leg up while also lowering your chest and shoulders towards the ground. Think of your body like a teeter-totter.
Exhale to stand back up, lowering your left foot and lifting your chest up. Squeeze your glutes at the top. Repeat for a total of 12 reps, then switch sides.
Bulgarian Split Squat | 10 reps per side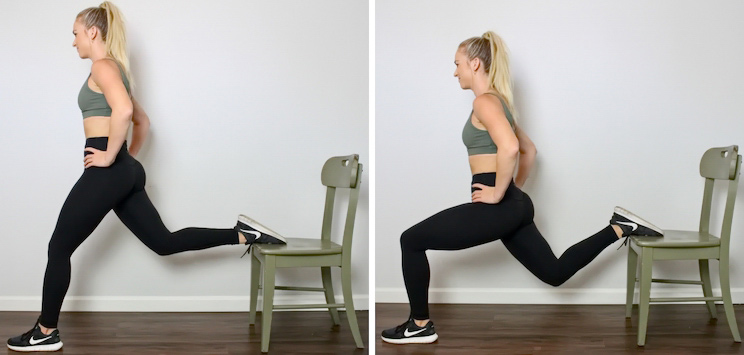 You'll feel your booty building on the first rep! This is the best lunge variation for targeting the gluteus maximus and medius.
Begin standing with a chair or bench a few feet behind you. Shift your weight onto your right foot and reach your left leg back, placing the top of your foot on the chair. Stand next to a wall for support if you need to.
Hop your right foot forward a bit. Then place your hands on your hips, engage your abs, and shift most of your weight into your right heel.
Inhale to lunge into your right leg, bringing your right thigh parallel to the ground. Keep most of your weight on your right leg.
Drive your right heel into the ground as you exhale and stand back up. Squeeze your glutes at the top.
Continue 10 reps, then switch sides.

(Your Next Workout: The 6 Best Butt Exercises for Knee Pain – No Squats or Lunges!
)