Sure it's trickier to stay healthy at restaurants, but it can be done. Stick to these easy tips so you can enjoy dining out while sticking to your health goals.
As a typical customer at an American, Italian, or Chinese restaurant in the US, you can expect to consume nearly 1,500 calories in just one meal. That's not even including appetizers, drinks or dessert! In fact, a recent study showed that 92% of restaurant meals in the US exceed the number of calories you need in one sitting (1).
It may not surprise you that restaurant meals are higher in calories than what you prepare at home. However, when you consider that the average woman only needs 1,500-2,000 calories per day, you can see how easy it becomes to consume double the calories you need, without even realizing it.
Do you struggle with bloating, gas, constipation, or other digestive issues? We've created a FREE guide to healing your gut naturally.
Click here to get your FREE copy of our Digestion Guide!
Going beyond calorie counts, there's another point to consider when it comes to dining out: the quality of calories you're getting. Most restaurant dishes are drenched in sugar-laden sauces and excess sodium, and deep fried in oil high in trans fats. Not only do these foods offer very little nutrition, but they're also linked to health problems, such as chronic inflammation, weight gain, type 2 diabetes, and cardiovascular disease (2).
---
10 Tips To Eating Out Healthy
Luckily, there are several easy ways you can make your restaurant meals healthier without compromising on enjoyment or flavor (spoiler alert: none of these tips involve ordering just the starter salad and a lemon water). Use these 10 easy hacks to eating healthy while dining out so you can stay on track with your health goals and feel great after you eat – no matter where you go.
1. Know Before You Go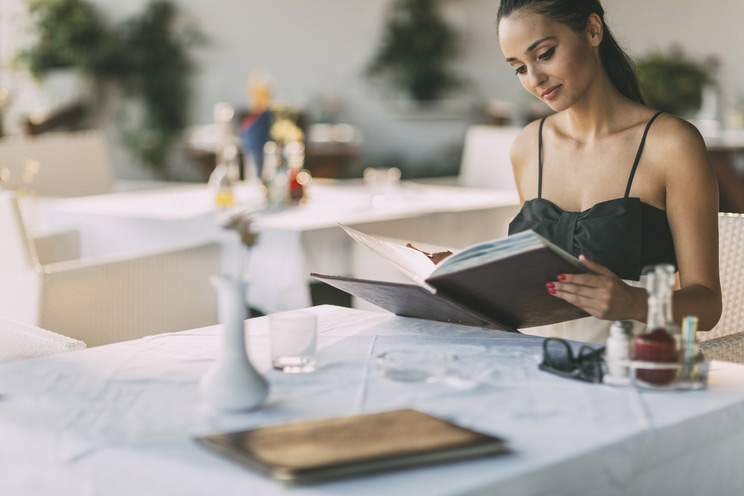 When you know you've got lunch or dinner plans, take a peek at the restaurant's menu and decide what you'll order before you're hungry. Just like it's a bad idea to grocery shop on an empty stomach, when you're ravenous, everything on the menu sounds good. This can lead you to make impulsive choices for rich, calorie-dense meals you don't really need.
Checking out the menu online before your appetite is in full force will make it easier to find – and stick to – a healthier option.
2. Make a Few Simple Burger Swaps
It's hard to think of anything more satisfying than a juicy burger, but once you count the bun and the rest of the fixings, a classic restaurant hamburger can pack anywhere from 1,000 to 1,500 calories.
If you're craving a burger, you can increase the nutrients and reduce the calories by using lettuce wraps in place of the bun. You can also ask for all sauces on the side (and use them sparingly, or not at all), and trade cheese or oil-soaked sautéed mushrooms for a few slices of avocado.
3. Choose the Veg, Skip the Fries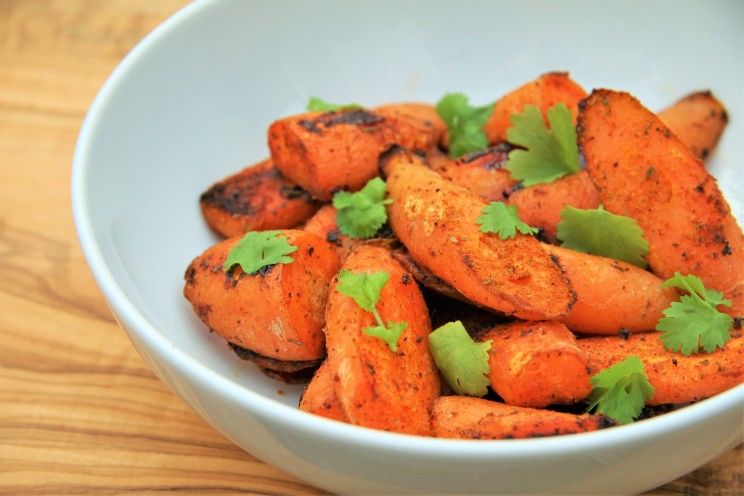 If your meal comes with a side of fries, ask for your favorite steamed or grilled vegetables instead.
But what about sweet potato fries, you ask?
Sweet potato fries can be misleading because naturally, you'd assume they're simply made from sweet potatoes, which contain antioxidants such as beta carotene and are known to be more nutritious than regular potatoes.
However, rather than using sweet potatoes themselves, some restaurants use processed, packaged and frozen sweet potato fries. These products often contain food additives and preservatives, such as tartrazine (yellow dye #5). Tartrazine gives sweet potato fries a deeper orange color to make them look fresher, but studies show that tartrazine is linked to problems like ADHD and asthma in children (3).
However, if the restaurant you're dining at hand-cuts their own sweet potato fries, then they're almost certainly a healthier choice than regular fries.
4. Ask How Your Food Is Being Prepared
Don't feel bad about being curious, because the menu never tells the full story. Asking how your food is prepared could drastically reduce the calories in your meal and help you avoid unnecessary sodium, sugar, food additives, and unhealthy fats.
For example, when you see a chicken breast dish on the menu that's served with a side of steamed broccoli, you'll likely assume you're getting chicken and broccoli. However, animal protein is often marinated in a sugar and salt brine for flavor, which you wouldn't typically know unless you asked.
5. Don't Drink Your Calories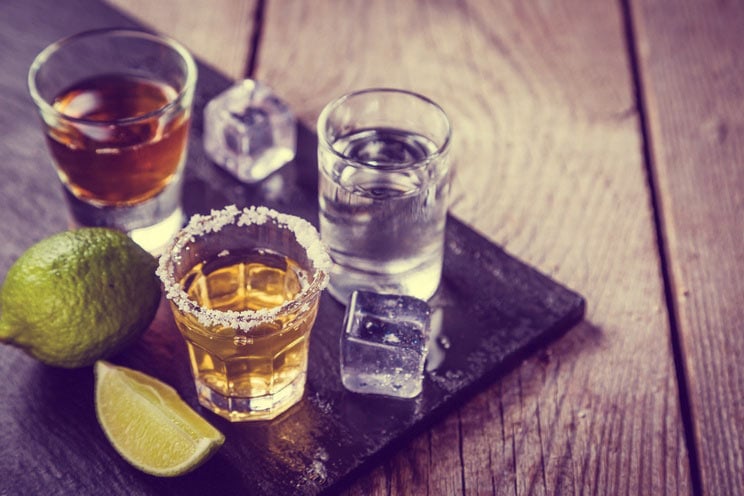 You can easily avoid the amount of sugar and calories you consume at restaurants by avoiding sugary drinks, including alcohol. Now, we're not saying you have to stick to plain water with lemon every time. If you're craving a cocktail, stick to Paleo-friendly spirits mixed with water and citrus, rather than liqueurs and beer. If you'd like something fizzy, go for soda water over soda pop, which has zero calories, and add some fresh mint, fruit, or lime juice for flavor.
Be wary of restaurant mocktails and cocktails, because most use a simple syrup made of purely refined sugar.
6. Ask for the EVOO
It's crazy to think that a restaurant salad can pack as many calories as a burger – often due to the type of salad dressing used.
When it comes to restaurant salads, it matters where the calories are coming from more than the number. Salads are often rich in healthy fats from nuts, seeds, olives and avocado, which are naturally higher in calories. However, restaurant salad dressings are often loaded with sneaky sugars, sodium, and trans-fats – especially dressings such as ranch and honey mustard.
Instead, ask for a side of extra virgin olive oil, a few lemon wedges, and balsamic vinegar to make your own dressing, which will provide antioxidants and essential nutrients such as vitamins E and C.
7. Eat a Raw Salad Before a Heavy Meal
Before a heavy meal, order a raw starter salad. The enzymes in raw vegetables help stimulate digestion, allowing you to digest and absorb the nutrients in your meal more easily.
8. Chew Your Food Thoroughly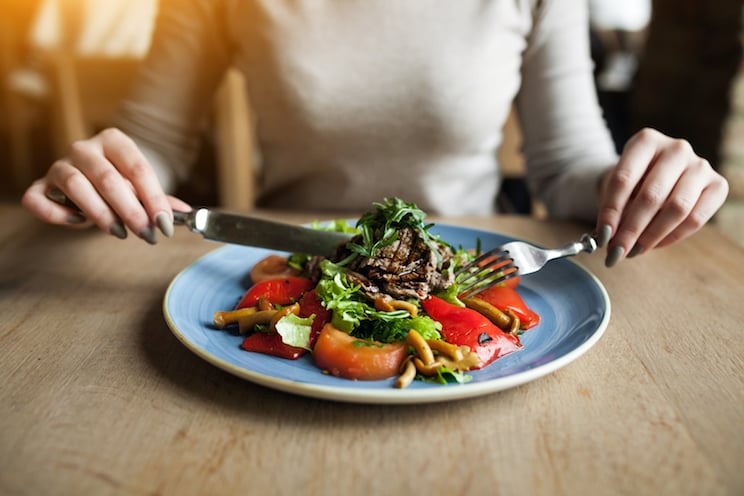 We live in a fast-paced society where we answer emails and respond to text messages during meals, which means our attention is on anything but the plate in front of us. When you aren't eating mindfully, it's easy to poorly chew your food, which can prevent you from feeling full when you've had enough to eat. It can also cause digestive symptoms such as gas, bloating, and acid reflux.
Regardless of what you order at a restaurant, chewing it thoroughly will automatically make it "healthier" than a meal that's sitting heavy in your stomach from being scarfed down. It's recommended that you chew your food at least 30 times before swallowing.
9. Take Half to Go
One of the best ways to avoid overeating is to stop eating when you're around 80% full. Asking for half of your meal to be wrapped up can also prevent you from overconsuming calories, and being tempted to continue eating when you're getting close to being full. Bonus: now you've got leftovers for tomorrow's lunch!
10. Have a Healthy Snack at Home Before Going Out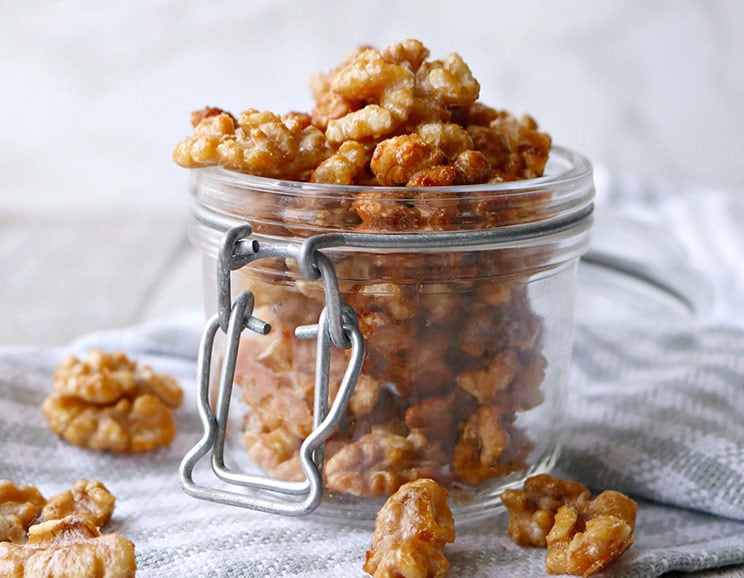 An hour before you go out to eat, grab a handful of nuts, a banana with almond butter, or ½ avocado with sea salt. If you know you'll be ordering a meal that's not particularly nutritious, this tip is especially helpful for filling up on nutrients beforehand, and reducing the amount of empty calories you consume.
---
The Bottom Line
Eating the occasional restaurant meal doesn't have to throw you off track with your health goals when you follow these easy hacks. In addition to modifying your meals to be as nutritious as possible, don't forget that enjoying every bite is also good for your health!

(You'll Also Love: 7-Day Paleo Natural Weight Loss Meal Plan)