One of the things I hear all the time when I ask people about their greatest struggle in staying healthy is that it's too expensive to eat healthy. 
As much as I understand this reasoning, it's just not true. I'm not saying that money doesn't get tight or that circumstances don't fluctuate, but I know this: a powerful person doesn't adapt to their environment, they make it adapt to them. What I mean is that when our intentions are clear (we know we want good health and why) opportunities show up and, overall, things go as planned.
Yes, you will have to get clear on your intentions and develop a plan, but if it's important to you, it is worth it. You can nourish yourself and your family with the finest foods if you know where to look and what to buy.
Want to go Paleo? Not sure where to start?
Start with this FREE Paleo For Beginners Guide Today!
Myths Of Healthy Eating On A Budget
Perfection is the killer of inspired action. One of the fastest ways to demolish your health goals is to set unrealistic expectations. I do not mean to suggest that you settle for the bottom of the barrel here, but keep a broad view in terms of manifesting your healthy lifestyle. [tweet_quote]You don't have to buy all organic produce to eat healthy.[/tweet_quote]
One of the major myths about healthy eating is that you have to buy all organic produce all the time. This isn't true, and I've seen many people throw the baby out with the bathwater on this one – buying processed junk because they can't afford organic avocados. I'll talk more about this later, but as a general rule, do not let the pursuit of perfection destroy the balance of a healthy lifestyle.
Similar to this myth is the idea that you can only shop at high-end grocery stores to make a difference in your lifestyle. I'll explain how you too can spot wild foods sourced straight from Mother Nature to add to your diet.
Here are some easy tips for sustaining a wholesome diet, no matter what your budget is:
1. Buy In Bulk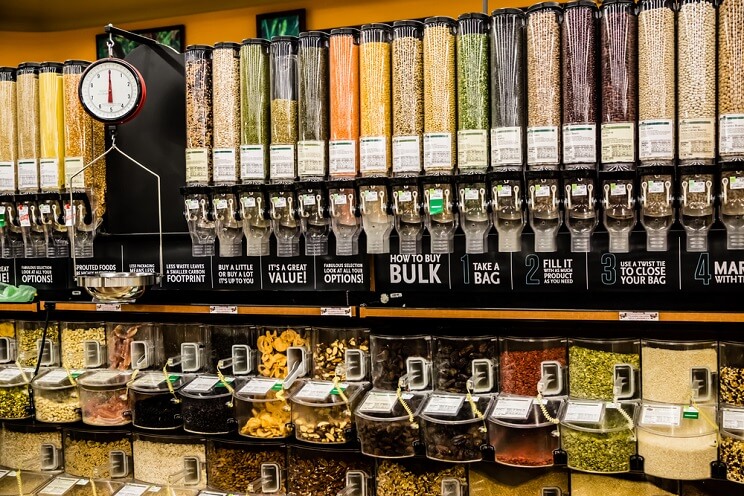 You can buy produce and other staples in bulk at stores like Costco, as well as online. This can save you an astonishing amount of money. You can purchase raw nuts, seeds, grains, spices, and even coconut oil at great prices from these kinds of retailers. Costco has a pretty great produce section with big bags of organic spinach and carrots.
If you can set aside one day per week to prep (and in some cases, freeze) your meals, there won't be a concern of fresh food going bad. You'll also save time in the long run, considering all the time spent pondering what to eat every time you get hungry.
(Tip: Get your staples – coconut oil, apple cider vinegar, salt, and spices – and refill smaller containers throughout the week to ration them. A simple thing I like to do is buy Bragg's Apple Cider Vinegar in a gallon, then refill a smaller bottle.)
You can also buy spring water in bulk. Companies like Absopure and Mountain Valley have great prices on bulk spring water and they also deliver, and you don't have the hassle of driving to the store and wasting endless gallons of plastic jugs.
If you're really up for it, get a couple 5-gallon glass containers and utilize Find A Spring – an online resource for finding FREE wild spring water – and stock up once a month or so.
2. Always Choose Fresh Over Pre-Packaged
Despite the convenience of prepackaged foods, they always cost way more than their fresh counterparts. What you save in convenience you lose in money (and experience).
Whenever possible, go straight for the fresh, natural ingredients. Stores like Trader Joe's and Kroger chains have great deals on basics like lemons, avocados, organic lettuce, and more. At Aldi stores, you can sometimes find produce at a fraction of the cost it would be in other grocery stores. Just keep the Dirty Dozen and the Clean Fifteen in mind as you shop (you may want to make a list so you don't forget what's on each list!) so you can put more money toward buying organic for the "dirty" produce items, which have more pesticides.
3. The Dirty Dozen & The Clean Fifteen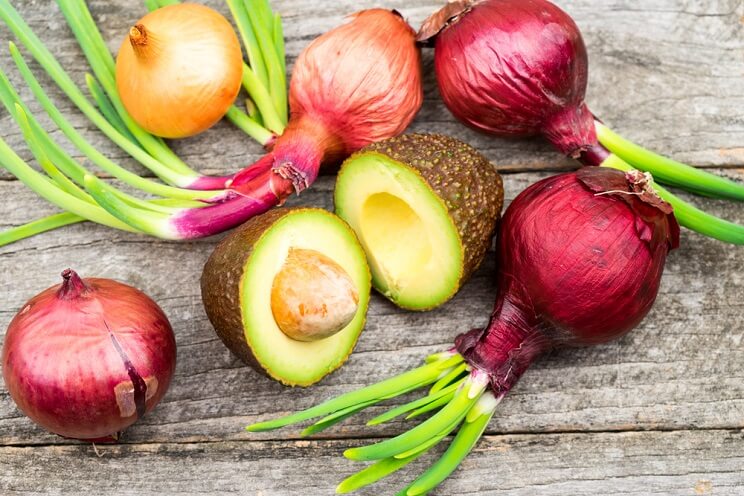 Organic food is the best choice – it's richer in nutrients, antioxidants, and phytonutrients, and it supports a healthier planet. But if you can't go completely organic, be sure to keep the Dirty Dozen and the Clean Fifteen in mind.
The Clean Fifteen are the select fruits and veggies that stand up to the damage done by pesticides and industrial practices. Because conventional food is cheaper than organic, in order to get the most bang for your buck, you can purchase some conventional foods from the clean fifteen.
The Clean Fifteen include:
Avocados
Onions
Cabbage
Sweet peas
Eggplant
Domestic cantaloupe
Kiwi
Asparagus
Mango
Pineapple
Sweet corn
Watermelon
Sweet potatoes
Grapefruit
Mushrooms
Keep your organic purchases for the Dirty Dozen list and animal products. It's best to purchase these foods organic because of the amount of pesticides sprayed on them and their higher susceptibility to the chemicals.
Here are the Dirty Dozen foods you'll want to buy organic:
Spinach
Lettuce
Apples
Celery
Bell peppers
Potatoes
Peaches
Nectarines
Strawberries
Pears
Grapes
Cherries
If you're on a pretty serious budget and can't get these organic, then soak your produce in a wash of 1 part water and 1 part raw apple cider vinegar. Also, eating conventional foods together with fermented foods like sauerkraut is a good idea because the fermented food actually eats up toxins! The fermented food won't be able to fix any hormonal impact caused by the conventional foods, but it's a good insurance policy nonetheless.
Another tip for optimizing the dirty dozen foods is to remove the peel and skin from conventional foods. Though you'll lose some nutritional content, you won't be consuming hormone-disrupting pesticides.
4. Plan Ahead!
A little planning can save you a lot of money in the long run!
Start by making a grocery list. You've probably learned firsthand what the consequences are of walking into a store with a credit card and an empty stomach.
Plan when you'll shop and where. Some stores have better deals on certain items than others. Once you know the best place to get cheap avocados and where you'll find the best grass-fed meat, it'll be quick and painless to stop at two different stores in one go. [tweet_quote]Eat in season to get fresh foods at their best price.[/tweet_quote]
Eating in season is also a good bet. For instance, fresh berries are cheapest during the spring, when they're ripest. Plus, seasonal foods provide the nutrients our bodies need during that time.
5. Store Your Food to Last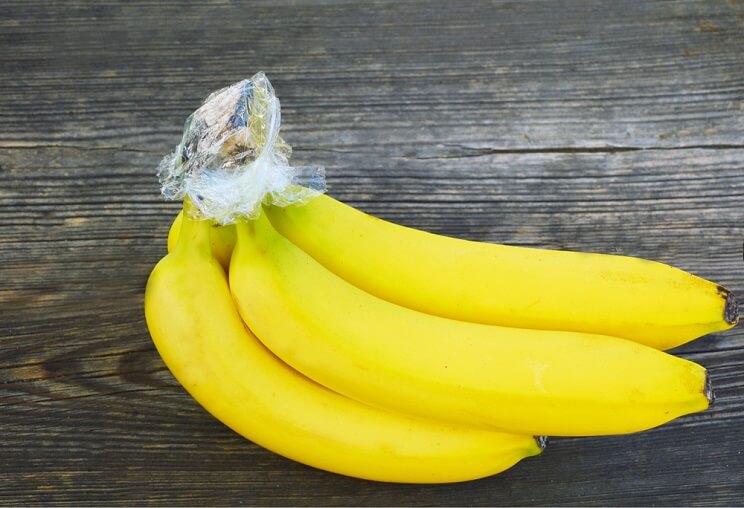 Produce and fresh food goes bad pretty quickly. Learning a to employ a few techniques to keep your food fresh as long as possible will help cut down on waste.
Here are a few techniques to keep your food fresh longer:
Store vegetables like yams, winter squash, sweet potatoes, garlic, and onions in a dark, cool place. A basement or garage is ideal!
Make your bananas last longer by wrapping the top of the bunch in plastic wrap.
Peel bananas when ripe and freeze them so that they keep longer. Freezing vegetables and fruits in general is a great way to preserve them.
Make broths and stocks in bulk then freeze into cubes for later use.
Keep delicate greens like kale, spinach, cilantro, lettuces and celery in a bag or container in the fridge until it's time to wash and eat them. These go bad pretty quickly. If they start to get limp, you can actually bring some crispiness back to them by washing them with really cold water!
Save citrus peels and dry them out for herbal teas!
Save the bottoms of celery and lettuces, and soak them in water to regrow them in your own garden. There's an article on 10 foods that you can eat and regrow forever just like that here.
6. Recipes For Pennies
The best way to make your food stretch further is knowing how to cook what you have on hand. Cooking is the first step toward self-reliance in a world of consumerism!
Here are a few cooking tricks and recipe ideas that cost little to nothing to make:
Make your plate 80% vegetables and 20% animal products. Animal products cost way more, and by eating more plant foods and fewer animal foods, we not only improve our health, but we also save money.
Add fermented vegetables to your meals. These foods cost pennies to make, and they work as nutritional powerhouses, digestive aids and probiotics, all in one. By consuming fermented vegetables with each meal, we improve our metabolic function and better digest the food we eat.
Go Mexican style. A simple guacamole recipe of avocado, garlic, cilantro, cumin and sea salt is all you need for a delicious, filling and cost-effective side dish. Guacamole is a survival food and gourmet deliciousness all in one. It costs under $5 to make guacamole and it fills you up, nourishes you and actually cleanses the liver too!
7. Favor Plant-Based Foods Over Animal Products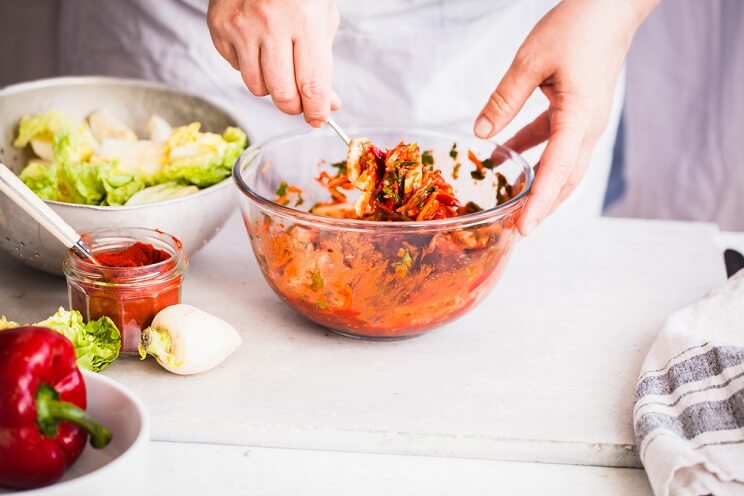 I mentioned the 80/20 rule above, but I cannot emphasize this tip enough for helping you to save money and improve your health. By rationing expensive animal products like grass-fed meat and ghee, you'll spend less overall.
I was a bodybuilder for two years and ate meat and eggs almost 5 times a day. I spent so much money on food it was ridiculous. The funny thing is, I wasn't nearly as healthy as I am now. What did I do differently? I did everything I am writing in this article! [tweet_quote]Cut back on animal products and fill up on veggies, fermented foods and good fats.[/tweet_quote]
I don't advise completely getting rid of high-quality animal foods for health reasons. However, I will say that by rotating them and making them a smaller portion of your diet with the focus on vegetables, fermented foods and good fats, instead, you will save huge!
See what works for you, but try limiting meat to one meal per day, making it your biggest meal of the day. Add some avocado and coconut oil to each meal to help to fulfill your caloric needs. Sweet potatoes, yams and other starchy carbs make ideal dinners, too. The benefits for eating these foods at night are twofold — they can actually improve sleep and brain function!
8. Grow Your Own Food
You might be surprised at how easy it is to grow some of your own food.
Start by trying your hand at growing herbs such as basil, cilantro, and rosemary. You can get organic starter plants at Whole Foods at affordable prices, and maintaining them is simple. Keep them by a window and water them accordingly.
As for more substantial foods like cucumbers, green beans, lettuces and peppers, you don't need to have a yard – you can easily build a box garden on a small balcony or deck! You can even grow some veggies directly in good-sized pots.
There is no food as nutrient-dense as that which is grown and picked right from the soil. It does cost a bit upfront to purchase the growing materials, but as long as you plan ahead and plan on continuing to garden, it only takes one or two harvests to make your money back. If you continue to grow your own food longer, then you really step into the reality of free food!
9. Learn How to Make the Most of Your Produce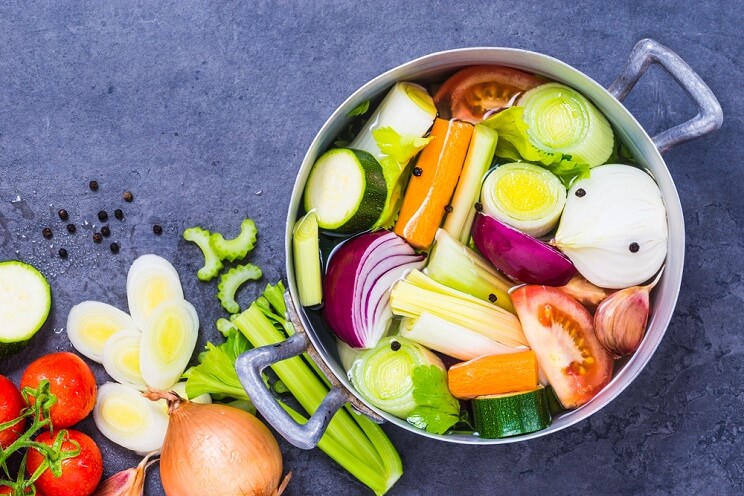 I often say there is no problem too great for a creative solution. Try inventing new ways to use the parts of the plants you might not normally use. For example, instead of throwing away lemon peels, use the zest to add nutrition and flavor to dishes you make.
You can also make herbal extracts with the parts of plants you'd throw away. I even use citrus peels to soak in hot bath water for a therapeutic, detox bath! If a lemon peel bath sounds too weird, then at least save them to make hot lemon tea.
If you juice, then save the pulp for making crackers by mixing it with leftover nuts and seeds. Did you know the leafy green tops of carrots contain more vitamin A than the orange roots? Add these to juices for a nutritional punch. [tweet_quote]Save those veggie odds and ends and add them to healthy broths instead![/tweet_quote]
Here's another great tip: you know all of those vegetable odds and ends you cut off and throw away? Save them and add them to water with grass-fed bones or carcasses of chickens to make a gut-healing bone broth!
When you use your produce in new ways, you're less likely to go buy store-bought versions of things you can make at home, such as crackers!
10. CSAs and Farmer's Markets
One of the best ways to save money is to shop at your local farmer's market.
If you're new to community-supported farming, then you might feel better about signing up for a CSA. You make monthly payments and get boxes of fresh food delivered to you from farms during harvest time. This helps you build a relationship with local farmers around you.
Is the farmers market closed for the season, or are you looking for something more? Find your own local and wild foods using EatWild.com and LocalHarvest.org. These sites point you to the better-known local farmers. Plus, you get email access to a lot of them so that you can ask questions!
Try these tips to save money – and, on a deeper level, live a more self-empowered life! You deserve it!
(Read This Next: Ultimate Guide to Eating Paleo on a Budget)