A classic treat gets a healthy makeover! These Copycat Hostess Cupcakes are fun to make, and even better to bite into!
One of the hardest things about transitioning to a new or healthy diet is finding suitable substitutions for the foods you've grown to love and enjoy. The good news is you can almost always find healthy substitutions to help keep you on track.
These Paleo, Hostess-inspired Cupcakes are a perfect example! Start by combining ingredients for the coconut flour cake batter in a blender. Add a bit of batter to each muffin cavity and bake for five minutes to form the bottom of the cupcake. Keep in mind that the batter may appear thin, but it will plump up nicely when the cakes are baked. Be careful not to overfill the cavities as they do rise quite a bit.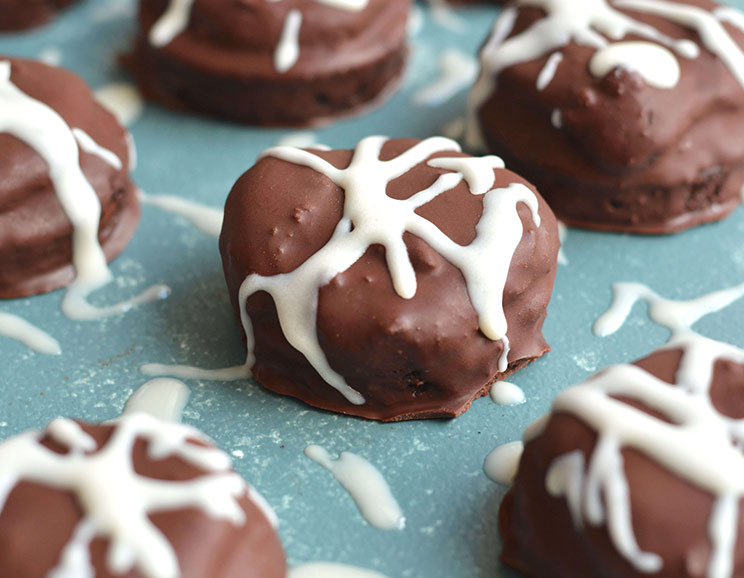 Once baked and cooled, use a teaspoon to create a little hole in the center of each cake bottom. Then fill the cavity with coconut butter, cover it with leftover batter, and bake again. Once cooled to room temperature, drizzle on a ganache made from coconut cream and dark chocolate.
Coconut Oil has hundreds of health benefits – learn how you can experience them
Get our FREE Guide to Coconut Oil & its benefits here!
Freeze your cupcakes for about an hour before serving. When you're done, you get a hard chocolatey outside with a cake-like inside filled with creamy coconut. Almost too good to be true!
Megan Olson
Copycat Hostess Cupcakes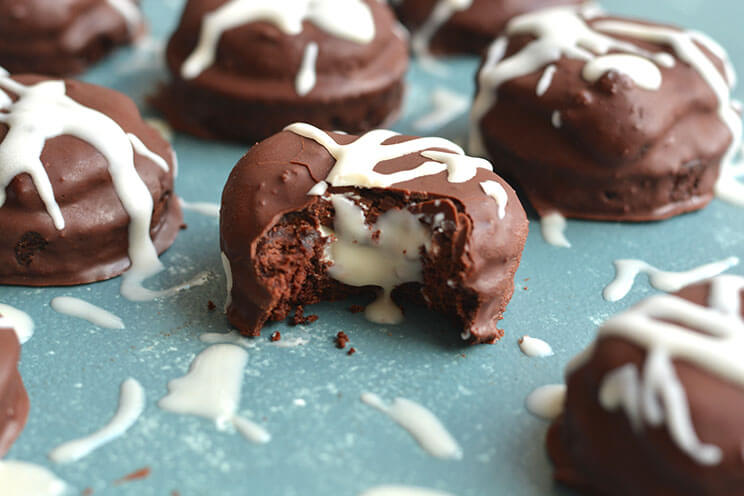 Cook Time:
20 mins
20 minutes
Prep Time:
30 mins
30 minutes
Copycat Hostess Cupcakes
A classic treat gets a healthy makeover! These Copycat Hostess Cupcakes are fun to make, and even better to bite into!
Tools
Muffin tin

Blender

Baking sheet

Parchment paper

Saucepan
Ingredients
For the Cake:
5 large eggs, room temperature

2 T maple syrup

¼ cup melted coconut oil

¼ cup melted dark chocolate

1/3 cup coconut flour

¼ cup cocoa powder

½ t baking soda
For the Ganache:
¼ cup coconut cream, plus more for drizzling

¼ cup dark chocolate
Instructions
Preheat oven to 350°F. Prepare a muffin tin by greasing the cavities with coconut oil.

Add all the ingredients for the cake into a blender. Process on high until smooth.

Place 1½ tablespoons of the batter into each muffin cavity, filling halfway.

Bake for 5 minutes. Remove from the oven and let the cakes cool completely.

Once cooled, scoop out ½ teaspoon from the center of the baked muffin to make a hole for the coconut butter center.

Spoon the coconut butter into the hole, then cover with the remaining batter.

Bake for 8 minutes, then remove from the oven and cool.

Once completely cooled, place the muffins on a baking sheet with parchment paper.

Add the coconut cream to a saucepan and heat to medium. Once warm, stir in the dark chocolate. Stir until melted.

Use a spoon to drizzle the chocolate ganache over the muffins. Place in the freezer 1 hour or until hardened. Drizzle with additional coconut cream for decoration, and serve!
Tips:
If you don't have coconut butter for the filling, whip up chilled coconut cream with maple syrup in a high-speed blender. It will do the job just as well.
If you don't have coconut cream for the ganache, use coconut butter.
Keep in the freezer up to 1 month.
Looking for Paleo ingredients? Here are a few we'd recommend:
Cold pressed coconut oil (Viva Naturals)
Coconut flour (Nutiva)
Coconut cream (Native Forest)

(You'll Also Love: Sweet Potato Pecan Pie Recipe)