Fill your kitchen with the sweet aroma of spiced fruit cake made with cozy cinnamon and nutmeg.
This decadent fruit cake packs in a variety of dried fruits into each bite. It contains a balanced blend of soft chewy bread with the nutty, sweet flavors of warm cinnamon and nutmeg.
The natural sweetness from dried fruits and maple syrup are perfect alternatives to using refined sugars. Dates and raisins offer a sweet and sticky texture to the cake. Cranberries, mangos, and apricots help amp up the juicy flavor while also adding essential vitamins and minerals.
Love Coconut Flour Recipes? Then you'll love our FREE Coconut Flour Recipes.
Click here to get your FREE copy of our delicious Coconut Flour Recipes!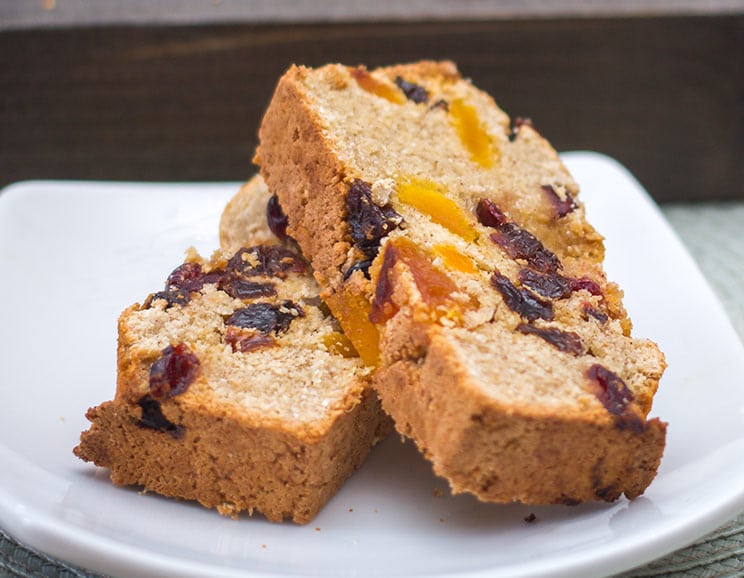 While traditional fruit cakes typically use wheat flours, this recipe combines a blend of almond and coconut flours for a gluten-free twist. Almond flour is great for making the bread soft and nutty, while the coconut flour adds a subtle sweet flavor. Added vanilla, nutmeg, and cinnamon bring a warm, fall-inspired touch.
To get started, combine the two flours, baking powder, and spices in a large bowl. In a separate bowl, whisk together the eggs, butter, maple syrup, and vanilla. Pour the wet mixture into the dry and stir in the fruits. Mix well and pour the mixture into the loaf pan.
Next, place the pan into the oven and bake for 45 minutes. To check for readiness, insert a toothpick into the center of the bread and ensure it comes out clean. When ready, let it cool for 15 minutes, then serve and enjoy!
Tip: To soften the fruits, you can soak them overnight in fruit juice or red wine (if not following a strict Paleo diet).
Sophie Viau
Cinnamon Spice & Everything Nice Fruit Cake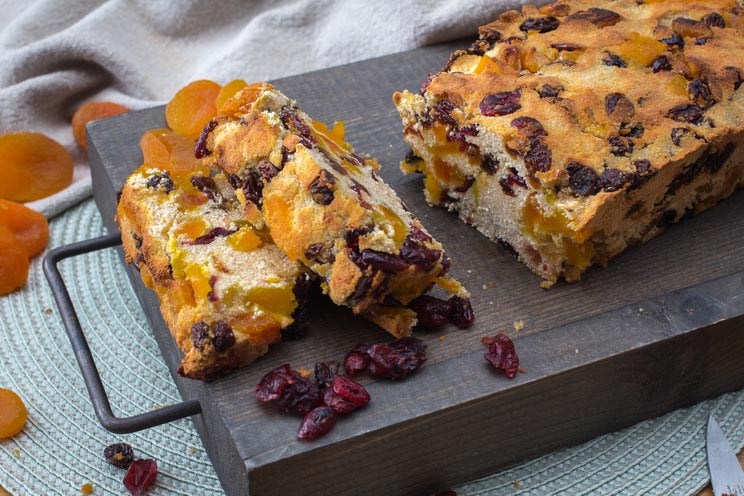 Cook Time:
45 mins
45 minutes
Prep Time:
15 mins
15 minutes
Cinnamon Spice & Everything Nice Fruit Cake
Enjoy the sweet aroma of freshly baked fruit cake made with warm spices and gluten-free flour.
Tools
4" x 12" loaf pan

1 large bowl

1 medium bowl
Ingredients
1 cup almond flour

1 cup coconut flour

1 t baking powder

1 t ground cinnamon

½ t ground nutmeg

2 pasture-raised eggs

¼ cup melted grass-fed butter, plus more for greasing

½ cup maple syrup

1 t vanilla extract

3 T dried dates, chopped

3 T dried apricots, chopped

3 T dried mango, chopped

3 T raisins

3 T dried cranberries
Instructions
Preheat the oven to 350°F and grease the loaf pan with grass-fed butter.

In a large bowl, combine the almond flour, coconut flour, baking powder, cinnamon, and nutmeg.

In another bowl, mix the eggs, melted butter, maple syrup, and vanilla.

Stir the wet ingredients into the dry ingredients and combine until smooth.

Add the fruits to the mixture and continue stirring.

Pour the mixture into the prepared loaf pan and bake for 45 min.

Let it cool for 15 minutes, then serve and enjoy!
Looking for Paleo ingredients? Here are a few we'd recommend:
Almond flour (Hodgson Mill)
Coconut flour (Nutiva)
Baking powder (Hain)
Ground cinnamon (Simply Organic)
Ground nutmeg (Simply Organic)
Vanilla extract (Frontier)

(You'll Also Love: Gluten-Free Carrot Cake with Decadent Hazelnut Frosting Recipe
)