A decadent breakfast, dessert or snack, this maca milkshake gets its smooth energy boost from a special ingredient.
Maca powder, ground from the maca plant found in Peru's Andes Mountains, provides energy without stressing the body's adrenals—meaning you'll feel refreshed and awake sans caffeine jitters.
Beyond energy, maca helps regulate hormones, resulting in a whole host of health benefits. For women, maca can help diminish PMS and menopause symptoms. For everyone, maca lifts mood and mitigates depression and anxiety, helps restore normal thyroid function, and enhances mental cognition. Maca also has a reputation as a natural aphrodisiac due to its ability to improve libido and fertility for both men and women.
Love Paleo Breakfasts? Then you'll love our FREE Paleo Breakfast Recipes.
Click here to get your FREE copy of our delicious Breakfast Recipes!

A little goes a long way when it comes to maca—we only include 1 teaspoon in this recipe. You can double it if you're really in need of a mood and energy boost.
Maca's flavor is subtle and warming, especially when combined with the uber-rich dark chocolate in this maca milkshake. For optimal health benefits, we live by the mantra "the darker, the better" when it comes to chocolate. We used 88 percent here—don't worry, maple syrup lightly sweetens the deal so you won't feel overcome by the bitterness. Add in flaked coconut, cinnamon and coconut cream, and you have a lusciously thick and delectable superfood drink.
And this shake is thick, thanks to the added texture of frozen banana, coconut flakes and velvety coconut cream. We recommend thinning the shake with water until it reaches your desired consistency—for us, we like it so thick and frosty-like you can stick a spoon in it.
Courtney Hamilton
Awakening Chocolate Maca Milkshake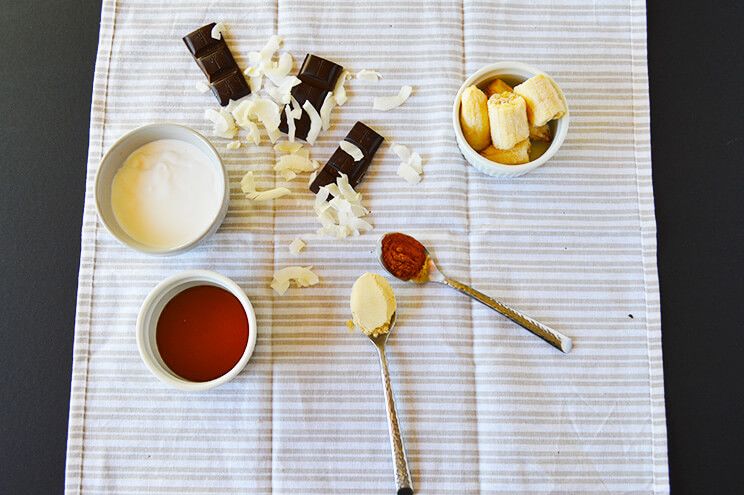 Cook Time:
3 mins
3 minutes
Prep Time:
2 mins
2 minutes
Awakening Chocolate Maca Milkshake
This thick, chocolatey milkshake will help regulate hormones, lift your mood and give you a natural energy boost.
Ingredients
3 oz melted dark chocolate

1 frozen banana

¼ cup flaked coconut

1 t cinnamon

1 t maca powder

1-2 T maple syrup

½ cup coconut cream

Water as needed
Instructions
To blender, add melted chocolate, frozen banana, coconut flakes, cinnamon, maca powder, maple syrup, and coconut cream. Blend.

Thin out with water to desired consistency.

(You'll Also Love: Dark Chocolate Banana Milkshake)