Looking for a quick and easy morning treat? Try this 5-minute chocolate breakfast milkshake recipe to boost your morning routine.
Both egg-free and dairy-free, this tasty shake is a great protein source that can satisfy any sweet tooth. Coconut milk provides a great source of healthy fat, while the raw cacao powder is a great source of flavonoids. Count on this drink to stimulate and improve your memory. Plus, enjoy the smooth taste of rich chocolate as an early morning treat.
So, swap your morning coffee for this healthy chocolate breakfast milkshake to keep you feeling refreshed and energized all day.
This coffee cookbook is filled with healthy recipes and reveals the natural benefits of your morning brew.
Click here to get your FREE Coffee Book Today!
Tips:
Try substituting almond milk for the coconut milk!
Did you know the key to testing a great milkshake is by using your straw? Try inserting one in the center of your milkshake to check for creamy consistency. If it stands on it's own, you've created the perfect masterpiece!
Rebecca Maclary
Chocolate Breakfast Milkshake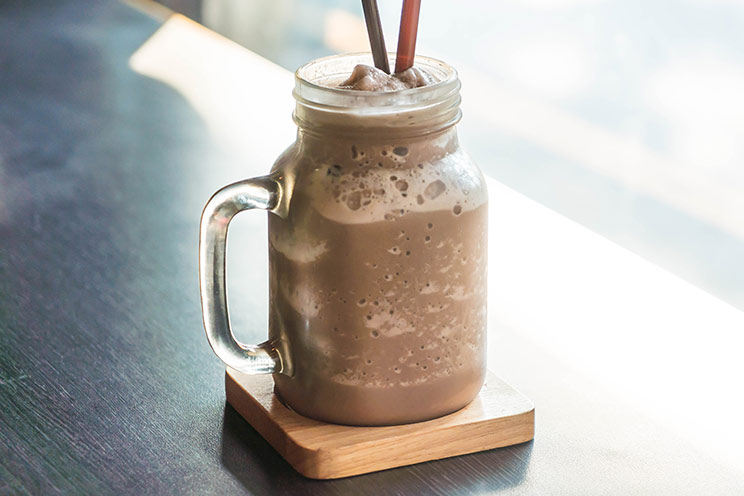 Prep Time:
5 mins
5 minutes
Chocolate Breakfast Milkshake
Swap your morning coffee for this healthy morning milkshake.
Ingredients
2 large frozen organic bananas

1 cup coconut milk

2 T cashew butter

1 T raw cacao powder

1/2 t vanilla extract

4 ice cubes
Instructions
Start by adding the bananas and the coconut milk to your high speed blender and pulse a couple of times.

Add the cashew butter, cacao powder and vanilla and pulse another couple of times.

Add ice and blend until smooth. Add more ice cubes or extra coconut milk as needed to get a milkshake consistency.
(You'll Also Love: 20 Paleo Protein Smoothies To Shake Up Your Morning)