Bond with your baby with these easy, body-toning moves! As a new mom, finding time to workout can be a challenge, but that doesn't mean you have to choose between staying in shape and spending time with your little one.
These easy, effective exercises will strengthen your core, tone your arms and work your glutes while having fun with your baby.
My baby is currently seven months old and about 15 pounds, which I find to be the perfect amount of weight for these exercises. If your baby is heavier, you may choose to use a dumbbell instead or no weight at all. If that's the case, set your little one near you (make sure they're a safe distance away) or in a playpen or crib while you complete your exercises.
Looking for an easy way to get started working out?
Grab our FREE Beginners Workout Guide - 3 Weeks To Tighter Abs, Sculpted Arms, And Toned Legs, by clicking here!
The only equipment you'll need for this workout is:
A soft carpet or mat to protect you and your baby's knees
Your baby and/or a 15 lb dumbbell
Note: You can do all of these moves at home barefoot, but can also wear shoes if you like.
If your baby gets cranky during the workout, take a break to soothe him or her and resume the workout when baby is ready to. There's no need to rush and no pressure to complete all of the moves in one shot.
Aim to relax and have fun with your baby!
Let go of strict rules about workout intensity or duration when exercising with your baby. The only rules to follow are to be safe and to have fun.
First we'll go over each move and form technique. Then, at the end of this article, you'll find a guide on how to put these all together into a complete home workout.
---
5 Exercises You Can Do with Baby
Cabbage Patch Kid Shoulder Circles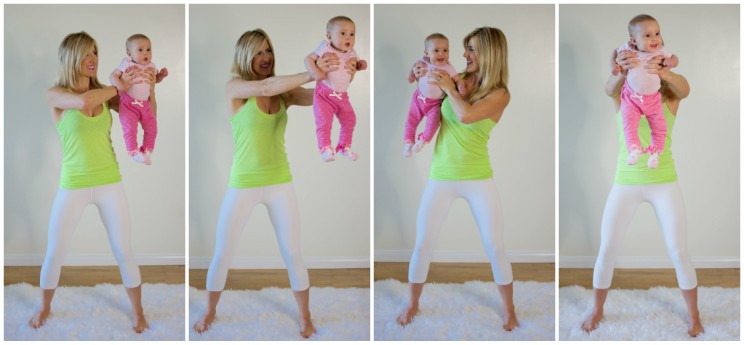 Looking to tone and strengthen your shoulders and arms? The "Cabbage Patch Kid" will help you do just that, and your baby will find it hilarious!
Start by taking a shoulder-width or wider stance. Holding baby underneath their arms, lift them up to your shoulder height.
Begin by touching her bum to your left shoulder. Then extending your arms out straight and to the left, make a circular motion, moving her all the way over to your right shoulder.
Trace that half-circle around slowly to the left, then back around slowly to the right, counting both directions as 1 rep.
The goal is to keep baby up at your shoulder height and no lower.
Brace your core during this movement by flexing your abdomen and back muscles. Keep an athletic stance with a slight bend in your knees.
Front Raises with Baby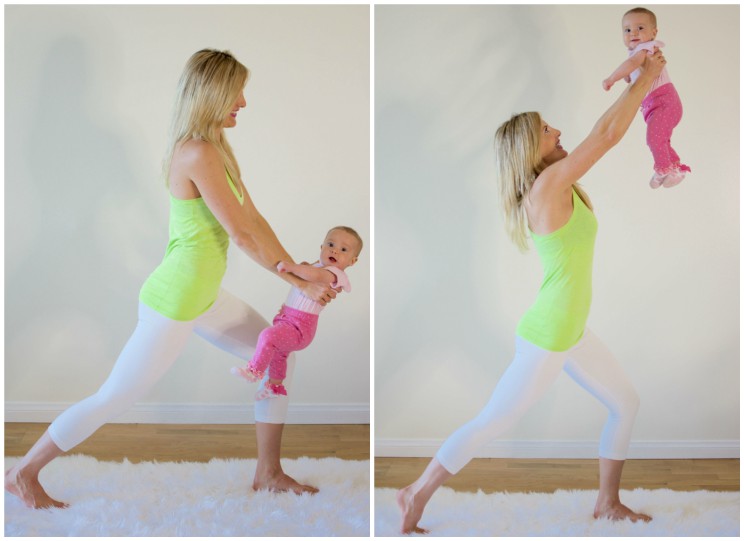 Another great shoulder and arm strengthener! This move helps train core stability, an important focus for new moms. Plus, by holding a semi-lunge position, you'll be working your legs and increasing calorie burn.
Start in a half-lunge position with your front leg slightly bent and your back leg straight.
Hold your baby, facing you, just under their arms with a secure grip. Starting with baby around the height of your waist, lift them up into the air above forehead level.
Keep your arms straight and extended away from your body. If this is too challenging, bend slightly at the elbows.
Aim to stabilize your core and legs so that the only movement is with your arms and shoulders (no movement in your midsection or lower body).
You should be feeling it in your shoulder muscles.
Exhale with each lift and inhale as you lower baby back to the starting position.
Bear Crawl

Bear Crawls are amazing for ab strengthening while also toning your arms and legs.
Start with baby on all fours, in a crawl position. Assume a similar crawl position right above them.
Lift your knees about 2 inches off the ground so that your body weight is only on your hands and feet, no pressure on your knees.
Take four small steps forward with your hands and feet, then reverse and go four steps back towards your starting position.
Continue with 4 steps front and 4 steps back, counting one rep each time you return to the starting position.
Slow Squats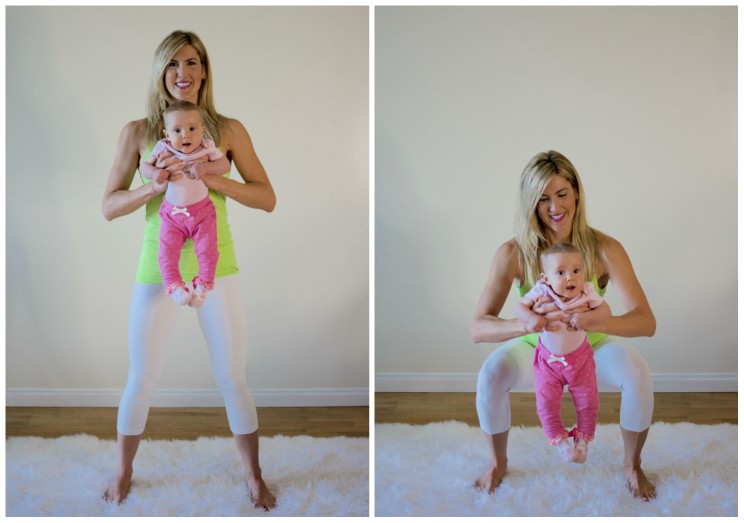 My baby adores these! She'll giggle and kick her legs as we move. I love the way I get a combination of glute toning and entertainment for my mini-me.
Start by standing with your feet a bit wider than shoulder-width apart.
Hold your baby in front of you against your chest with your hands wrapped securely around her rib cage. Keep her close to your chest throughout the whole movement.
Slowly lower down into a squat position, then pause for one second at the bottom.
Slowly stand back up again and repeat. Again, make sure you have a secure grip on your baby the entire time.
Tip: I like to make sound effect noises like "shoom" every time I lower down. My baby giggles every time!
Umbrellas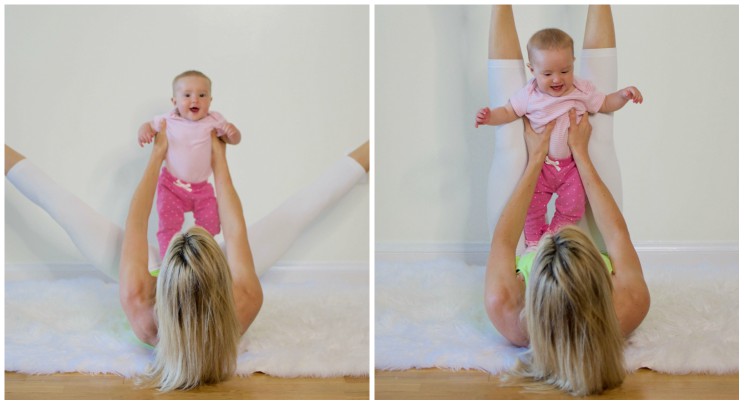 Inner thighs are a tough area to train because not many exercises effectively target these muscles. Aim to focus your attention on contracting your inner thighs, but make it a fun game for baby by singing the words "open!" or "close!" when you stretch and contract your leg muscles.
Start by lying on the ground with your baby on your hips. They can be either standing or sitting up.
Lift your head, neck and shoulders to engage your abdominal muscles.
Raise your legs straight up into the air and position baby so she is right between your legs.
Point your toes and flex all the muscles in your legs, and then open them as wide as you can. Try to feel the stretch.
Gently close your legs together, imagining you're zipping up a jacket. Focus your attention on the contraction of your inner thigh muscles.
Exhale with each contraction (closing of the legs) and inhale with each lengthening (opening of the legs). Count an open and a close as one rep.
---
Let's Make It a Full Workout!
If you're feeling up for a fun new workout with baby, try this:
Cabbage Patch Kid Circles | 6 reps, alt sides
Front Raises | 5 reps per side
Bear Crawl | 5 reps, forward + back
Slow Squats | 10 reps
Umbrellas | 10 reps
Perform all 5 exercises as 1 circuit. Rest 30 seconds between exercises and rest 1 minute between rounds.
Repeat the circuit 3 times. After the workout, stretch while your baby enjoys tummy time or a nap.

(You'll Also Love: Supermom Total-Body Workout with Baby!)