These crispy, chewy cauliflower burgers are a delicious, low-carb, vegetarian alternative with a Paleo twist. A veggie burger that even carnivores will love!
Imagine biting into a thick, biscuit-like, cauliflower-rice veggie burger—that's made with just a handful of ingredients, yet bursting with flavorful spices! There're three, to be exact: turmeric, garlic, and parsley. But for so few ingredients, this cauliflower burger truly delivers deliciousness!
Turmeric gives these "burgers" an extra dose of antioxidants and immunity-boosting power. Plus, this spice gives these veggie patties a lovely orange color.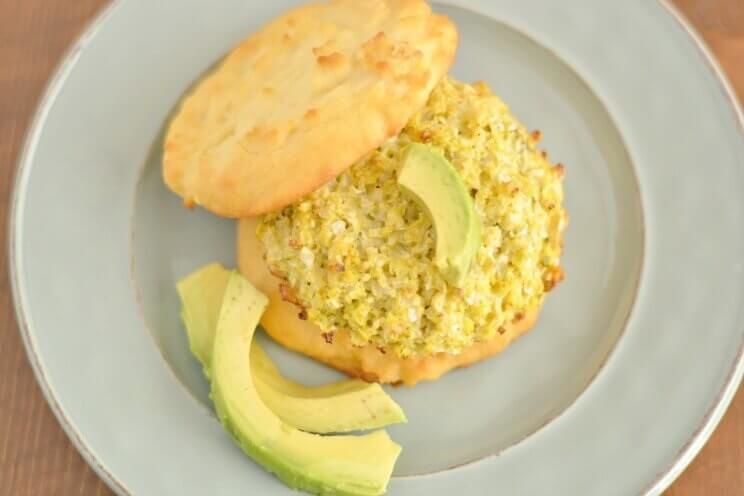 The batter for these burgers will be loose, but don't worry. Like a biscuit, they'll bake up nicely from the almond and coconut flour mix. Since the batter is loose, you'll need to use a measuring cup to form the burgers. They may crumble a bit, but that's okay. With your hands around the burgers, just cup any pieces that fall off to form them back together.
Love turmeric recipes? Get our free turmeric recipes cookbook here!
To serve these delicious burgers, I recommend pairing them with coconut flour biscuits and topping them with sliced avocado. But feel free to add as many paleo condiments as you'd add to a regular burger. The cauliflower burger flavor is mild and very adaptable. It's an easy, low-carb, veggie-packed dinner that will motivate anyone to eat their veggies!
Megan Olson
Easy Cauliflower Turmeric Burgers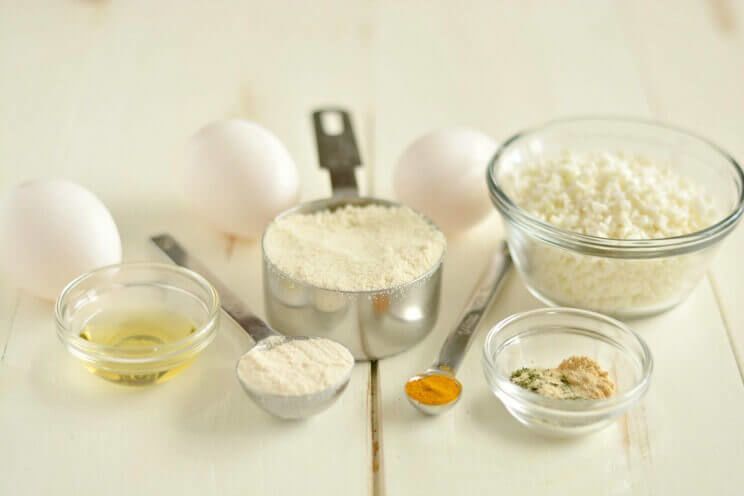 Cook Time:
30 mins
30 minutes
Prep Time:
25 mins
25 minutes
Easy Cauliflower Turmeric Burgers
These crispy, chewy cauliflower burgers are a delicious, low-carb, vegetarian alternative with a Paleo twist.
Ingredients
3 large eggs

3 cups cauliflower (riced in a food processor)

½ cup almond flour

3 T coconut flour

1 t coconut oil (melted)

½ t garlic powder

½ t turmeric

½ t parsley

Salt & pepper to taste
Instructions
Preheat oven to 375 F. Prepare a baking sheet with parchment paper or a slip pad.

Rice the cauliflower by placing sliced chunks in a blender or food processor. Then pulse until it turns into "rice."

In a large bowl, combine cauliflower rice, almond flour, coconut flour, garlic powder, turmeric, and parsley.

In a smaller bowl, whisk together the eggs and coconut oil. Pour over the cauliflower mixture, and stir to combine.

Using a ¼ measuring cup, scoop the batter onto the baking sheet to form burgers. They'll be a bit runny, but that's ok; they form together nicely after baking.

Cup both your hands around the batter, and gently push any pieces that crumble back together.

Repeat the process of forming burgers until all the batter is used.

Bake at 375 F for 25-30 minutes, or until the edges of the burgers are slightly browned.

Remove from the oven. You can serve this solo, lettuce-wrapped, or on a coconut flour biscuit topped with avocado!


(You'll Also Love: Greek Spiced Lamb Burger)