Detox from the outside in with this warm castor oil pack that relieves muscle pain and improves circulation.
With benefits that can be absorbed right through the skin, castor oil packs are an easy way to find relief during your "me time" ritual. All you need to do is apply the castor oil pack and lay back as it goes to work relieving menstrual pain, detoxifying your liver, moisturizing your skin, and even boosting your immune system!
Castor oil can be purchased online and in health food stores. Be sure to purchase organic, cold-pressed castor oil to ensure the purest form is being absorbed into the skin. To start reaping the benefits right away, you can easily put together a DIY castor oil pack using flannel cloths, a Mason jar, and a heating pad. The cloths are saturated in castor oil and then applied to sore muscles, dry areas, or any part of the body that needs a little TLC. A fabric wrap may be used to help hold the pack in place. These are specifically designed to secure around the pack and tie or velcro in place. A fabric wrap can be purchased online or in holistic health food stores. When in doubt, wrap a large piece of flannel around the affected area.
Love turmeric recipes?
Add power-packed anti-inflammatories to every meal with these FREE turmeric recipes!
Wondering how an oil can be capable of healing wounds and boosting the body's defense system without being taken internally? It's primarily because castor oil is made up of a rare compound called ricinoleic acid that, when absorbed through the skin, helps boost white blood cells, supporting immune and lymphatic systems (1). The lymphatic system is responsible for carrying toxins out of the body, so if you're experiencing chronic fatigue, joint pain and recurring illnesses, a congested lymph system might be to blame. If this is the case, use your castor oil pack over your abdomen to help cleanse your liver and lymph systems (2).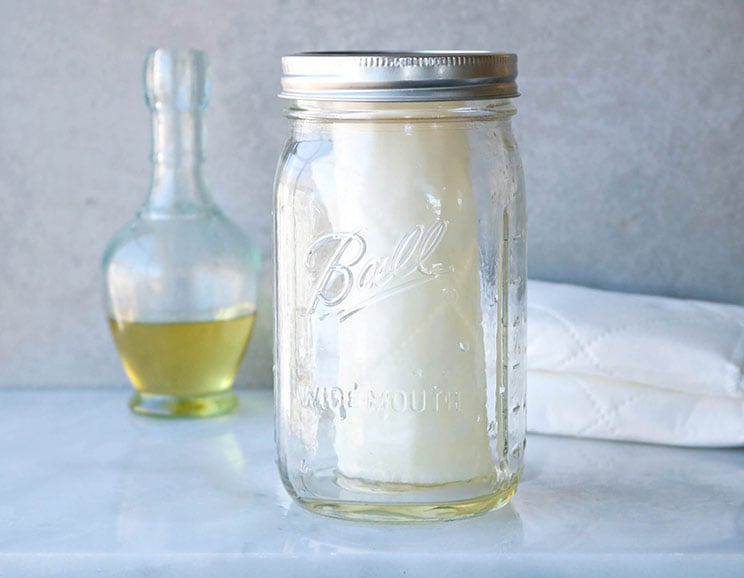 While conclusive studies on castor oil packs are still needed, there are preliminary studies supporting castor oil's ability to relieve the following ailments:
Menstrual cramp relief
Healing inflamed skin due to dryness, sunburn and acne
Reducing inflammation
Speeding wound healing (3)
Relieving joint pain (4)
Improving circulation
Stimulating and detoxifying the liver (5)
As with any holistic remedy, consult with a doctor before using and take special precaution if you are pregnant, as castor oil can stimulate contractions.
Castor oil is also used internally for natural relief of constipation, producing a laxative effect. Internal consumption of castor oil is recognized as safe by the FDA (7), but as mentioned above, consult your naturopath or doctor first, as cases of digestive upset have been reported.
To make your homemade castor oil wrap, place a flannel cloth into a quart-sized jar and slowly pour castor oil over it. You want the cloth to absorb the oil but not be dripping, otherwise it will get messy when applied. When you are ready to use, have all of your supplies handy and lay them on an old sheet or towel in case any oil spills over. Apply the saturated cloth to your lower abdomen or wherever you need relief, and cover the area in a stretchy fabric to hold the cloth in place. Place a hot water bottle or heating pad on top and relax for at least half an hour to reap the full benefits. Read a book, watch TV, or meditate while your pack goes to work.
Tip: You can reuse your castor oil pack! Store your cloth in the Mason jar and reuse it until the cloth starts to change color. Add extra oil as needed.
Jennafer Ashley
DIY Castor Oil Packs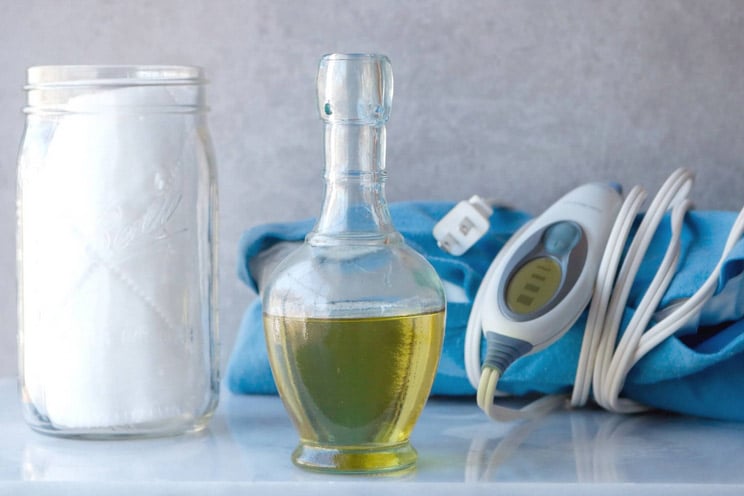 Prep Time:
5 mins
5 minutes
DIY Castor Oil Packs
Detox from the outside in with this warm castor oil pack that relieves muscle pain and improves circulation.
Tools
Flannel fabric cloth (about 8x8 inches)

Quart-sized Mason jar with lid

Old sheet or towel

Fabric wrap

Heating pad or hot water bottle
Instructions
Loosely roll up the fabric and place in the jar. Drizzle with enough castor so the fabric is saturated but not dripping. Secure the lid and shake to coat.

When ready to apply the castor oil pack, lie down on a towel and place the fabric on your lower abdomen or wherever needed.

Wrap the pack snugly with fabric wrap to hold it in place, then put a warm heating pad over the top. Relax for 1 hour to experience the full benefits.
Looking for high-quality DIY products to make this pack? Here's what we recommend:

(You'll Also Love: DIY Charcoal Face Mask with Coconut Oil – Detoxes Skin with Only 3 Ingredients!)