Natural deodorants are having a moment right now. With so many natural deodorants out there, we wanted to know which ones can stand the "sweat test" and which ones fail to uphold the funk.
For some consumers, making the decision to swap out a drugstore stick for a natural-based version can be intimidating. Sure, you want protection from moisture and body odor, but you don't want outrageous prices and embarrassing pit stains on your favorite shirt.
What people do want is minimal health risks associated with long-term conventional deodorant use. Neurotoxins, like aluminum, are found in conventional deodorants to keep sweat at bay, but they are also linked to rising levels of breast cancer and Alzheimer's disease. (1, 2)
Want naturally radiant skin?
We've created a FREE Guide to give you the best tips & tricks for Natural Skincare here!
When determining which natural deodorants worked and which ones needed the boot, we looked for products that not only minimized exposure to harmful toxins and health risks, but also gave us epic ratings of cleanliness on a budget.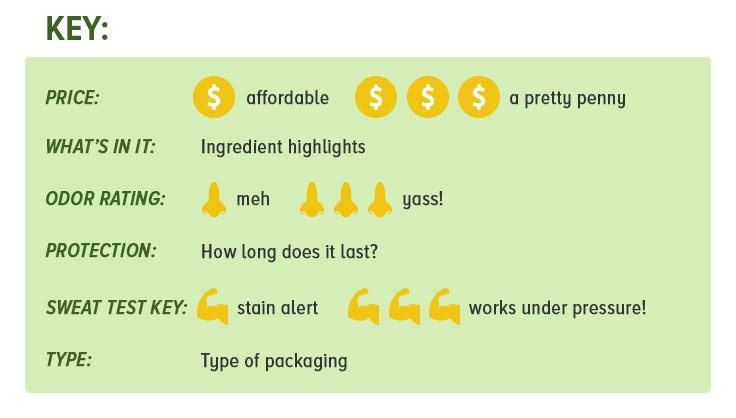 We rated each deodorant based on price, ingredients, odor protection, durability, ability to perform under pressure (with moderate exercise), and stick functionality. Based on our rating scale below, the PaleoHacks team gives you the full scoop of what works and what doesn't.
So, before you run out to your nearest store, check out how the top natural deodorant brands fared in our ultimate sweat test review.
Natural Deodorants Worth The Hype (& The Ones That Aren't)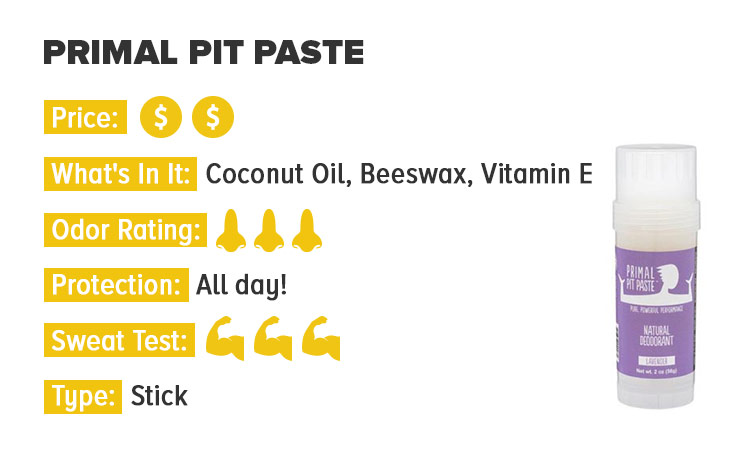 Brand: Primal Pit Paste
Reviewed by: David Sinick, CEO
Simplicity is key when it comes to any product I use. I've tried loads of other brands. If you're reading this, you probably know that most natural deodorants either don't do much in the odor department or can't make it through a workout session. I've used Primal Pit Paste every day and it's endured everything from an ultimate Frisbee match to an intense CrossFit workout. If you're looking for something that's easy to apply and works, this is a solid option.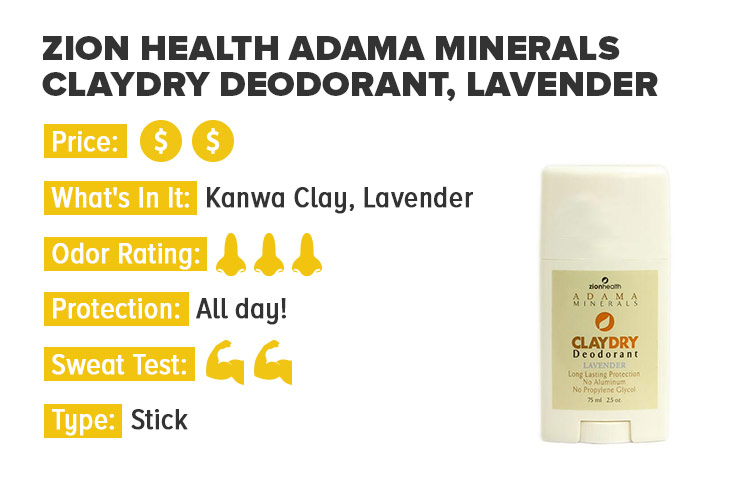 Brand: Zion Health Adama Minerals ClayDry Deodorant
Reviewed by: Aimee McNew, Writer
This ClayDry deodorant is the one I settled on after trying more than a dozen other natural alternatives. The lavender scent is strong, but not too strong. The clay keeps me from profusely sweating while still allowing a healthy sweat response when I am being very active. Rarely needs to be reapplied, and one stick of deodorant lasts me more than 3 months.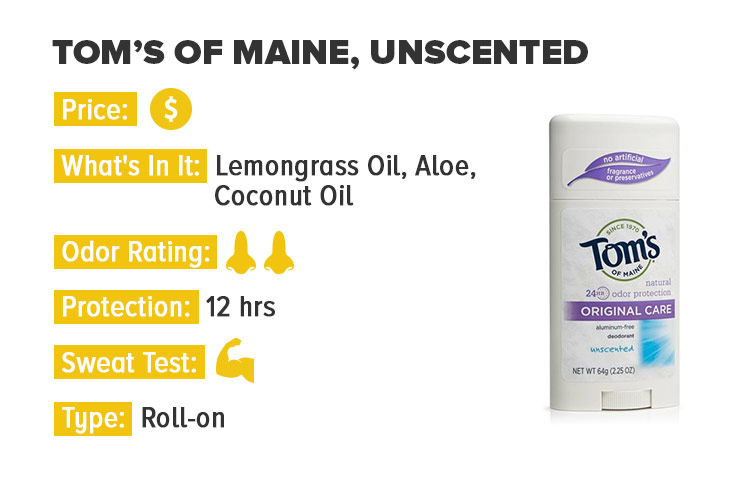 Brand: Tom's of Maine, Unscented
Reviewed by: Lauren Fellows, Associate Editor
Since Tom's of Maine is affordable and completely free of toxic chemicals, the unscented Original Care deodorant is great for day-to-day activity. The odor protection lasts for most of the day, although you'll probably have to reapply in the afternoon. Tom's of Maine also has an antiperspirant, but be aware that it contains aluminum (it's recycled from natural mineral ore, but it's still aluminum!).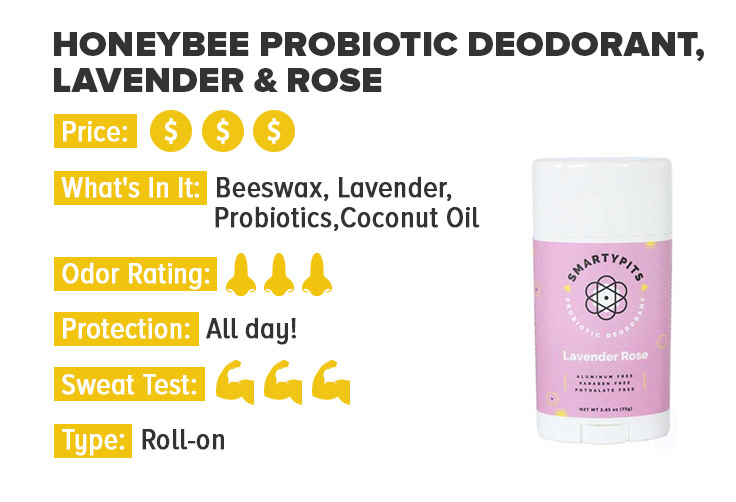 Brand: HoneyBee Probiotic Deodorant, Lavender & Rose.
Reviewed by: Lauren Fellows, Associate Editor
HoneyBee's deodorant delivers a little extra love with probiotics, so your body can soak up beneficial bacteria instead of toxic chemicals. Score! Arrowroot powder and beeswax help keep your pits dry all day, and even stood up to a pretty intense power yoga class. The lavender rose scent is pretty floral, but if that's not your thing, gender-neutral scents like coconut mango or eucalyptus spearmint are also available.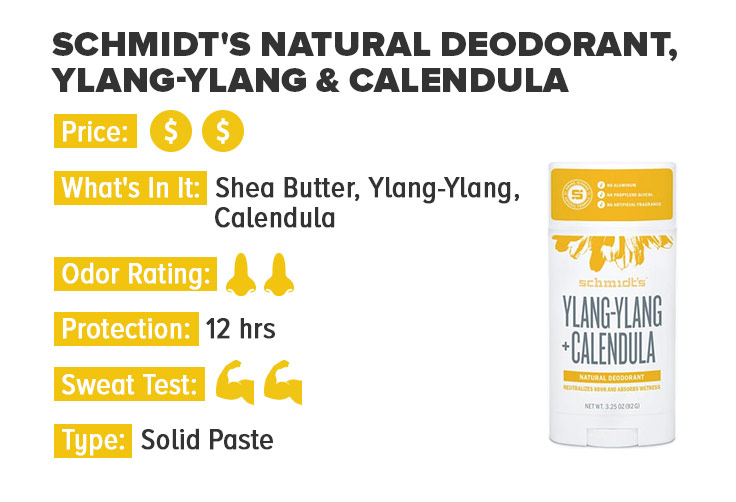 Brand: Schmidt's Natural Deodorant, Ylang-Ylang & Calendula.
Reviewed by: Zoe Raissakis, Social Media Director
Schmidt's natural deodorant in a jar comes with a small spatula, which I only used to scoop up but not to apply the deodorant. The paste is quite solid, especially during the colder months. I had to rub it between my fingers to warm it up in order to apply it. When you open the jar, the first thing you'll notice is the sweet, floral aroma of Ylang-Ylang and Calendula essential oil. It sinks in quickly, and lasts, mostly, all day. I tested this during yoga and more sweat-intensive CrossFit classes and smelled good. Only downside is the white residue on my clothes.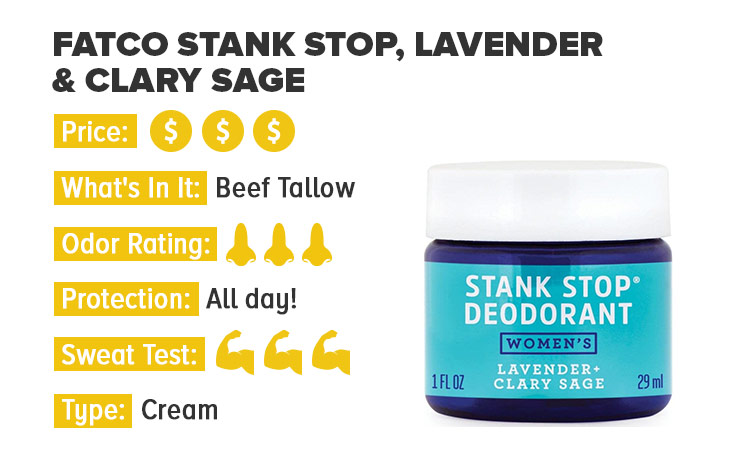 Brand: FATCO Stank Stop, Lavender & Clary Sage.
Reviewed by: Zoe Raissakis, Social Media Director
FATCO's Stank Stop combines the antibacterial properties of organic coconut oil with the odor-neutralizing power of aluminum-free baking soda and non-nano zinc oxide. The formula also contains tallow from grass-fed cows, which leaves your pits feeling smooth and moisturized. It's got a gentle lavender scent from essential oils that isn't too overpowering. Only downside is the application: the cream is rather goopy and needs to be applied with your fingers. I don't like having to wipe my fingers after every application. Did it leave a residue on my skin or stain my clothes? Yes, but only when I sweated a lot. I tested this deodorant during multiple CrossFit workouts (which leave me sweating like a pig). But my underarms didn't feel clammy, and nobody complained once about how I smelled. Impressive. Would I buy it again? Definitely.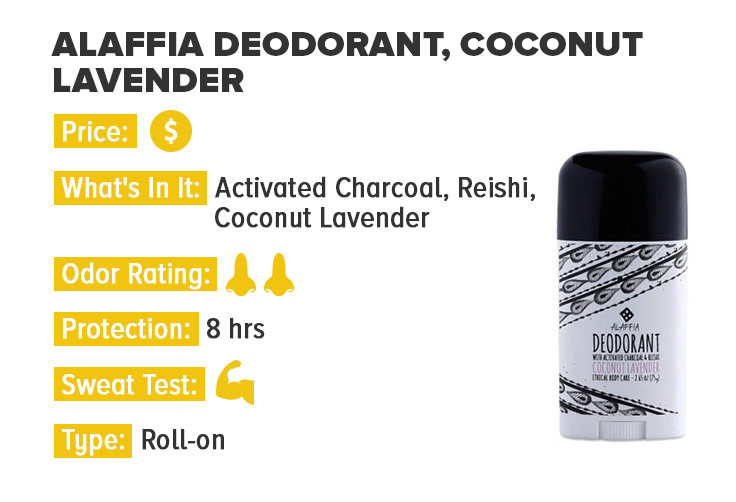 Brand: Alaffia Deodorant, Coconut Lavender.
Reviewed by: Jessica Marie Resendez, Writer
Trying Alaffia's coconut lavender deodorant seemed exciting – especially since it's made with activated charcoal – but failed when put under pressure. Walking around in 80-degree weather, I noticed dark sweat stains forming around the pits of my shirt. Throughout the day, it continually got worse and I was forced to change shirts by late evening. As far as smell goes, Alaffia's deodorant definitely has more of a musky-lavender vibe to it, but it masked my body odor fairly well.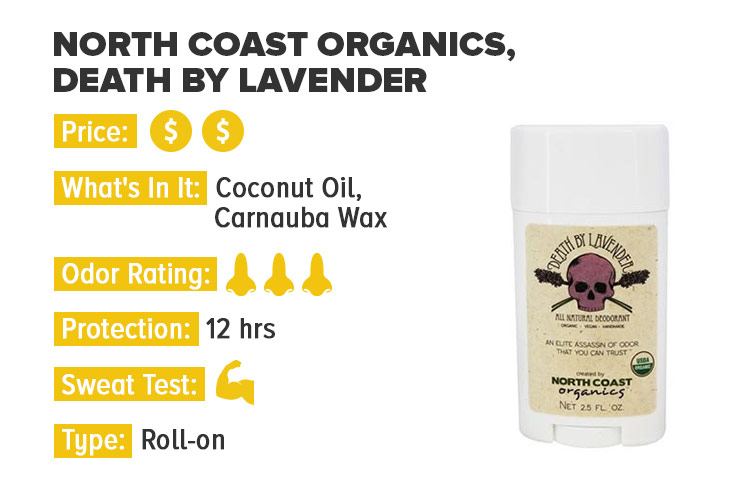 Brand: North Coast Organics, Death by Lavender.
Reviewed by: Jessica Marie Resendez, Writer
North Coast Organic's Death by Lavender has a nice herbal fragrance to it, making my pits smell like tea bags for most of the day. It had a pleasant smell that made me want to keep sniffing for fun, but I noticed small sweat stains forming on the pits of my shirt while working out (I later found out that these stains would not wash out). I'd say the slightly higher price made a difference in smell quality, but would be a little cautious using it with fancier clothing.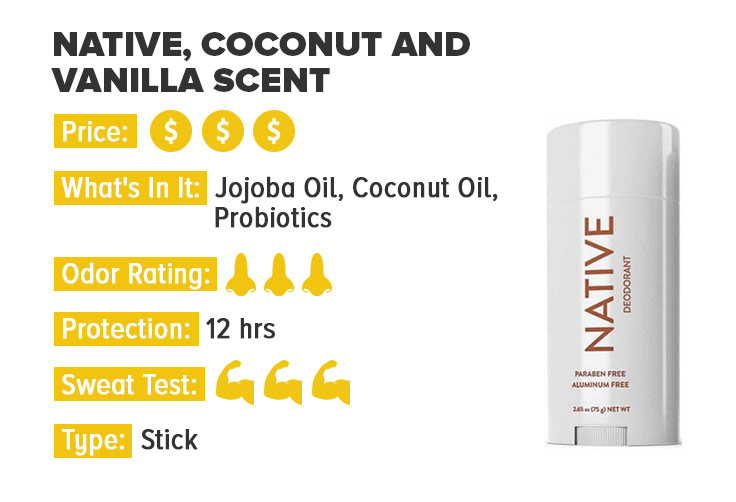 Brand: Native, Coconut and Vanilla Scent.
Reviewed by: Charisma Madarang, Editor in Chief
This is one of those products you buy and think it's curiously almost too good to be true. I've put Native through the ringer – from hours standing in 90-degree heat with a white shirt (no stains) to a muggy night running around the city to a moderate HIIT workout. The product has a subtle, fresh scent, doesn't leave any residue and keeps you dry. I'll usually apply it once before I start my day and then again in the evening if I plan on going out. Plus, it comes as a solid stick, so no scooping up funny gunk – often a downside to other natural deodorants.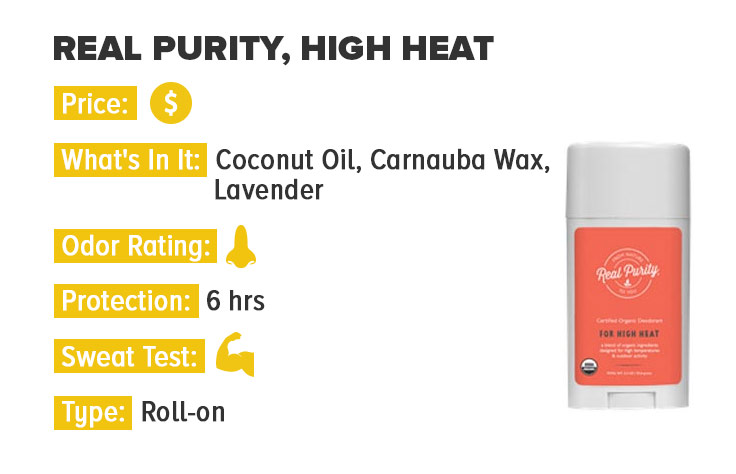 Brand: Real Purity, High Heat.
Reviewed by: Jessica Marie Resendez, Writer
Rolling Real Purity on my pits was a bit rough and didn't apply as smoothly as others I've tried in the past. Its smell had a nice citrus fragrance in the beginning, but wore off mid-day through normal activity. After my evening jog, I noticed my pits were moister than normal and the citrus smell had clearly been replaced with my body's natural odors (yuck!).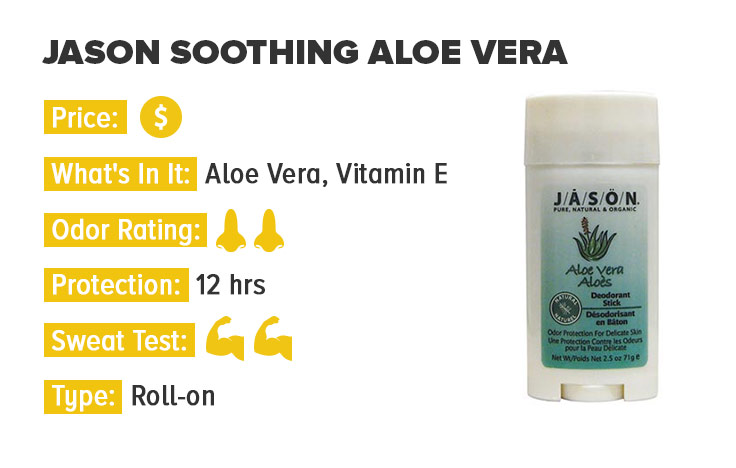 Brand: Jason Soothing Aloe Vera
Reviewed by: Jessica Marie Resendez, Writer
Jason Soothing Aloe Vera deodorant is a great alternative for people who want to switch to natural deodorants. The smell is mild, yet pleasant, and does a decent job at keeping your pits sweat-free during moderate movement throughout the day. While it did fairly well in Odor Rating, I did have to reapply for my evening cardio session. Overall, it got the job done for the low price it was advertised for.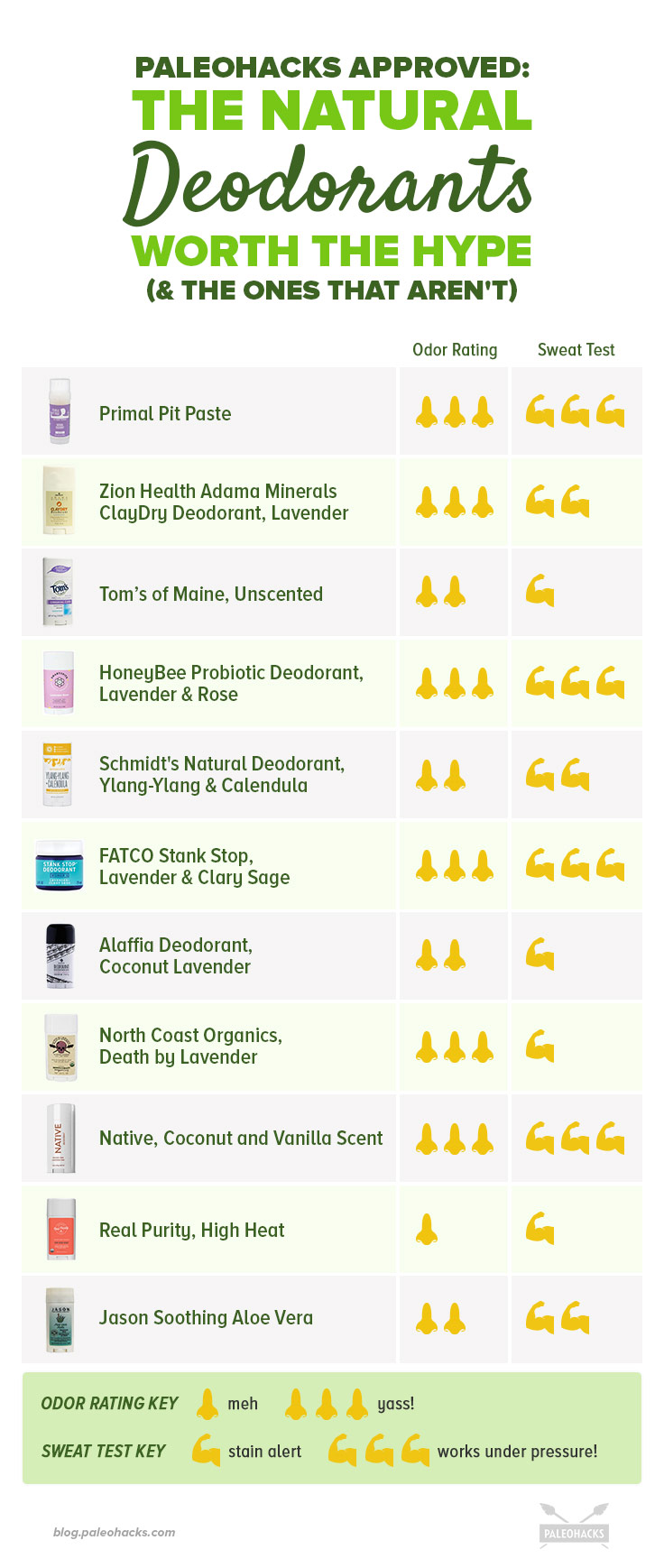 (Read This Next: 7 Reasons to Throw Out Your Aluminum Deodorant)