Keep things refreshingly cool with this crunchy beet noodle salad dressed with a creamy lemon tahini sauce!
This recipe is proof that salads don't always have to be about the greens. Sure, we've got arugula in there (and it's wonderful!), but raw spiralized beets take center stage. Enjoy the refreshing beet noodle flavors of sweet earthiness with a zip of lemony flavor.
Go Gluten-Free with Veggie Noodles
Spiralizing the beets creates a texture that's similar to al dente pasta, but with a sweeter and brighter taste. Unlike most salads, this veggie noodle version is a great make-ahead choice. The beet noodle zesty dressing includes a bit of acid to help tenderize the beets as it sits.
Love pasta? Grab your spiralizer and crank out these amazing veggie noodle recipes!
Click Here to Get Your FREE recipe book of 20 Easy Ways to Use Your Spiralizer.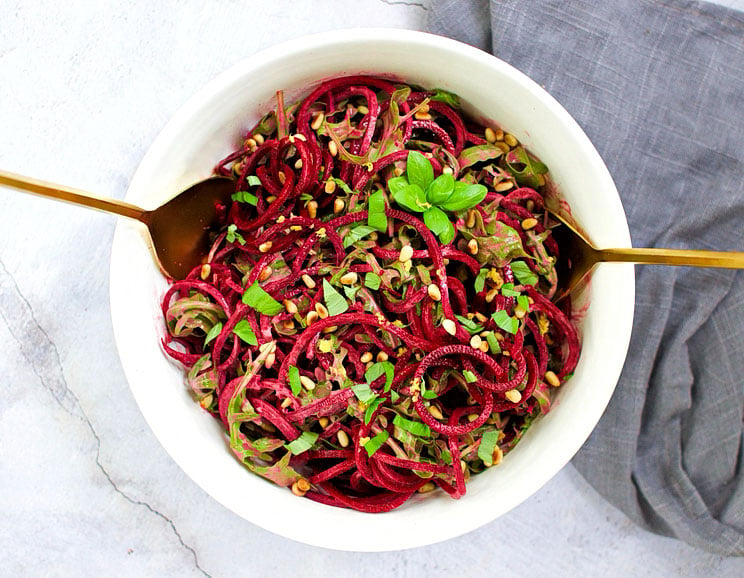 If you're going to make this ahead of time, I recommend tossing only the beets with the dressing. Pack the arugula, pine nuts, and basil separately, then throw it all together when you're ready to eat!
Helpful Tips To Get Started:
Watch the pine nuts. Pine nuts go from raw to toasted quickly, so keep a close eye on the pan. Give it a good shake every minute or so and remove them from the heat as soon as they're golden.
No spiralizer, no problem. If you don't have a spiralizer at home, fear not. You can use a food processor, grater, or veggie peeler to create your own kind of beet noodle.
Danielle Moore
Beet Noodle Arugula Salad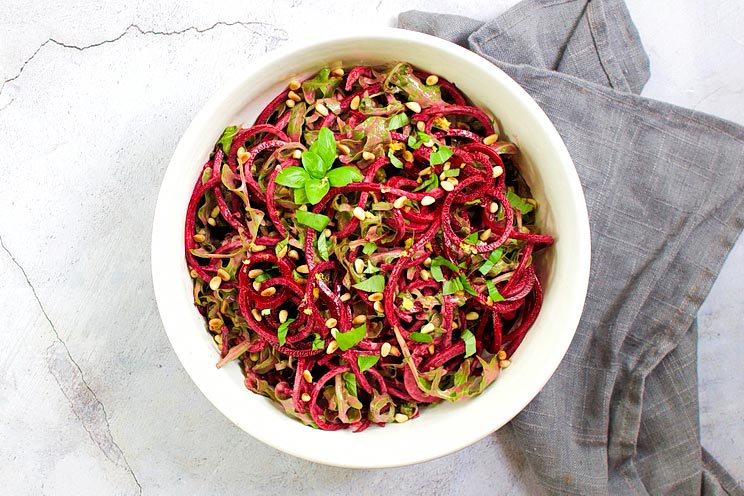 Cook Time:
4 mins
4 minutes
Prep Time:
5 mins
5 minutes
Nutrition facts:
10 grams of protein
51 grams of carbohydrates
31 grams of fat
Beet Noodle Arugula Salad
Keep things refreshingly cool with beet noodles, arugula, and creamy lemon tahini dressing.
Tools
Small sauté pan

Large mixing bowl
Ingredients
2 T pine nuts

3 T olive oil

¼ cup lemon juice

1½ T tahini

1 t minced garlic

4 cups beet noodles

4 T sliced basil, divided

1 T lemon zest
Instructions
In a small sauté pan, toast the pine nuts over medium-low heat for 4 minutes. Shake the pan occasionally to toast evenly.

In a large mixing bowl, whisk together the olive oil, lemon juice, tahini, and garlic until creamy.

Add the beet noodles, arugula, and 2 tablespoons of basil, then toss to coat.

Garnish with toasted pine nuts, lemon zest, and the remaining basil. Serve and enjoy!
Looking for Paleo ingredients? Here are a few we'd recommend:
Pine nuts (NOW Foods)
Olive oil (Sky Organics)
When you're in the mood for even more Paleo noodles, try any of these spiraled veggie recipes!