Crunchy on the outside, soft on the inside, these baked pumpkin spice apple slices paired with a homemade caramel sauce are perfect for healthy snacking.
Get your dipping fingers ready! Imagine sweet apples bathed in buttery almond flour baked in the oven to crisp perfection. Every bite packs a soft apple sweetness — it's like eating mini, dip-able apple pies!
For the dipping, I have this irresistible homemade caramel sauce made with just two ingredients: coconut milk mixed with coconut sugar. This decadent, creamy sauce pairs perfectly with the soft oven-baked apple slices.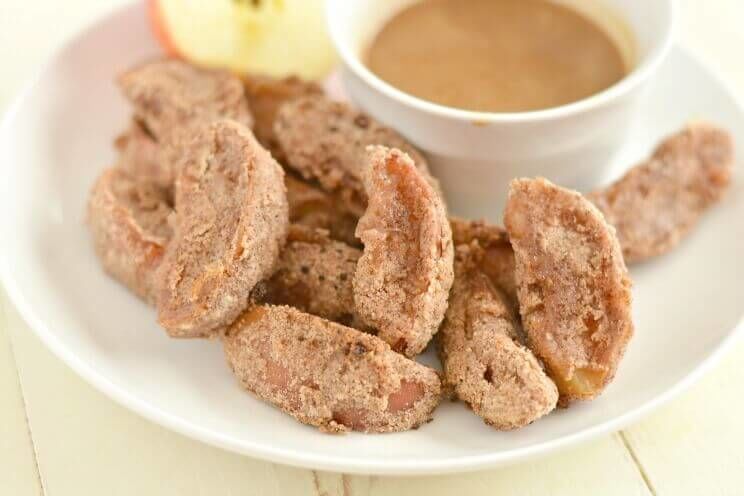 The key to making these apple snacks crispy on the outside and creamy on the inside is baking them at a high temperature. That way, the inside stays perfectly soft while the outside gets a crunchy coating.
Love almond flour recipes? Get our free almond flour recipe cookbook here!
Another tip to keeping them nice and crispy, is keeping the skin on the apples. It's gives them more structure for the batter to hold onto when they bake. That also makes them more dip-able and believe me, you want them dip-able for that caramel sauce!
These pumpkin spice baked apple slices are truly finger-licking good. Perfect for a party appetizer or healthy snack, and guaranteed to make your sweet tooth dreams true!
Megan Olson
Baked Apple Slices with Pumpkin Spice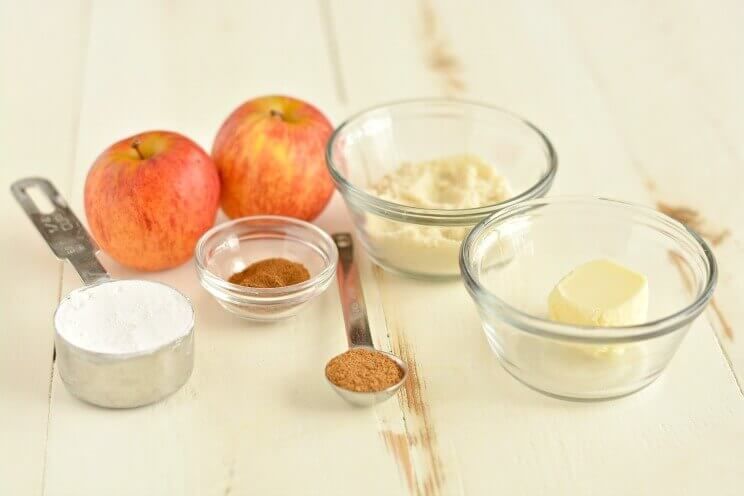 Cook Time:
15 mins
15 minutes
Prep Time:
10 mins
10 minutes
Baked Apple Slices with Pumpkin Spice
Crunchy on the outside and soft on the inside, these baked apple slices are paired with a homemade caramel sauce. Perfect for healthy snacking!
Ingredients
For the apples:

2 medium apples

2 T butter

½ cup almond flour

¼ cup tapioca flour

½ t pumpkin pie spice

½ t cinnamon

For the caramel sauce:

¼ cup unsweetened coconut milk

4-5 T coconut sugar
Instructions
Preheat oven to 425ºF. Prepare a baking sheet by covering it with parchment paper or a slip mat.

Wash and core the apples. Note: the skin can be left on or removed. Either way works!

Place the butter in a microwave-safe dish. Microwave on high 30 seconds until melted.

Next, combine the almond flour, tapioca flour, pumpkin pie spice and cinnamon in a bowl. Be sure to combine them well.

Make an assembly line to prep the apples for the oven by placing everything in the following order: sliced apples, melted butter, almond flour and prepared baking sheet.

Dip apple slices into the melted butter, then into the almond flour mixture to coat and finally place on the baking sheet in a single layer.

Bake at 425ºF for 15 minutes or until crispy on the outside. Then flip the apples onto the other side halfway through.

While the apples are baking, combine the ingredients for the caramel sauce in a bowl.

Remove apples from the oven and serve immediately with caramel sauce.


(You'll Also Love: Paleo Pumpkin Spice Donuts)