Drizzle these Apple Fritter Bites in a creamy coconut glaze for a cozy treat!
No donut shop can beat these Apple Fritter Bites! Made with Honeycrisp apples and creamy coconut glaze, these gluten-free fritters are a two-bite delight! Bake them up to pair with coffee or serve as a yummy dessert to share with others.
Cassava and blanched almond flours come together to create a soft and airy breading. Use apple cider vinegar for a bit of tartness and round out the flavor with a hint of cinnamon. While this recipe utilizes Honeycrisp apples, you can also opt for Granny Smith, Gala, or any others you prefer.
Love Paleo Desserts? Then you'll love our FREE Paleo Dessert Cookbook.
Click here to get your FREE copy of our delicious Dessert Recipes!
The best part is the creamy coconut butter on top. It's completely dairy-free and can be found at most health food stores or you can make your own at home using our favorite two-ingredient recipe (it's easy!). Try adding an extra tablespoon of honey to bump up the sweetness!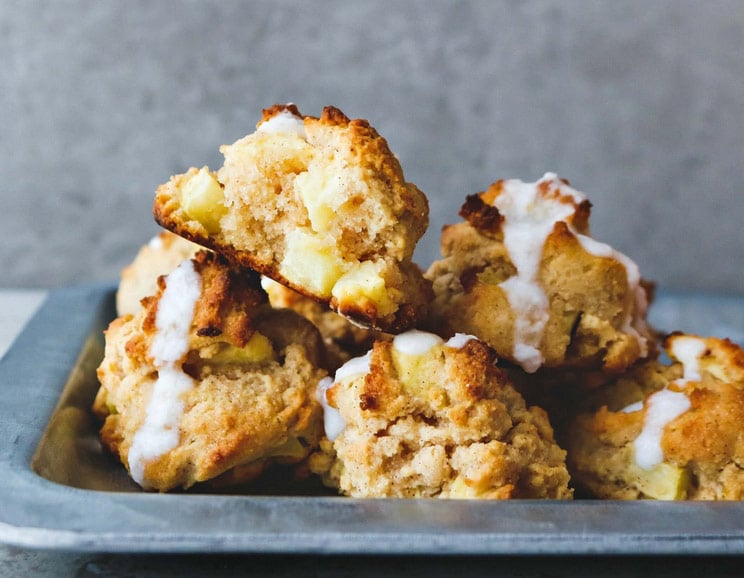 To get started, combine the dry ingredients in a medium mixing bowl. Use a measuring cup to whisk together the wet ingredients. Toss the chopped apples into the flour mixture and stir in the wet ingredients. Mix the mixture into a batter and scoop a heaping tablespoon onto a baking sheet. Add the remaining batter and spread each mound two inches apart.
Bake the fritters for 12-15 minutes, or until lightly browned on top. Cool the fritters for 10 minutes and drizzle coconut butter on top. Tip: If the coconut butter is too dry, add one tablespoon of coconut milk. Serve warm and enjoy or store leftovers in an airtight container for up to one week.
Jennafer Ashley
Apple Fritter Bites Drizzled in Coconut Butter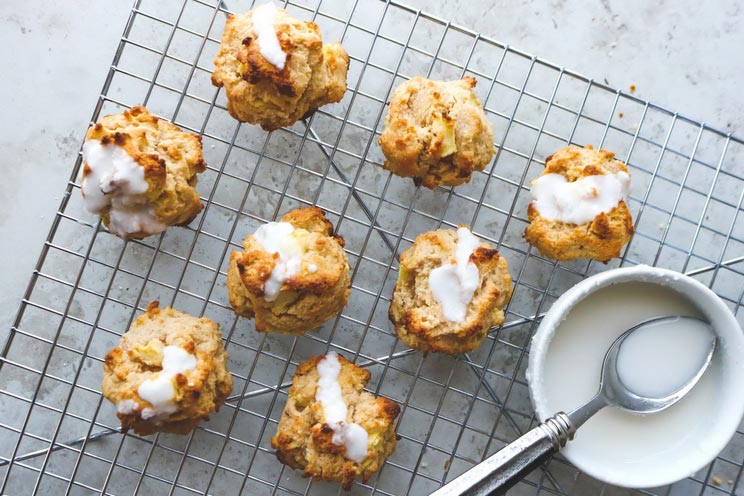 Cook Time:
20 mins
20 minutes
Prep Time:
10 mins
10 minutes
Apple Fritter Bites Drizzled in Coconut Butter
Drizzle these Apple Fritter Bites in a creamy coconut glaze for a cozy treat.
Tools
Medium mixing bowl

Small mixing bowl

Baking sheet

Parchment paper
Ingredients
1 cup blanched almond flour

1/4 cup maple syrup

1/4 cup ghee, softened

2 T apple cider vinegar

1 large pasture-raised egg, room temperature

1/2 cup cassava flour

1/4 t sea salt

1/2 t baking powder

1 t ground cinnamon

1 medium apple, peeled and finely chopped

1/3 cup coconut butter
Instructions
Combine the almond flour, cassava flour, sea salt, baking powder and cinnamon in a medium mixing bowl. In a separate small mixing bowl, stir together the maple syrup, ghee, apple cider vinegar, and egg.

Add chopped apple to the dry ingredients and toss to coat. Pour in the liquid ingredients and stir until fully incorporated. Scoop heaping tablespoons of dough onto the prepared baking sheet, spacing two inches apart. Bake for 15-18 minutes.

Cool the fritters for 10 minutes. Heat the coconut butter over low heat using a double boiler. Cook until melted for three to five minutes. Drizzle the coconut butter over fritters and allow to set for 30 minutes.
Looking for Paleo ingredients? Here are a few we'd recommend:
Almond flour (Bob's Red Mill)
Maple syrup (Hidden Springs Maple)
Ghee (Pure Indian Foods)
Apple Cider Vinegar (Bragg)
Cassava flour (Otto's Naturals)
(You'll Also Love: Apple Butter Muffins with Coconut Honey Frosting
)