Hi, Diana Keuilian, here. I'm the creator of Family Friendly Fat Burning Meals and today I'd like to share with you how to make Kid-Approved Paleo Meals with 5 Easy Tips.
You and I know how healthy and beneficial the Paleo diet is. We know how great it makes us feel, how much energy it gives us, and how amazing it makes us look.
So we made changes, cut out our grain and sugar-filled favorites, then found new, wholesome, favorite foods. And while the whole process wasn't easy, we did it because we believed it was the right thing to do.
As adults we are able to endure temporary discomfort in exchange for long term gain…but what about the kids?
When I first started cooking Paleo meals my kids declared war. A we-aren't-going-to-eat-a-single-bite war.
And for awhile it seemed like they were going to win. It was so tempting to consider giving in and serving them the traditional kid-foods like the mac n cheese, chicken nuggets and quesadillas that they wanted, while I ate my lettuce-wrapped chicken in peace.
But I didn't give up.
I knew that Andrew and Chloe would reap the same amazing health, body and energy benefits that I was enjoying if they would only learn to give Paleo meals a try.
That epic we-aren't-going-to-eat-a-single-bite war happened more than a year ago. Today I'm happy to say that the kids are completely onboard and, when given the option, freely choose veggies and meat over processed kid-menu far.
How'd we do it? Well, it all started with a recipe for Chicken Nuggets..
Kid-Friendly Tip #1: Start With Paleo Versions Of Their Favorites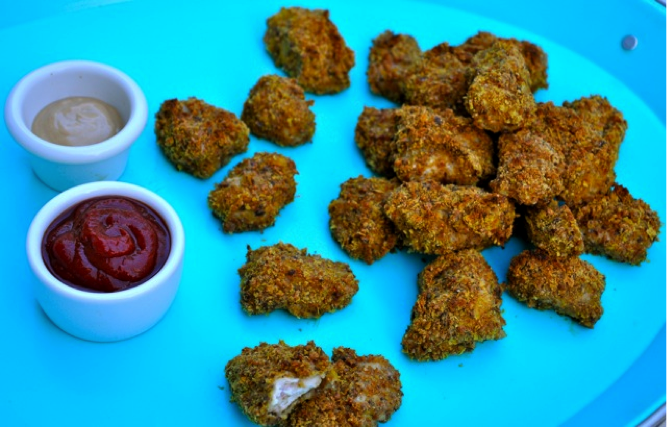 The first time that I made Real Healthy Chicken Nuggets, out of real chicken breast, it was a turning point. What an epiphany! Why not make Paleo dinners with the look and feel of traditional kids foods?!
So now, instead of serving sautéed zucchini with meatballs…I make noodles out of zucchini and spaghetti squash and serve it as Spaghetti and Meatballs.
Instead of saying NO to Chloe's request for mac n cheese…I make a gluten-and-dairy-free mac n cheese casserole made with flat yellow squash noodles and cashew cream.
Instead of saying NO to Andrew's request for corn dogs…I make grain-free Corn Dog Muffins with Faux Cornbread batter and Stuffed with Real Healthy Hot Dogs.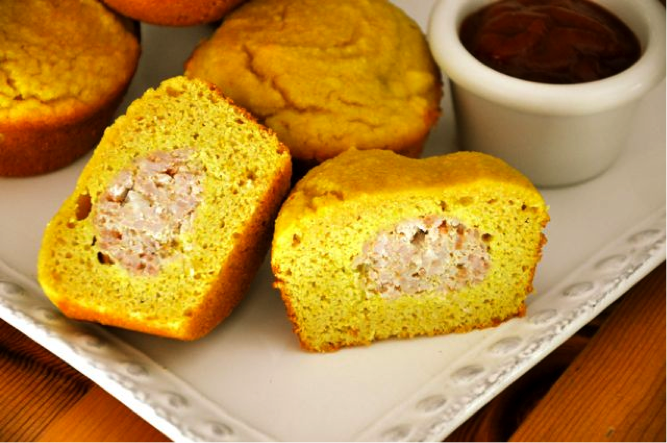 Instead of wrapping their turkey slices in green lettuce…I make coconut flour tortillas and cut it like a quesadilla.
Instead of always handing out fruit for dessert…I occasionally make caveman cookies, frozen chocolate covered bananas or flourless brownies in a mini muffin pan.
With this simple mindset shift, I was able to open my kids up to the world of Paleo foods. They were timid at first, but now they chow down on pulled pork lettuce wraps with the best of the cavemen!
Kid-Friendly Tip #2: Get Them Involved with Shopping & Cooking
When the kids were old enough, I started to get their input on purchases at the market. Now Andrew and Chloe know that it's OK to pick out a bag of whatever organic fruit looks good to them. It's also great to teach the kids to notice which fresh produce is in season and looks fresh and delicious.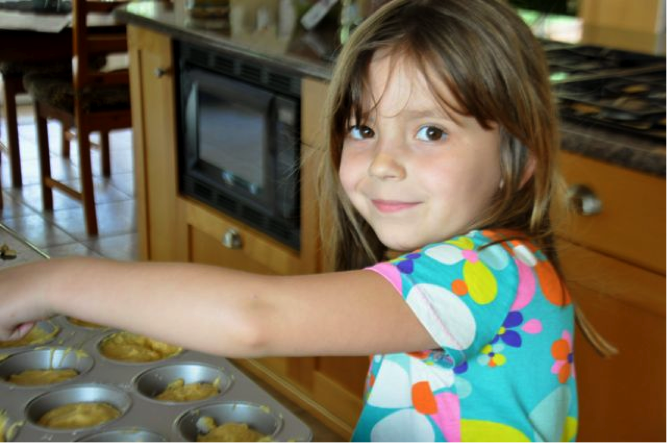 Another thing that we do is have the kids help with dinner prep—being careful and safe, of course. Chloe loves to mix batter and to measure and add seasoning to whatever I'm cooking. Then when we eat it, she's always so excited to tell everyone that she helped make it.
Another fun way to get the kids to eat new, healthy dishes is to have them assemble and plate their own dinners. I'm always blown away with the sheer amount of veggies that my kids pile on their plate on make-your-own-taco night!
Kid-Friendly Tip #3: Pack Lunches in Segmented Tupperware
Packing Paleo lunches that the kids would be excited about eating was another challenge. At school they see the packaged snacks and desserts that their friends scarf down along with slices of pizza and squishy-white-bread sandwiches.
I've found that a segmented Tupperware is the best way to pack healthy lunches since many Paleo dishes won't fare well in a plastic bag.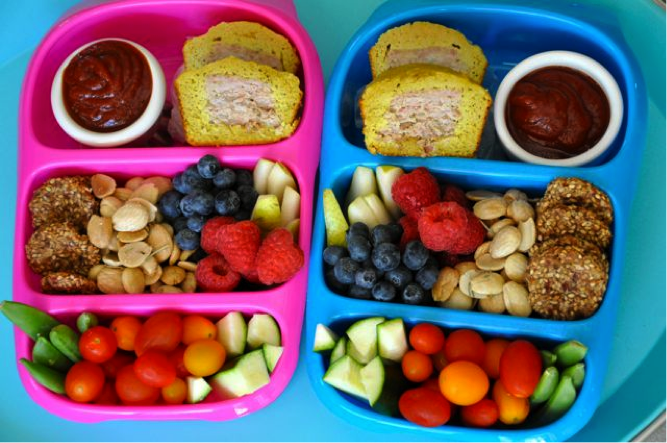 In the first segments pack a protein-based item. Save time and energy by using leftovers from last night's Paleo dinner. In the next segment pack fresh sliced fruits and veggies. And in the last segment pack a Paleo-approved dessert or snack.
Kid-Friendly Tip #4: Give Them Options
I've found that it helps to ask their opinion when planning our weekly dinners. Of course, I don't mean to say that I ask my 7 year old, "What do you want for dinners this week?" Because he will quickly respond with, "Pizza, burgers and mac 'n cheese!"
You got to be a little more slick than that 🙂
I give options like this, "Does turkey spaghetti or turkey patties sound best for Tuesday's dinner?" Either option has me using that organic, ground turkey and the fact that the kids chose the dish makes them more likely to decide they like it.
Kid-Friendly Tip #5: Don't Forget Dessert
What child doesn't love enjoying a sweet treat after dinner? Mine sure do! Sweets don't have to be a part of every day, but including healthy desserts a few times a week keeps the kids excited and engaged in Paleo eating.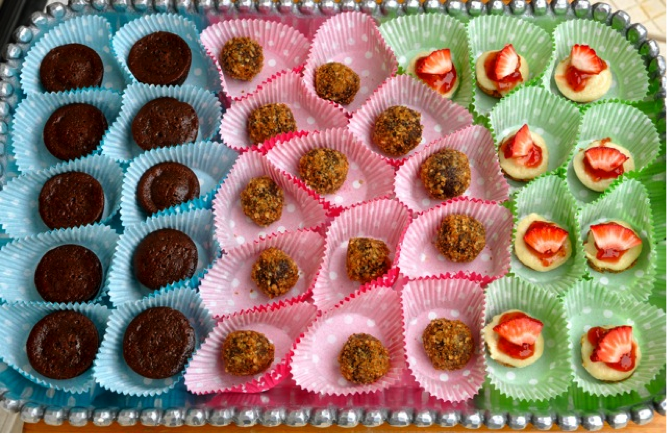 Hope that you have enjoyed these Kid-Approved Paleo Meal Tips. My family is walking proof that this way of eating truly delivers results without deprivation or boring, bland meals.
I love food WAY too much to give up flavorful, delicious dinners, snacks and desserts. In fact, I'm so passionate about creating Paleo-approved, fat burning foods that, for the first time ever, I've put all of my best recipes and eating secrets together into a full Family Friendly Fat Burning Meals program.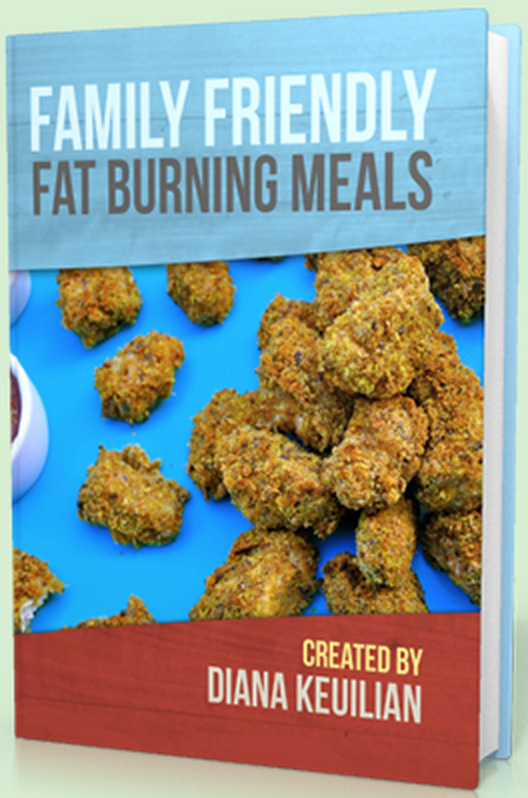 This system has over 100 of my family's favorite Paleo, fat burning recipes – which I used to effortlessly reverse the weight I had gained in my twenties. It's tasty stuff like Chicken Enchiladas, Baked Chicken Nuggets, Make-Your-Own Tacos, Healthy Brownies, Easy Chocolate Chip Cookies and much, much more.
Here's a page where you can learn more about my Family Friendly Fat Burning Meals Program, where I share all of the kid-approved Paleo recipes that I make for my own kids.
I'm excited to hear your family's Paleo success story. Good luck, and enjoy all of those tasty recipes 🙂
Get My Family Friendly Fat Burning Meals and 5 bonuses HERE!