Get ready to be inspired – we're rounding up the top 25 Paleo bloggers leading the way in health, nutrition, and wellness.
The Paleo community encompasses a diverse set of followers. At its core, the community aims for optimal health through wholesome, natural food. The following bloggers all have a shared commitment to get you motivated. You'll find countless Paleo recipes to fit all your dietary needs and make you a bona fide Paleo chef in no time!
Beyond the recipes, you'll find a thriving community with interests in mental wellness, nutrition, fitness, autoimmune disease, and varying lifestyle topics. Check out these 25 blogs and all that they have to offer. Listed in no particular order, we promise that you'll love each and every one!
Erica and Justin
Want to learn more about Paleo and how it can help you?
Grab our FREE "What Is Paleo?" Guide by Clicking Here!
at Real Simple Good craft healthy, nourishing recipes to help you live your best Paleo life! Here, you'll find resources for all types of recipes, meal plans, and shopping lists. Use it to brush up on your Paleo knowledge and check out their Whole30 section for extra pointers and tips.
Caroline Fausel
, at Olive You Whole, helps you eat clean and healthy. You'll find recipes from all sorts of cuisines and diets – with an emphasis on Paleo and Whole30. After completing eight rounds of Whole30, Fausel includes plenty of resources for inspiration. As a certified coach, she offers group and individual programs to help keep you motivated.
After being diagnosed with an autoimmune disease, Danielle Walker adopted a grain-free lifestyle. Now, she blogs about grain-free, dairy-free, and gluten-free cooking to aid others in their own healing. You'll find tempting, comfort food recipes on her blog that are ideal for Paleo, Primal, SCD, GAPS, and gluten-free lifestyles.
40 Aprons is a Paleo blog with personality. Author Cheryl Malik shares foodie-friendly recipes for Paleo dieters (like crockpot carnitas and chimichurri shrimp). You'll find Instant Pot cookbooks, recipes, natural skincare, beauty tips, and food blogging resources to help you jumpstart your own business.
Need inspiration? Bailey of Whole Kitchen Sink has you covered! After losing 125 pounds, Bailey dedicates her blog to the benefits of Paleo by offering satiating recipes and weight loss success stories. She also includes resources for budgeting, Whole30 shopping tips, and even business advice on how to better your blog.
Civilized Caveman Cooking offers recipes, fitness, and wellness resources for the Paleo lifestyle. Author George Bryant cultivates a community full of understanding and encouragement for anyone hoping to succeed. Get wellness information for various topics like pharmacy-free flu treatments, collagen benefits, inventive recipes, and fitness tips.
If you're in need of Paleo recipes for every occasion, Michele Rosen delivers at Paleo Running Momma. From desserts to seasonal meals and treats, Rosen has what you're looking for. Check out her special diet tips for vegan, Whole30, egg-free, and nut-free recipes. As the name suggests, Michele is an avid runner and mother of three. She offers plenty of Paleo recipes for people on the go.
Cassy Joy Garcia
offers over 500 healthy, gluten-free, and Paleo recipes at Fed and Fit. She also offers nutritional science and healthy mindset tips to help keep you informed. In addition, you'll find beauty and lifestyle posts, including fashion, kitchen equipment, and travel. Check out her Fed and Fit podcast along with her monthly food and fitness program.
Brian Kavanagh
believes that eating simple, clean, and real food is key to health and wellness. His blog, The Sophisticated Caveman, takes that to heart and includes mouthwatering Paleo and primal recipes. He also has sections dedicated to lifestyle, foraging tips, and helpful nutrition advice. If you live in Atlanta, you're in luck! Kavanagh covers a range of topics and happenings in the local area.
Irena Macri
provides inspiration and resources to living a healthy life through Paleo and primal lifestyle choices. Macri avoids labelling herself as a health coach of any kind. Instead, she takes a practical approach to nutrition and health. Discover tons of recipes, Paleo resources, meal plans, lifestyle tips, and Macri's signature cookbooks.
Jessica
offers recipes galore at Real Food with Jessica. There's plenty of Paleo-friendly treats you can bake, in addition to a great collection of healthy family recipes. You'll also find Whole30 recipes like chicken satay with sunbutter sauce and grilled gyro burgers, as well as gluten-free and other healthy recipes to fit a wide variety of dietary needs.
Caitlin Weeks
is dedicated to a healthy lifestyle at Grass Fed Girl. She offers resources on the Paleo diet, keto diet, and thyroid health. Weeks successfully conquered Hashimoto's Thyroiditis through her Paleo diet and shares grass-fed, health-focused recipes to help guide others. You can even find tips for traveling and how to use essential oils for ridding your home of toxic chemicals.
At Paleo Cupboard, Amy Densmore offers extensive help with getting started on the Paleo diet. Find endless recipes, comprehensive guides to Paleo essentials, and helpful tips for beginners and more. Check out The Paleo Cupboard Cookbook for even more inspiration!
For Kendra Cardoza, the Paleo diet not only benefited her health, but also the health of her husband. Cardoza's battle with endometriosis greatly improved when she started the Paleo diet. Shortly after, her husband used it to recover from a stroke. Cardoza offers countless recipes for every meal of the day – think steak tostadas, beetroot crepes, and pumpkin crumble bars!
Juli Bauer's
PaleOMG is a multifaceted blog. It includes scrumptious Paleo recipes, lifestyle inspiration, fashion, fitness, beauty, and more. Check out her lemon berry chia pudding parfait or weekly workout guides. You can also learn how to travel while dieting, get inspiration for quick meals, or listen to her podcast, PaleOMG Uncensored.
Michelle Tam's
Nom Nom Paleo is jam-packed with recipes including Whole30, Instant Pot, and kid-friendly roundups. Enjoy breakdowns of the Paleo diet (in comic form) or check out her handy meal plans. Her two cookbooks are a Paleo-must and don't forget to check out her family-fun podcast.
If you're looking for a great science-backed resource, check out Sarah Ballantyne's The Paleo Mom. You'll find information about lifestyle, autoimmunity, nutrition, ingredients, and more. Of course, you'll also find yummy recipes to keep you on track.
Hayley and Bill
are the duo behind Primal Palate, where they create Paleo recipes for all kinds of dietary restrictions – think AIP, FODMAP-free, sugar-free and Whole30. You'll also find lifestyle and health-focused articles on beauty, skincare, and book reviews. If that wasn't enough, they also sell their own organic spice line!
Elana Amsterdam
is a self-professed lifestyle guru and health industry veteran. Her blog offers tons of recipes for dietary restrictions and includes the candida diet, egg-free diet, and nut-free diet (among many others). The blog also features handy guides to Paleo-friendly ingredients, low-carb cookbooks, and a section devoted to living with multiple sclerosis.
At Paleo Newbie, author Trina offers hundreds of Paleo recipes! Inspired by her Italian roots, she cooks up a scrumptious Paleo lasagna and offers handy quick-start guides for simple meal building plans and suggested readings.
Paleo Leap
is a central hub for everything you need to eat and live a Paleo lifestyle. There are recipes for every meal and dietary restriction–keto buffalo chicken meatballs, anyone? Paleo Leap also offers a 30-day program complete with meal plans, and a membership option that gives you access to visual guides, cheat sheets, extra recipes and tools.
Steph Gaudreau
helps women build strong bodies and minds to own their inner power. Her no-nonsense approach to nutrition includes plenty of helpful information – as do her articles on health, mindset, and wellness. Enjoy plenty of quick-whip recipes to help you feel nourished and satisfied.
Kate
the Wellness Mama offers tons of family-friendly Paleo resources at her blog, which is dedicated to real food recipes, natural beauty, remedies, and more. You'll love her many articles on natural living and wellness, as well as her family-friendly recipes.
From Instant Pot recipes to gluten-free cakes and treats, Michelle Fagone delivers endless Paleo recipes at Cavegirl Cuisine. You'll find cookbooks, wellness articles, lifestyle topics, and informative breakdowns on Paleo living. Fagone even offers one-on-one diet consultations to help tailor Paleo wellness plans that fit your lifestyle.
Whether you need a recipe for breakfast, lunch, dinner, or dessert, Marla Sarris has it all at Paleo Porn. She also offers a helpful "Is It Paleo?" app that instantly allows you to search which foods are Paleo-approved and which ones you need to avoid. More Paleo resources include Paleo guides for dining out, restaurant suggestions for several major metropolitan areas, and the option to book kitchen coaching sessions with Sarris herself.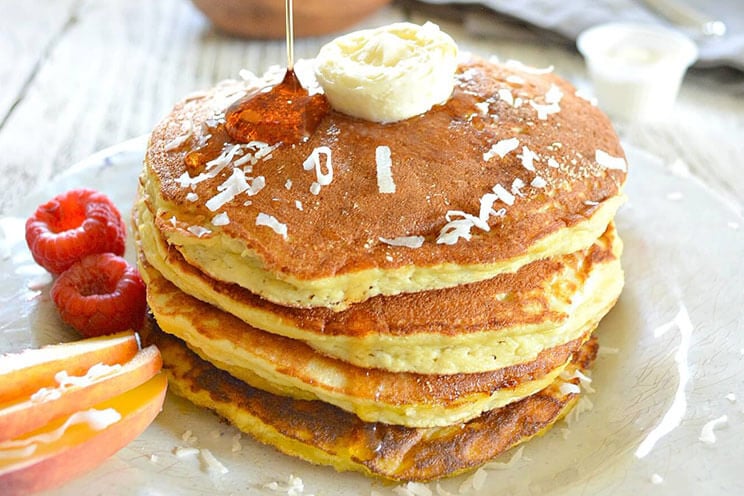 Last but not least, PaleoHacks (that's us!) is a comprehensive, informative resource for those both brand new to the Paleo diet and seasoned Paleo dieters. With science-backed, well-researched health, fitness and lifestyle articles rife with the latest information on health and wellness, as well as a variety of delectable recipes for any and all meals, we guarantee you find what you're looking for on our site.
(Read This Next: The Paleo Diet 101)