Pair rich and creamy with sweet and tangy in this dairy-free sunchoke soup with a balsamic glaze.
There's no need to sacrifice creaminess when it comes to soup when you're on the Paleo diet. Instead of using heavy cream or flour, this recipe blends roasted sunchokes with chicken broth and unsweetened almond milk until silky smooth.
How do we make this soup even tastier? We top it with a tangy, one-ingredient balsamic glaze!
Love slow cooker recipes?
Click here to get your FREE copy of our delicious Slow-Cooker Recipes!
What's A Sunchoke?
A sunchoke is a tuber that's also called a Jerusalem artichoke. Mild and sweet in flavor, they're a great source of potassium and iron.
They resemble ginger root and are crunchy like jicama – but you don't want to eat this vegetable raw. Sunchokes contain a carbohydrate called inulin that can cause gas, bloating, and cramps. These effects vary from person to person, but play it safe and enjoy sunchokes roasted until deliciously tender.
You can find sunchokes available year round, but they are in their peak from fall through early spring.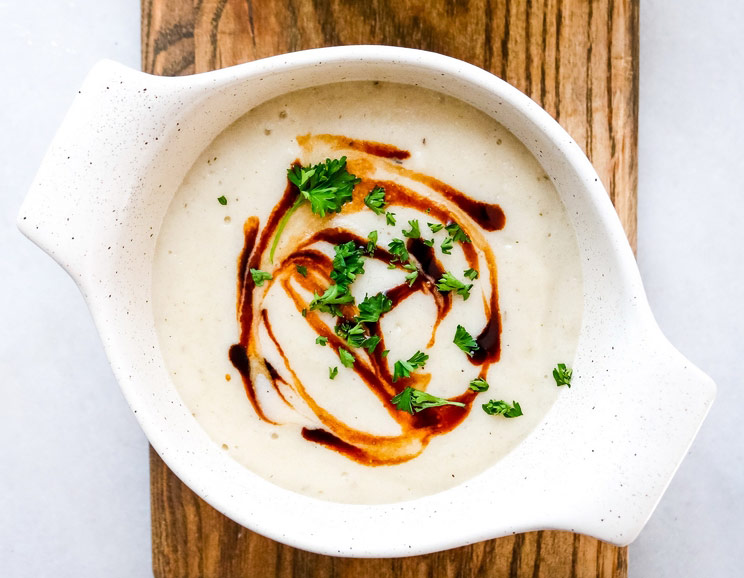 How To Make A One-ingredient Glaze
This soup is topped with a sticky, sweet, and tangy balsamic glaze made from just one ingredient: balsamic vinegar!
When balsamic vinegar boils, it begins to reduce and evaporate, creating a thick glaze that's perfect for drizzling on everything from soup to bruschetta.
Although we use one cup of balsamic vinegar to start, it will reduce drastically to around half a cup. You'll know it's ready when it coats the back of a spoon.
Helpful Tips To Get You Started:
Swap out the sunchokes. If you're sensitive to sunchokes, you can halve the amount and sub in chopped parsnips or white carrots to achieve a similar flavor.
Use what you have on hand. You don't have to use almond milk. Other unsweetened nut milk like macadamia, cashew, or hemp milk work too.
Go crazy with balsamic! Save any leftover balsamic glaze to drizzle on, well, anything. We're partial to using it on salads along with herbs and olive oil.
PS: If you're looking for more crave-worthy recipes like this sweet n' tangy soup, get your FREE copy of Paleo Eats shipped to you now. You'll find all our best healthy and deliciously easy meals in one convenient cookbook!
Jennafer Ashley
Sweet & Tangy Sunchoke Soup with Balsamic Glaze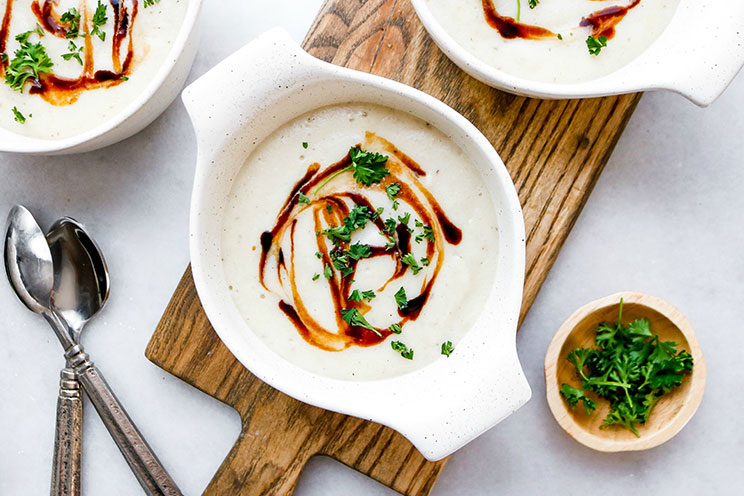 Inactive Time:
5 mins
5 minutes
Cook Time:
30 mins
30 minutes
Prep Time:
10 mins
10 minutes
Nutrition facts:
5 grams of protein
41 grams of carbohydrates
4 grams of fat
Sweet & Tangy Sunchoke Soup with Balsamic Glaze
Pair rich and creamy with sweet and tangy in this dairy-free sunchoke soup with a balsamic glaze.
Tools
Medium saucepan

11-by-16 baking sheet

Parchment paper

Blender
Ingredients
1 cup balsamic vinegar

4 cups sunchokes, peeled and coarsely chopped

½ cup coarsely chopped sweet white onion

½ t dried thyme

1 t garlic powder

1 T avocado oil

1 cup unsweetened almond milk

1 cup chicken broth

½ t sea salt

2 T chopped parsley
Instructions
Heat the balsamic vinegar in a small saucepan over medium-low heat until boiling. Reduce the heat and simmer for 5 minutes, until the balsamic vinegar reduces and coats the back of a spoon. Turn the heat off and transfer the balsamic glaze to a small jar. Cool at room temperature while preparing the soup.

Preheat the oven to 400ºF and line a baking sheet with parchment paper. In a large mixing bowl, combine the chopped sunchokes, chopped onion, garlic, and thyme. Drizzle with the avocado oil and toss to coat.

Pour onto a baking sheet and bake for 20 to 25 minutes. Cool for 5 minutes at room temperature.

Transfer the roasted sunchoke mixture to a blender and pour in the chicken stock, almond milk, and sea salt. Blend until smooth and creamy.

Pour the soup into a medium saucepan and bring to a boil. When ready to serve, drizzle on the balsamic glaze and garnish with parsley.
Looking for Paleo ingredients? Here are a few we'd recommend:
Avocado oil (Bella Vado)
Coarse sea salt (AztecSeaSalt)