If you're having trouble losing weight on the keto diet, there are things you might be inadvertently doing to derail your progress. Here are the most common things people do wrong, and what to do about it.
You've heard the success stories. You bought the books. You haven't cheated, even once. However, you're still not losing weight on the keto diet. Now you're probably wondering what all the fuss is about and if this style of eating is even worth it. After all, why forgo some of your favorite foods for nothing, right?
We're encouraging you to hang in there and take a closer look at some of the extremely common things you might be doing that can stop you from losing weight on the keto diet.
Looking for low carb keto recipes to burn fat and lose weight?
Click here to get your FREE Keto Breakfast Recipes Cookbook!
What is Ketosis?
Before we dive into the reasons why your body might be refusing to lose even an inch on the keto diet, it helps to understand exactly what "keto" even is.
"Keto" is short for ketosis, which is the state your body enters when it can no longer burn glucose (carbs) for fuel, and instead has to burn fat for energy. When this fat is burned, your body produces ketones for energy in place of glucose.
This is why the keto diet is seen as so effective for fat loss: It's essentially forcing your body to switch to burning fat (both the fat you eat and your body fat) for your daily energy requirements.
---
7 Reasons You're Not Losing Weight on Keto
While studies have clearly shown that the keto diet is effective for weight loss, many people starting out have a hard time losing weight for several reasons. Luckily, many of these are simple things you may be unaware of and, once corrected, will allow you to drop weight effortlessly. (1)
Let's take a look below.
1. You Aren't In Ketosis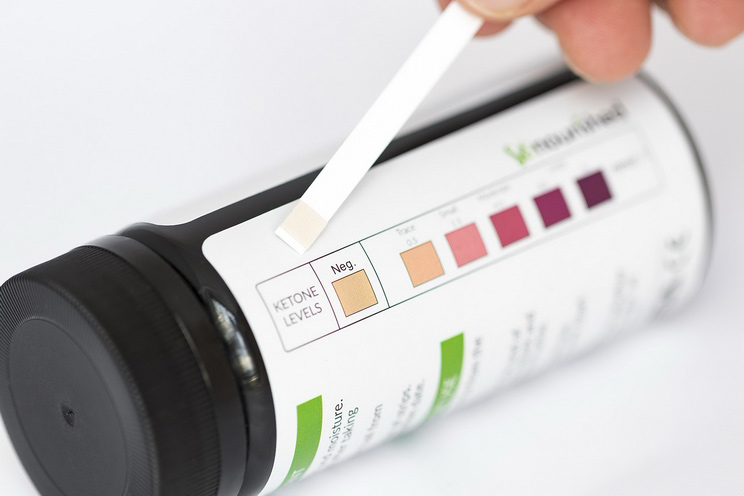 It can be easy to assume that just because you've been following a standard keto diet for a week, you're automatically in ketosis. Unfortunately, this isn't always the case, since the carbohydrate requirement and the time it takes to get into ketosis is different for everyone.
For example: One person may be able to drop into ketosis while consuming 50 grams of carbs a day, while your body may require that you only eat 25 grams of carbs if you want to reach ketosis.
This is also true of how long it takes to reach ketosis. Your body might start burning ketones after five days while it may take someone else a couple weeks.
How to Tell if You're in Ketosis
Knowing this, it's important that you test yourself to see if you're actually in ketosis if you're not losing fat. There are several ways to do this below, with some being more accurate than others.
Ketone Strips. The easiest and quickest way to see if you're in ketosis is to purchase ketone urine strips. These strips will measure the number of ketones excreted in your urine. However, while they are fast, they can also be inaccurate quite often due to the fact that they only measure unused ketones (ones you haven't burned for energy) and the fact that drinking more water can dilute the result.
Breath Meters. Ketone breath meters measure the amount of acetone in your breath, which is an indicator of ketones being burned. These are considered to be more accurate than urine strips.
Blood meters. The most accurate way to tell if you're in ketosis is to go directly to the source, your bloodstream. Simply prick your finger and measure using the at-home kit. The one drawback, however, is that these kits can be a little pricey.
2. You're Not Eating Enough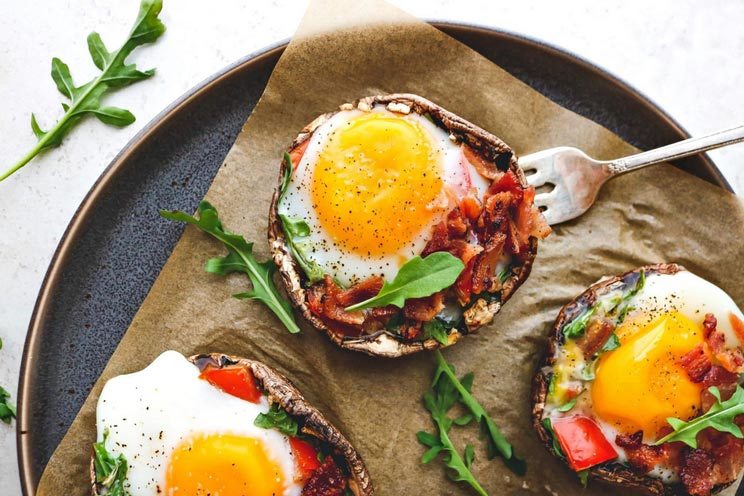 Fat and protein – the main macronutrients you're getting on the keto diet – are extremely filling. Because of this, you may unknowingly be eating too few calories. And while this may seem great for weight loss at first, over time your body will sense that food is becoming "scarce" and try to conserve your body fat. (2) Once this happens, it will resist burning any more fat, which can cause you to reach a plateau.
Solution
Make sure you're eating enough healthy fats like avocado, coconut oil, olive oil, and nuts. Calculate how many calories you're getting and if it's too low, try adding more of these foods to your meals.
3. You're Eating Too Much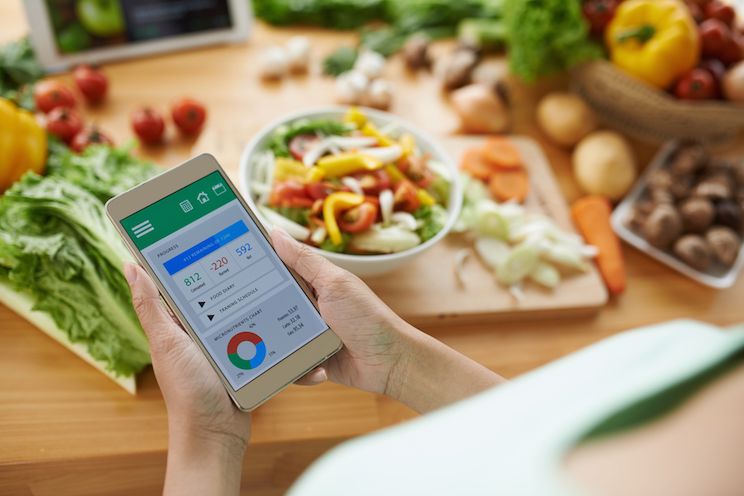 On the flip side, you may also be unknowingly eating too many calories on the keto diet. This can be easy to do, considering that fat and protein are also extremely calorie dense.
Solution
Unfortunately, no matter how low your carb intake, consuming too many calories will stop fat burning. It helps to keep in mind that not everyone can consume the same amount of calories and that your calorie needs will be less the more weight you lose.
Check to see what your daily calorie requirements are (here's a good calculator to use) and track the amount you're consuming on a day-to-day basis on the keto diet. If you're consistently going over your requirements, this is the most likely reason you aren't dropping fat.
4. You're Eating Too Much Protein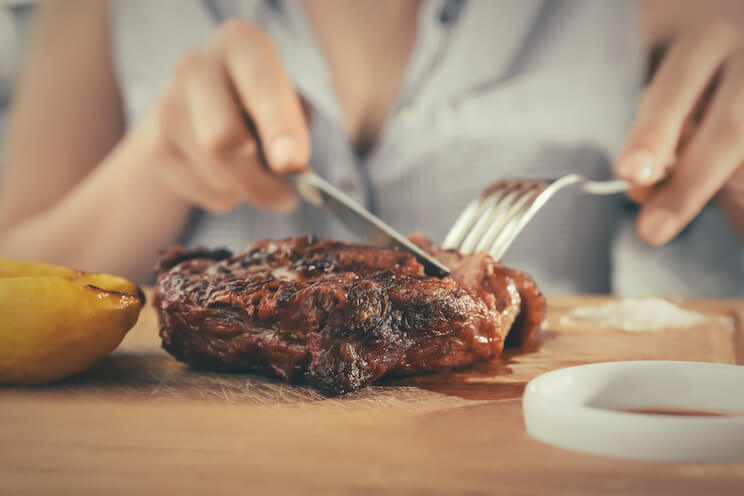 Many people assume the keto diet is a "meat-only" or high-protein diet. In reality, only a small percentage of your daily calories, about 25 percent, should be coming from protein.
The reason why eating too much protein could stop you from losing weight on the keto diet is because protein can actually keep you out of ketosis through a process called gluconeogenesis. This is when your body converts extra protein into sugar or glucose to burn for energy, instead of ketones.
Solution
Calculate your daily protein requirements and try not to go over this amount. You want just enough to maintain muscle mass, but not so much that your body starts using it as a source of sugar. Check out this calculator to see your requirements.
5. You're Eating Too Many Carbs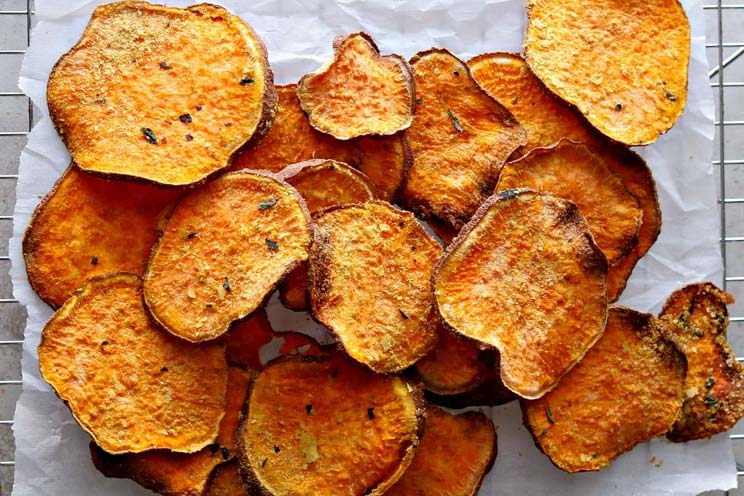 Of course, one of the main reasons people don't lose weight initially on the keto diet is because they aren't lowering their carb intake enough. This can keep your body out of ketosis and keep you burning glucose instead of fat.
Solution
Since the carb level required to reach ketosis is different for everyone, we recommend you start at 50 grams of carbohydrates a day or lower, and adjust from there. If you're at the high end and aren't experiencing weight loss, try lowering a bit more and upping your fat intake, as well as filling up on low-starch veggies like spinach and asparagus.
6. You Have A Food Intolerance Or Sensitivity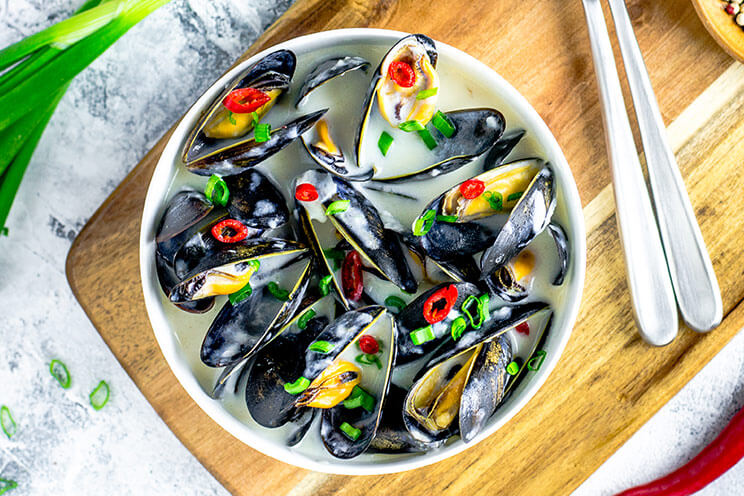 Just because you're not fully allergic to a certain food, such as nuts or even avocados, doesn't mean that your body isn't sensitive or intolerant to them. In fact, sometimes we don't even know we're suffering from a food sensitivity until we're either tested or do an elimination of certain foods.
The reason food sensitivities and intolerances can stop weight loss is because they not only create inflammation, but can also disturb the balance of good bacteria in your gut, which has been shown to impact fat loss. (3, 4)
Solution
If you suspect you may have a sensitivity to a certain food (eggs and shellfish are biggies), your best bet is to get tested and try an elimination diet of that specific food. Don't eliminate too many foods at once because then you won't know for certain which food is causing the sensitivity!
7. You're Leptin Resistant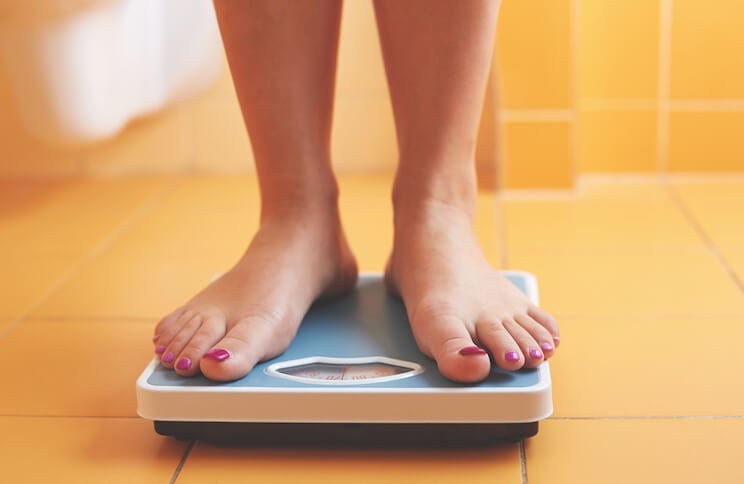 Leptin is the hormone produced by your body's fat cells that signals to you when you're full. It's also referred to as the "satiety hormone." It essentially sends a signal to your brain that tells you when to stop eating because you've had enough, and when to eat again.
People that have high levels of body fat have high leptin levels because this is where leptin is produced. On the flip side, people with low body fat have low leptin levels. When this system is working properly, leptin signals to the brain that you have enough body fat stored and you don't need to eat any more. However, this system can become disrupted by a variety of factors, such as chronic stress, lack of sleep, and overeating constantly.
When your leptin system isn't working properly, you can become leptin resistant, so that your brain doesn't necessarily receive the signal that you have eaten enough and are carrying enough body fat. When it doesn't receive the signal, it assumes your body is starving, and thus urges it to consume more and more. Until this is under control, you will continuously feel hungry and have cravings, even if you have eaten enough. (5)
Solution
While there is no magic herb or pill you can take to reverse leptin resistance instantly, you can take steps to encourage your body to start receiving leptin signals once again. Try to improve your gut health by getting more probiotic foods, such as kimchi and sauerkraut, as well as eating more coconut oil and healthy fats.
In addition, studies show that eating late at night can cause leptin changes in mice, and is also associated with weight gain in humans, so try to stop eating after 7 p.m. (6, 7)
Also, be sure to cut out all sugar if you haven't already, as this can lead to inflammation that influences leptin resistance (another reason to also check for food sensitivities). (8)
---
The Bottom Line
As you can see, there are many easy explanations for why you might not be losing weight on the keto diet, so don't quit just yet. Our advice is to start with what you think might be the simplest answer for you, and tinker with your diet from there.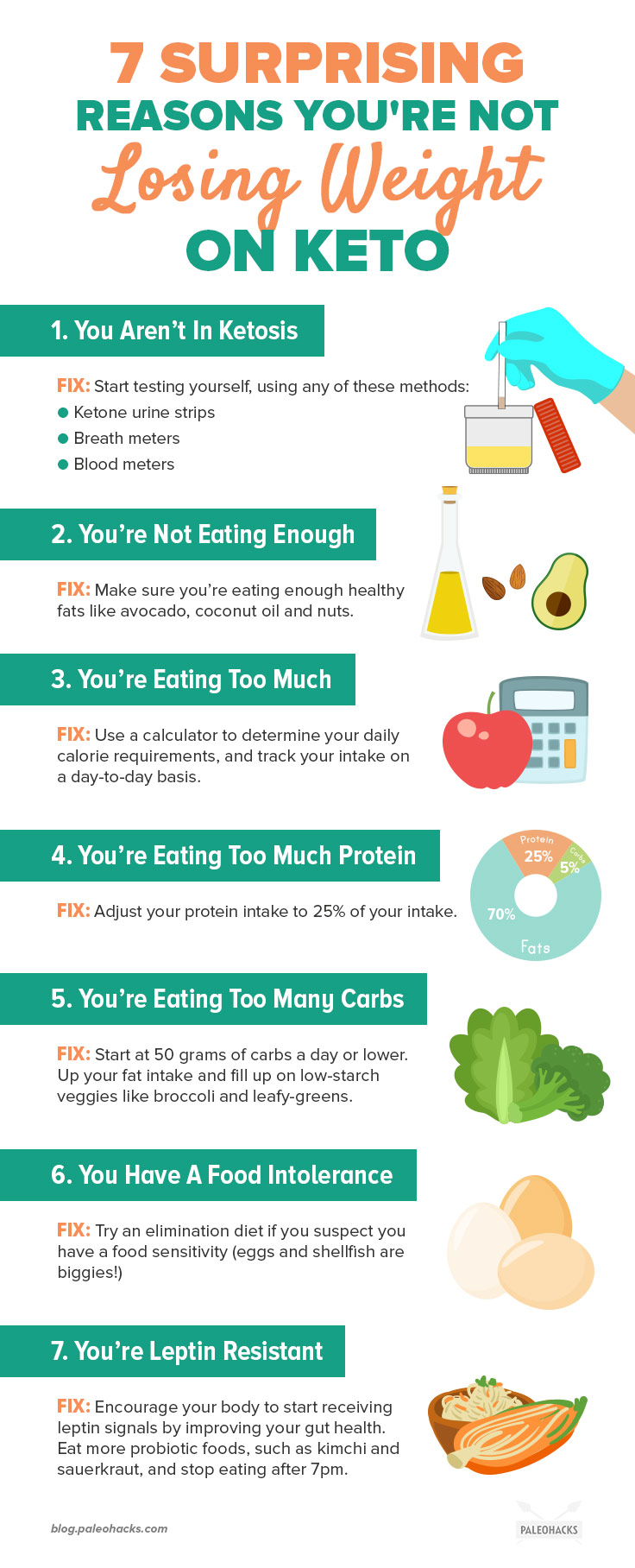 (Read This Next: 6 Signs That the Keto Diet Isn't Right for You
)