There's nothing better than biting into chocolatey Paleo brownies when you're craving something sweet. This simple recipe recreates a classic favorite and makes it completely Paleo.
The best part is, it's completely sugar-free and uses bananas as a natural sweetener. If you're worried about taste, fear not. You'll love how decadently creamy this treat is with ingredients like almond butter, coconut oil, and dark chocolate. Trust us when we say your kids will never know the difference. 
Additionally, dark chocolate has plenty of health benefits with high amounts of iron, zinc, and magnesium. Plus, you can't go wrong with good ole' potassium found in bananas. It's a great way to hide daily vitamins and minerals with a healthy heaping of yummy chocolate.
Love almond flour recipes? Get our free almond flour recipe cookbook here!
Enjoy them with a cool vanilla bean milkshake or as an afternoon snack during in-between meals. You'll never go back to eating store-bought brownies again.
Deanna Dormann
Fudgy Paleo Brownies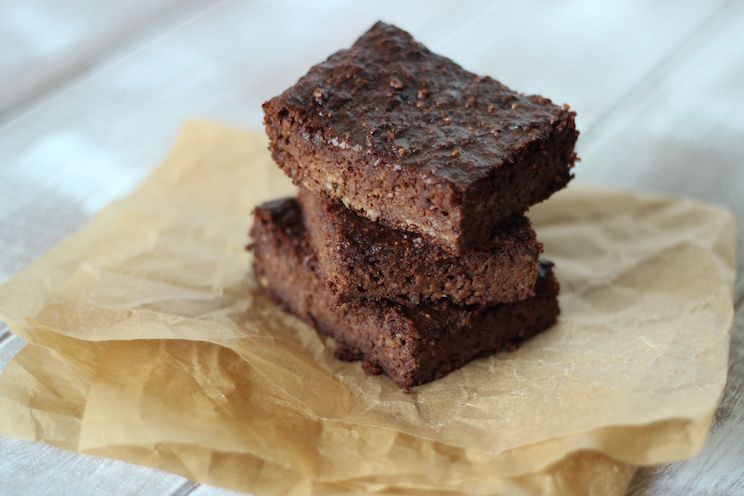 Prep Time:
10 mins
10 minutes
Fudgy Paleo Brownies
Never deal with unhealthy brownies again. This Paleo version contains a healthy serving of bananas with natural chocolate flavoring for sweetness.
Tools
Baking dish

Large mixing bowl

Small mixing bowl

Baking dish
Ingredients
3 very ripe bananas

4 T almond butter

3/4 cup almond flour

3 T raw cacao powder

1 t baking powder

2 T coconut oil

2 oz dark chocolate (dairy free)
Instructions
First, preheat the oven to 325°F and grease a 5×9 baking dish with coconut oil.

Then, in a large bowl mash the bananas and almond butter. Add the almond flour, cocoa powder, and baking powder.

Next, in a small bowl microwave the chocolate and the coconut oil in 30 second increments until the chocolate is almost melted. Stir the mixture until the chocolate is completely melted, and pour into the banana mixture, and stir to combine.

Finally, pour the batter evenly into the baking dish and bake for 50-60 minutes, or until a toothpick comes out clean.

Let cool for at least one hour before cutting.
Looking for Paleo ingredients? Here's what we recommend:
Almond Butter (Barney)
Almond Flour (Bob's Red Mill)
Raw Cacao Powder (Healthworks)
Cold Pressed Coconut Oil (Viva Naturals)

(You'll Also Love: Creamy Frozen Sunbutter Fudge)
Full of some of the most powerful superfood nutrients known to increase "feel-good" hormones, suppress appetite, lower blood pressure, feed good gut bacteria, and more!
Delicious "liquid chocolate" kills cravings, helps reduce blood
pressure, and feeds good gut bugs (creamy & smooth).
Delicious "liquid
chocolate" kills cravings,
helps reduce blood
pressure, and feeds
good gut bugs
(creamy & smooth).