Silky hot chocolate meets smoothie in this Frozen Hot Chocolate Recipe. It's filling enough for breakfast and sinful enough for dessert!
This dairy-free Frozen Hot Chocolate is packed with a handful of nutritious ingredients—that come together in a creamy delight. Made with dark chocolate, espresso powder, cocoa powder, and coconut cream, this decadent treat only takes three minutes to make in a blender.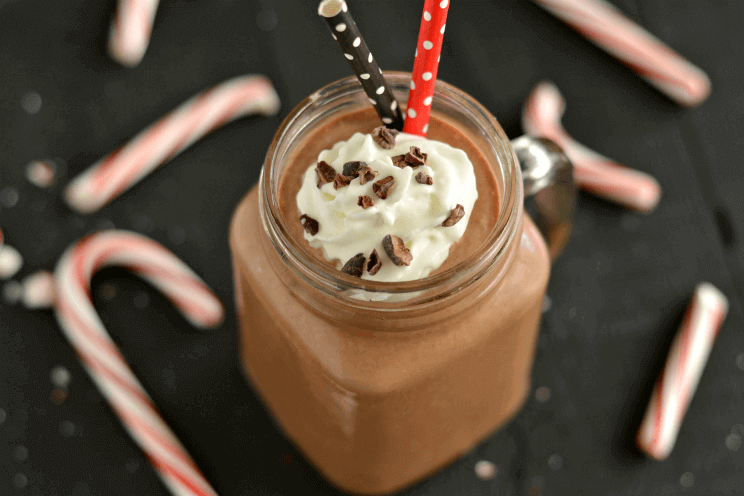 Just blend the ingredients with ice until smooth and transfer to a glass. Then you'll be sipping on some serious, naturally sweet goodness.
Love Paleo Desserts? Then you'll love our FREE Paleo Dessert Cookbook. Click here to get it!
For this recipe, the coconut cream is key to getting that ultra-thick smoothie texture. Meanwhile, the espresso powder makes the chocolate flavor really pop. If you can't find espresso powder, grind up coffee beans for a similar taste.
If you really want to take your Frozen Hot Chocolate up a notch, add a tablespoon or two of dark chocolate chips to your blender. It'll give your smoothie a deep, rich flavor.
Top your Frozen Hot Chocolate with whipped coconut cream, and sprinkle with cacao nibs or dark chocolate chips.
Megan Olson
Dairy-Free Frozen Hot Chocolate Recipe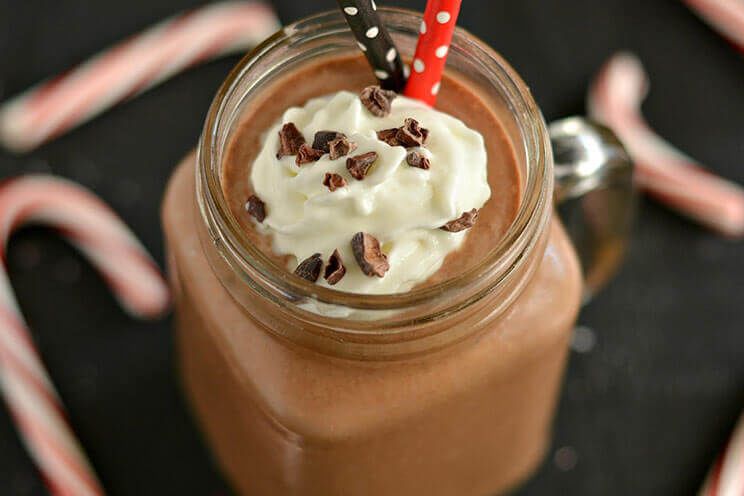 Prep Time:
3 mins
3 minutes
Dairy-Free Frozen Hot Chocolate Recipe
Silky hot chocolate meets smoothie in this Frozen Hot Chocolate recipe.
Ingredients
2 cups ice

1 15 oz can full-fat coconut cream

2 T unsweetened cocoa powder

1 t chocolate or vanilla extract

1 t coconut sugar

1 t espresso powder or ground coffee beans

Optional toppings: whipped coconut cream, cacao nibs, dark chocolate chips
Instructions
Place all ingredients in a blender. Blend on high until a smooth, thick texture forms.

Transfer frozen hot chocolate to a glass or mug. Then top with whipped coconut cream and cacao nibs if desired. Serve immediately.


(You'll Also Love: Dark Chocolate Banana Milkshake)