Curious about reiki? Here's what science says about this alternative form of healing, and why you might want to give it a try.
Similar to acupuncture, reiki is a form of holistic energy. It claims to work by harnessing the ability of one person's energy to heal another. Officially known as Usui reiki, this technique was developed in Japan near the beginning of the 20th century by Dr. Mikao Usui, and is still a form of complementary medicine that is practiced today.
Reiki is performed by certified practitioners. In order to become certified, students must first be "attuned" by a reiki master in a Japanese ceremony, where their energy channels are opened to universal energy, or Qi. There are three levels of advancement, though anyone who has completed the first level can practice healing.
Want to train your brain to be happier and healthier?
Click here to receive our FREE 7-Day Meditation Challenge!
In sessions, the reiki practitioner places their hands on you, near you, or above you to transmit energy meant to stimulate healing. Essentially, the practitioner acts as a conduit between Qi energy and the patient, clearing blockages in the chakras to stimulate healing. Even when the practitioner isn't touching you, it's common to experience a powerful sense of well-being.
---
What to Expect in Your First Reiki Session
Typically, you will meet with your practitioner before the session to discuss your particular set of health challenges, pain, mental health state, and so on. He or she will explain how reiki might be able to help, and tells you what to expect.
Reiki sessions can last anywhere from 20 to 90 minutes. Typically, you'll be asked to wear loose, comfortable cotton clothing to your appointment, as you'll likely be lying on a table or mat. You'll be covered with a blanket, and the room will be comfortably warm, often with relaxing music playing in the background, like many massage or acupuncture sessions.
The reiki practitioner will move around you during the session, sometimes lightly touching you, or having their hands just above you. After the session, you will be asked to drink water and to take care of yourself. You may need to go easy on yourself, take some time alone to journal your thoughts, keep your diet light, or get a little extra sleep. Patients often report leaving reiki sessions feeling energized, peaceful, or sleepy.
The cost of reiki sessions vary wildly depending on location, but can range between $40 and $100. These sessions are rarely covered by health insurance.
---
Science-Backed Benefits of Reiki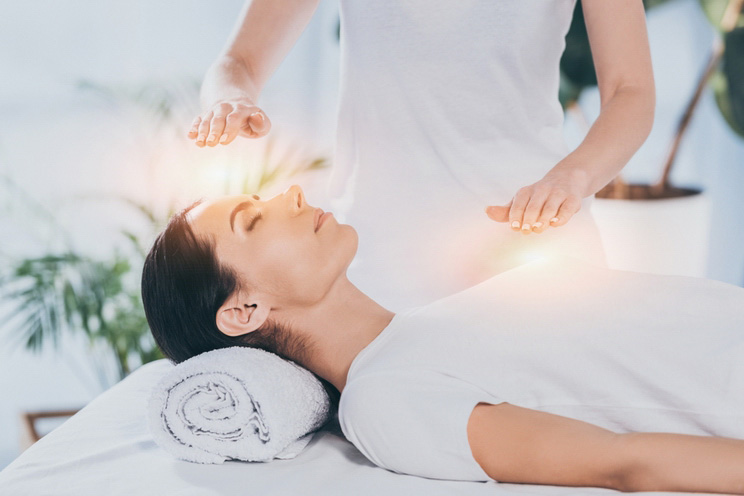 Reiki is an increasingly popular way to address chronic disorders and other health problems. While there are lots of claims about how reiki can improve your quality of life, most are largely unproven. Here are the two benefits of reiki that research shows may be true.
Addresses Depression and Boosts Mood
While depression is a complicated disorder that is often rooted in inflammation, nutrient deficiencies, trauma, and more, some research shows that alternative therapies can help. (1, 2, 3)
Research from 2010 evaluated reiki among older adults who were experiencing anxiety, depression, and/or pain. Treatment with a reiki practitioner led to improvements in mood, physical symptoms, and overall perception of well-being, as well as feeling relaxed and more motivated for self-care. (4)
In 2016, research showed reiki helped women improve their quality of life while undergoing cancer treatments. This included healthier sleep patterns, lower depression levels, and even higher self-confidence. Participants claimed to feel calm and relaxed after their reiki sessions. (5)
While more research is needed, these studies are promising for a low-risk alternative therapy like reiki.
Relieves Pain
While more in-depth research is needed, studies show that reiki can lower pain levels following surgery, cancer, or other painful episodes.
A study from 2015 found that people who received reiki alongside cancer treatments experienced significantly lower levels of pain, anxiety, and fatigue. This effect was seen after only five days of working with a reiki practitioner. (6)
Reiki might also be able to help with back pain. A study from 2018 did a side-by-side comparison of reiki versus physiotherapy for alleviating pain in those with herniated discs. Both treatments were equally effective, but reiki had the advantage: It was less expensive and was able to resolve pain faster in some cases. (7)
More research from 2015 also shows that reiki can improve pain levels following Cesarean deliveries. It can reduce the number of painkillers needed, as well as lower anxiety levels and the breathing rate a day or two after delivery. (8)
---
Should You Do Reiki?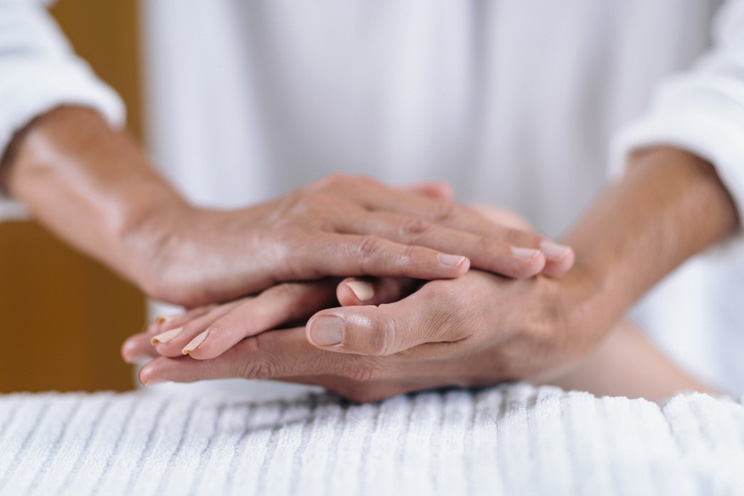 Reiki has many potential benefits for improving quality of life, and alleviating pain and symptoms of mental health, like anxiety and depression. While more research is needed to further prove this, reiki comes with no documented side effects.
Note: Never replace medical care with reiki. It is not proven as a replacement for this, but rather as a complementary way to ease symptoms alongside traditional medical care.
---
The Bottom Line
Reiki is a hands-on Japanese energy healing technique that can be effective for reducing pain and depression. It can help people feel more calm and connected.
While research hasn't fully identified why reiki seems to be effective, it shows promise when used alongside other complementary practices.
Interested in learning more about alternative medicine? Here's how acupuncture can help lessen pain and improve sleep quality, and why cupping therapy is finding healing traction even outside of the Olympics.