Do you ever feel crushed under the pangs of chronic pain? Here's how meditation can help.
If you have a hard time finding lasting relief from chronic pain, you're not alone. Alarmingly, 100 million adults in the US suffer from chronic pain. (1) Worldwide, over 1.5 billion people suffer from pain that lasts for weeks, months, and even years. (2)
First, let's clarify the difference between acute pain and chronic pain. Acute pain is our body's natural response to an injury. When we take a nasty fall, the strains, tears, breaks, and infections can cause immediate and intense pain that typically subsides once the injury heals.
Suffering from a sore neck, back and shoulders? Get our mobility guide to ease pain and soreness.
Get The FREE Mobility Guide To Fix Your Pain Today!
Chronic pain, however, lasts much longer. It's often felt at the location of a previous injury (but not always). It can last for weeks, months, or even years after the injury heals.
Getting pain management may not be as simple going to the doctor, either. According to Dr. John D. Loeger, a neurological surgeon and pain expert, chronic pain is a complex phenomenon that involves biological, psychological and sociological or environmental factors dynamically interacting with each other. (3) This makes diagnosing difficult and may explain why many treatments often leave us needing more.
Typical western doctors are not trained to give advice on patients' lifestyles, relationships, social lives, careers, environment or mental states. Most doctors are trained to prescribe narcotic drugs, therapies, and surgery to address physical symptoms. These treatments are beneficial in certain circumstances but, as we now know, there are many other factors to consider. Simply prescribing pain medication ignores the psychological, emotional, and social aspects of pain, and long-term dependency on pain meds – especially opiates – can wreak further havoc on a person's mental and physical health. (4)
The good news is that there are healthy ways you can minimize chronic pain that may prevent the need for surgery or harsh narcotics. Exercise, relaxation, and distraction techniques all help, but meditation can significantly improve the perception of pain in adults. (5)
Research shows that meditation impacts our chronic pain in multiple ways:
It's quick and powerful. A study by Wake Forest University showed that participants who practiced mindfulness meditation for three 20-minute sessions, spread over three days, had significantly reduced pain compared to other cognitive techniques that were used. (6)
It's relief that lasts. In this same study, researchers discovered that patients' who meditated had a reduction in their perception of pain even after the sessions concluded. That means pain can continue to decrease long after meditation is over.
It's more effective than distracting or relaxing alone. When compared with activities that distract our minds (like solving a math problem), or relaxing (like lying down on a sofa or listening to music), meditation rules the roost. A few minutes of sitting in meditation far outweighs the benefits of other cognitive pain relief techniques by a whopping 40%! (7)
So, although meditation may not be a cure-all for chronic pain, it does provide meaningful relief that lasts.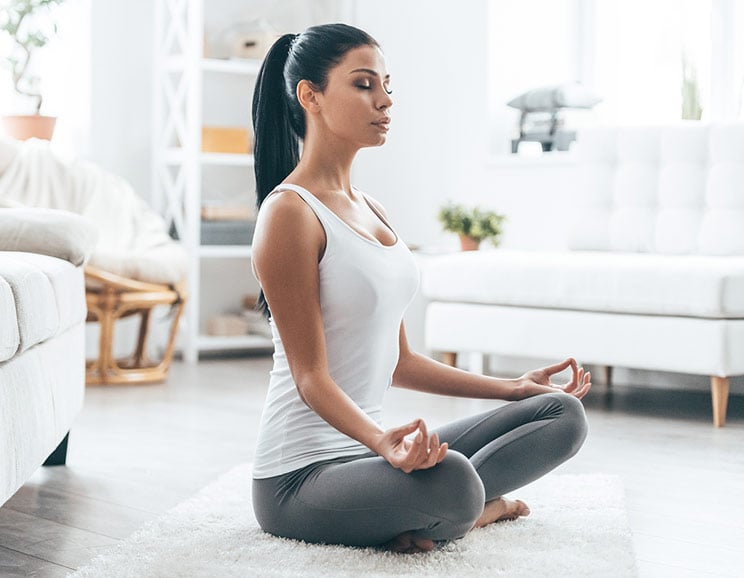 But how does it work, exactly? Quite simply – meditation is a powerful stress and tension reliever. It helps the body relax, heal and release stored emotions, which may have a lot to do with chronic pain. Meditation helps us two-fold:
It kicks long-held stress and tension to the curb. Meditation activates your body's internal healing and relaxation mechanisms while allowing stored thoughts, emotions, and physical sensations to be released. When we sit to rest in meditation, our minds become busy with thoughts. That's our body's way of releasing old emotions and tension. This is why it's so important to allow the thinking process to occur and welcome your experience without judging or straining against it. When we take this welcoming approach in our meditation, the immune system, blood pressure, parasympathetic nervous system, and circulation are improved. Meanwhile, our muscles and fascia loosen to allow proper circulation.
It rewires our brain to release pain. Meditating helps us create and reinforce positive neural connections in four areas of the brain used in pain processing: our primary somatosensory cortex, anterior insula, anterior cingulate cortex and our prefrontal cortex. (8) This drops our perceived pain intensity faster than you can say, "Let it all go."
When we sit in an act of meditation, we feel happier, in less pain and in more control of our mind-body system. The best news is, it's completely free, anyone can do it (including you) and it's 100 percent natural with virtually none of the adverse effects of surgery and narcotics.
---
How to Practice Meditation for Natural Pain Relief
An easy way to start is by spending five to ten minutes resting on a chair with your spine erect, feet on the floor and palms resting on your lap. Set a timer for how long you'd like to meditate. With eyes open or closed, welcome everything in your experience. Thoughts, emotions, sounds, sensations and, instincts – all is OK. Your job is to simply notice what is, without trying to control any of it.
Your breath is an easy place to begin. Notice your inhale and exhales, as well as the spaces between each. Allow your breath to soothe you as you notice the physical sensations of your breathing. Become curious about the rhythm, depth, and essence of your breath. After a few minutes, you may want to close your eyes and notice the sense of relief you feel. Continue with this gentle awareness for the next few minutes.
It's as simple as that! Pick up this daily practice and your body and brain will surely thank you.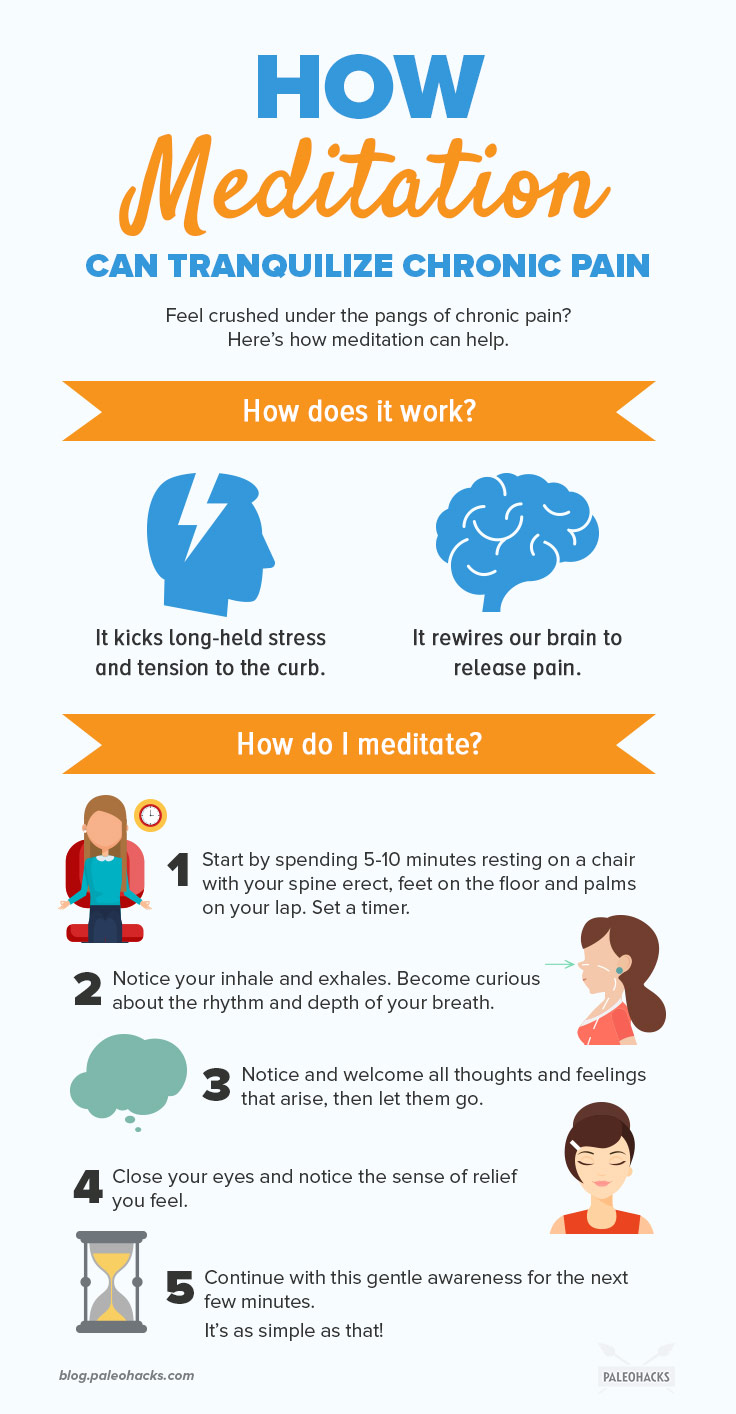 (Read This Next: How to Meditate in 5 Simple Steps)