No, we promise we aren't turning nuts into soap over here. Use soap nuts to wash your clothes, your dishes, or even your fruits and veggies!
Soap nuts are all-natural berries that you can use as soap. In fact, they can replace most of the soap in your house and even act as an all-natural laundry detergent.
Integrating these ingredients into your routine is probably the easiest, most natural DIY you'll ever do. Read on to see exactly what soap nuts are and how they work.
Want naturally radiant skin? We've created a FREE guide to give you the best tips & tricks for natural skincare.
Click here to get your FREE copy of our Skincare Guide!
What Exactly are Soap Nuts?
Soap nuts actually aren't a "nut" at all, but a berry hailing from a tree native to the Himalayan regions of India and Nepal. Also referred to as a "soapberry", they are well known for acting as nature's perfect soap due to the saponin content in their shells.
These saponins act like a natural surfactant and detergent, helping to remove debris, dirt, and odors from surfaces. (1)
Why Use Soap Nuts?
If you have allergies or simply want to avoid the chemicals in typical laundry detergents or soaps, you're going to love using soap nuts.
Commercial detergents and soaps are loaded with chemicals that can irritate skin conditions and allergies, or even cause serious side effects. Bleach is often added to laundry detergent, which can worsen respiratory issues. The chemical 1,4 Dioxane can cause liver and kidney issues and is possibly carcinogenic. Finally, Sodium Lauryl Sulfate (SLS), can irritate the skin and eyes, are toxic to organs and can even disrupt the endocrine system. (2, 3, 4) This is to name just a few.
---
Benefits of Soap Nuts
When you switch to soap nuts, you avoid all those chemicals that worsen your health. Here are a few more reasons why you may want to use this soap alternative instead.
They are completely natural. All-natural soap nuts contain none of the chemicals present in commercial laundry detergents.
They're allergy friendly. There are no allergy-causing chemicals or fragrances in soap nuts. Plus, they aren't actually a nut, so those with nut allergies are also safe!
They are antibacterial and antifungal. The saponins in soap nuts can help ward off pathogens like black mold, and common kitchen fungi that can get into citrus peels. (5)
They are affordable and leave no residues. You can use soap nuts multiple times in DIY recipes, making them cost-effective. Since they don't create suds like normal soap, there's no residue left on surfaces or in your washing machine.
---
How to Use Soap Nuts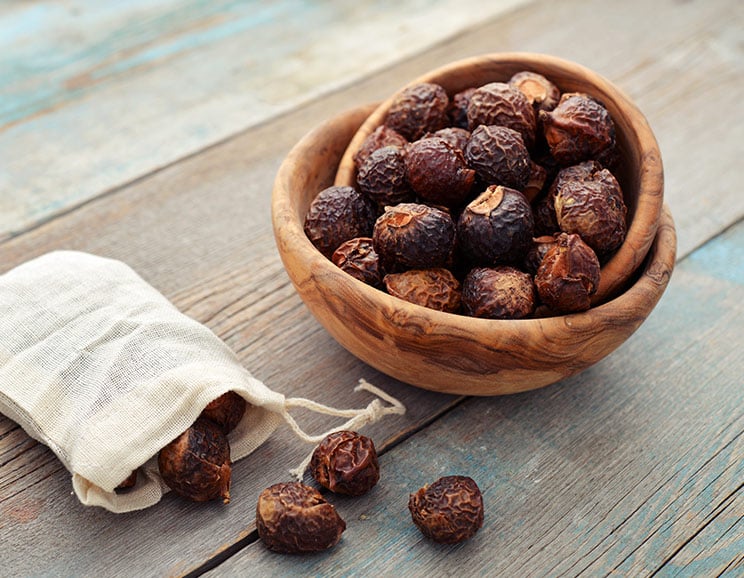 Soap nuts are like the coconut oil of natural cleaning: they can pretty much be used for anything. You can use them to create homemade laundry detergent, to disinfect the toilet bowl, or even to clean off fruits and veggies before eating them. We show you how to start using them below.
As a Laundry Detergent
Using soap nuts in place of laundry detergent is one of its most popular uses, and it's super easy. You have two options for your laundry.
1. Add Soap Nuts Directly to a Load
Often, soap nuts are sold with muslin bags that have ties on top. Add four to six of the nuts to this bag and place in the washer with your laundry. Wash as usual, then remove the bag and set it aside to dry. That's it! You can re-use them a few times until the outer shell begins to grey.
2. Create a Liquid Concentrate
You can make your own liquid detergent by adding 20 soap nuts to a pot filled with 2 cups of water. Bring to a boil, then simmer for one hour. The liquid will be brownish in color. Store the liquid and add two tablespoons per load.
Optional: Instead of using store-bought, chemical-filled dryer sheets, try making your own!
As a Dish Cleaner
Use them for doing your dishes. Simply use the liquid concentrate you made above as liquid laundry detergent and add to a squirt bottle for dish cleaning. About one tablespoon should be enough for a sink of dishes.
As a Household Cleaner
Clean your countertops, sinks, and toilet bowls using the liquid soap detergent above. Add it to a spray bottle, then spray the area you're cleaning. Let it sit for a few minutes, then wipe away with a clean rag or paper towel.
Wash Fruits and Veggies
To wash your produce, add one tablespoon of soap nut concentrate to a bowl of water. Dunk fruit and veggies in it, scrubbing off any dirt or residue, then rinse thoroughly.
As a Shampoo
Yes, soap nuts can be used on your body and are great from removing residue from your hair. Simply massage a small amount of your soap nut concentrate into your scalp and hair and let it sit for five minutes before rinsing.
---
Where to Buy Soap Nuts
You can buy them at some health food stores, or order online through herb shops or sites like Amazon. Make sure to order a batch that comes with muslin bags so you can use them directly in the laundry.
Get more healthy home tips and tricks with these 6 Natural DIY Laundry Products Every Home Needs.