Stomach problems aren't just for humans. Here's how to tell if your fur baby has a leaky gut – and things you can do to start curing it.
Does your dog suffer from multiple food allergies, fatigue, skin conditions, or other symptoms that seemingly have no root cause? If you answered yes, you might want to consider the possibility that your pooch is suffering from leaky gut.
"Leaky gut" is a term used to describe a condition that could possibly be the root cause of a wide range of symptoms and diseases in humans and animals. Read on to discover what it is, signs your pup has it, and how to heal and prevent it.
Do you struggle with bloating, gas, constipation, or other digestive issues? We've created a FREE guide to healing your gut naturally.
Click here to get your FREE copy of our Digestion Guide!
What is Leaky Gut?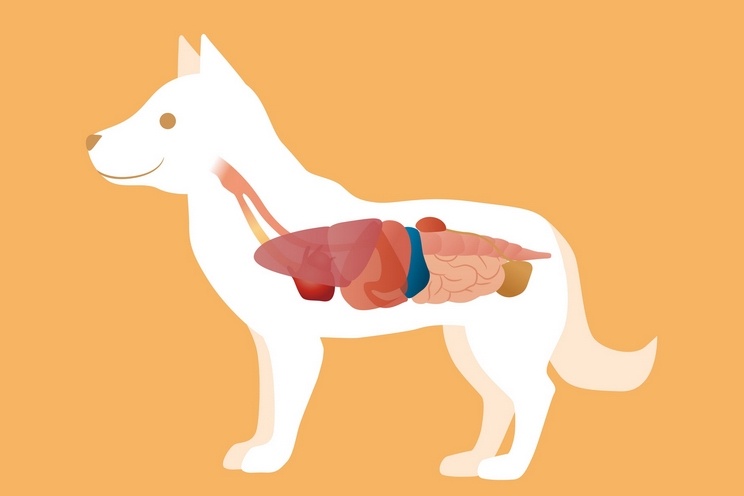 Your pup's intestines are lined with an "intestinal mucosa," that helps nutrients pass into the bloodstream while keeping pathogens and other nasties out (1). Think of it as a cheesecloth or water filter that separates their blood from the food and bacteria in their intestines.
Leaky gut is when this lining becomes damaged, letting bacteria and toxins "leak" into the bloodstream. Your dog's immune system begins to react to these substances, treating them as foreign invaders.
Over time, this results in chronic inflammation and other symptoms as their livers work overtime to filter additional toxins. The sudden appearance of food allergies is also common as their bodies begin to see food as the enemy.
Eventually, your dog will end up in a near constant state of distress due to multiple allergies and inflammation, which is why it's so important to catch leaky gut as soon as possible.
---
Signs Your Dog May Have Leaky Gut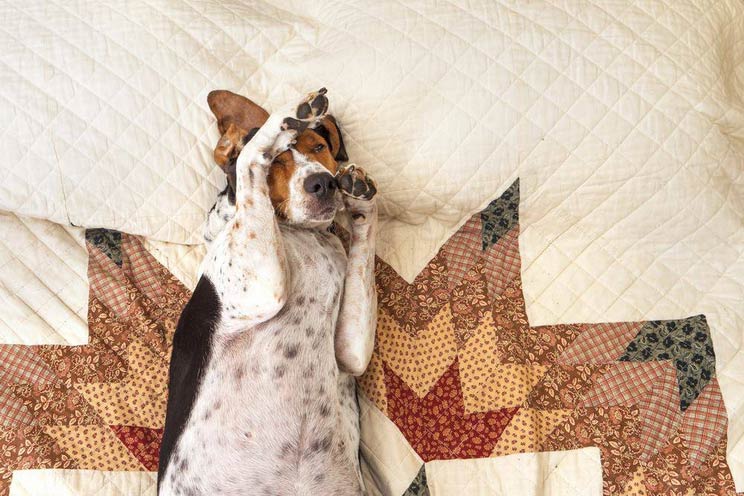 The main reason leaky gut goes undiagnosed in both humans and dogs is because its symptoms can easily be attributed to many other diseases.
Veterinarians might only treat the symptoms of leaky gut, like allergies and recurring ear infections, while the root problem continues to go unhealed. This is why it's important to assess all of your pet's symptoms and see if any are occurring together. If you're consistently seeing more than one symptom, it might be time to consider leaky gut as a root cause.
Here are some common symptoms of leaky gut in dogs:
Allergies
Skin issues (hotspots, dandruff, dermatitis)
Behavioral problems (i.e. aggression, excessive whining, separation anxiety)
Nutritional deficiencies
Joint problems
Thyroid problems
Immune system disorders (IBS, chronic fatigue)
Digestive issues (bloating, gas, diarrhea, vomiting)
Respiratory problems (asthma, etc.)
---
What Causes Leaky Gut?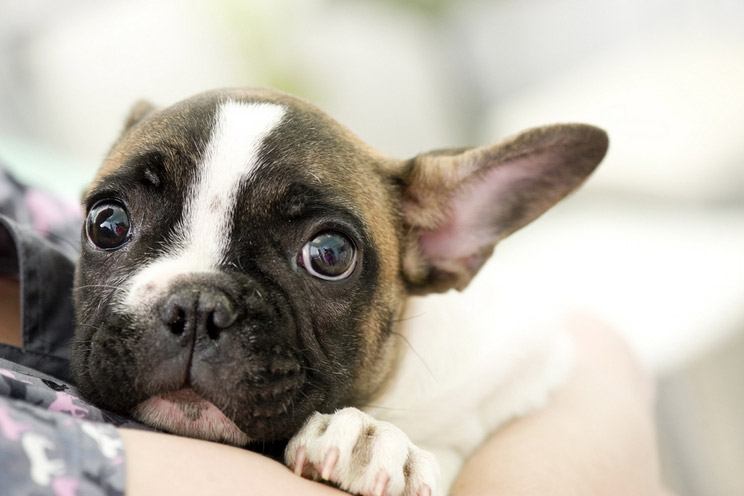 Leaky gut can be caused by several factors, but the top offenders are often a poor diet, overuse of a medication, or stress.
Poor Diet
Like humans, dogs don't respond well to processed, genetically modified foods like wheat, corn, and soy.
The dogs we love today evolved from wolves, whose natural diet was one of mostly raw meat and organs supplemented with the occasional berry, greens, or bark. Because of this, a high-grain diet is seen by their bodies as unnatural and lacking in essential nutrients, which can set your dog up for a host of problems, including leaky gut (2).
Unfortunately, most commercial dog food brands contain nothing but processed grains and antibiotic-ridden animal parts. Hardly the type of food your dog is built to consume!
Medications
You may be aware that over-using medications, like antibiotics, can destroy your good gut bacteria and throw your digestion for a loop.
The same scenario happens with dogs. Any time you overuse a medication, be it an anti-inflammatory, steroid, or antibiotic, you introduce toxins into your dog that can have a harmful effect on their gut lining (3).
Stress
Stress is another huge factor in your dog's gut health. Too much stress from boredom, being left at home alone too often, or not getting enough exercise or attention can raise your dog's stress levels and affect their digestive system.
One study showed that stress was linked to increased gut permeability (aka, leaky gut) and that the brain and gut microbes are more tightly linked than previously thought (4). This means that brain disorders and stress can influence your dog's gut health, and vice versa.
---
4 Ways to Prevent Leaky Gut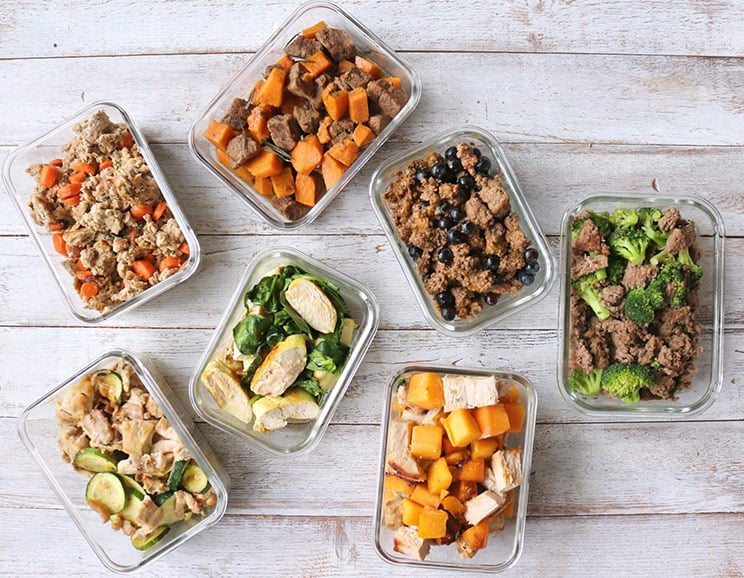 Even if your dog doesn't have leaky gut, it's important to take preventative measures. Make sure your dog is eating right, getting plenty of exercise, and staying away from toxic medications and products that might result in inflammation.
Feed Your Dog a Species-Specific Diet
Species-specific means feeding your dog the foods their ancestors evolved with to ensure they are getting all of the nutrients their species requires. If you still want to buy dog food, make sure to get a grain-free brand that only lists meat and veggies as the ingredients.
Include:
Grass-fed meats
Organic hard-boiled eggs, peeled
Greens and veggies like carrots, squash, spinach and sweet potato
Pure bone broth (no spices, garlic or onion)
Animal bones as a treat (nothing small enough to choke on)
Organ meats (a couple times per week)
* Another option (and a great use for all your discarded eggshells) to give your dog extra calcium and minerals is to make an eggshell "meal" and add it to their food. See instructions below:
Eggshell Powder
Rinse eggshells thoroughly, then soak in cold water for 30 minutes.
Bake eggshells in the oven at 200ºF for 10 minutes to dry them.
Remove and grind into a fine powder in a coffee grinder.
Use ½ teaspoon per pound of food you give your pup.
Avoid:
Processed grains and any food with corn, soy, or wheat.
Processed oils like canola, safflower, cottonseed, and soy.
Foods with dyes and other chemicals you don't recognize.
For more ideas on what to feed your dog, here's a list of 20 Paleo-friendly foods that dogs can safely eat.
Stop Using Chemical Products
Keep your dog far away from toxic chemicals like rodenticides, insecticides, or harmful household cleaners (try making your own DIY cleaning products instead!). You'll also need to avoid using chemical flea and tick shampoos and other similar products.
This is because some of the common chemicals used in dog shampoos, like precursors of formaldehyde, parabens, and cocamide-diethanolamine, have been shown to disrupt normal hormone function, cause skin irritation, and even cause cancer in some cases (5, 6, 7).
Try looking for natural flea and tick shampoos that contain ingredients like coconut oil, apple cider vinegar, and essential oils to help repel fleas and ticks.
Minimize Stress
To help minimize anxiety, take your dog for a walk every day. Try taking hikes with them or walks on the beach on the weekends to give them extra exercise. You can also find ways to make your pups more comfortable when you are not home, such as giving them a special chew toys or treats that they only get when you're away, keep the curtains drawn, and leave the television or a fan on for white noise. You might even consider hiring a dog walker a few times a week if you work long hours.
Avoid Over-Medicating
Try to avoid unnecessary vaccinations or antibiotics whenever possible. Instead, read up on how to use coconut oil and apple cider vinegar on dogs to fight infections, relieve irritation, and help with weight loss issues and digestion problems. If you can, seek out a holistic veterinarian that specializes in natural treatments.
---
5 Ways to Start Healing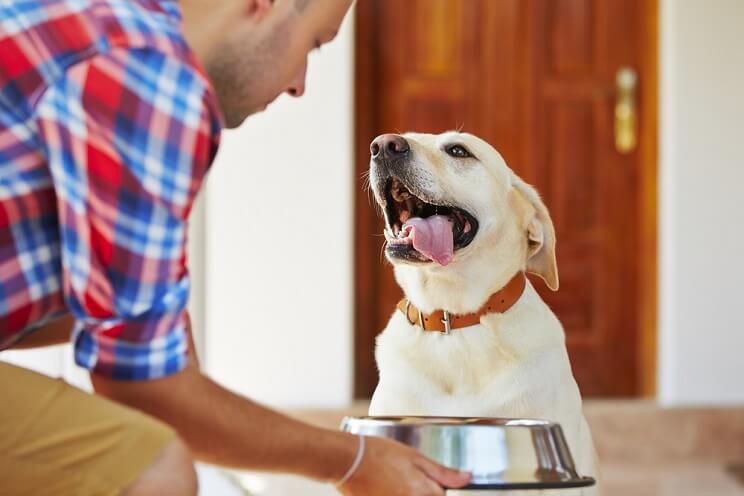 The recommendations for healing a dog's leaky gut is similar to the process for preventing it. With a few healthy food swaps, cutting back on stress and a few extra detox supplements, you can reboot your pup's health in no time.
1. Feed Them Nourishing, Nutrient-Rich Foods
Slowly introduce raw and other nutrient-rich foods from the list above into your dog's diet as soon as possible. If your dog has been eating dry commercial food for years, do this step extra slowly in order to minimize digestive distress.
Once you do change your dog's diet, avoid giving them any type of processed treats or "human" starch foods, like sweets. Instead, add a little coconut oil to their diet in order to help keep bad bacteria at bay.
2. Detox
If your dog has been eating commercial dog food and taking various medications for a while, you might want to consider helping them detox. Herbs like dandelion and milk thistle can help cleanse their liver, and a visit to a naturopathic vet can help you customize an herbal detox plan.
Note: Always consult with your veterinarian before putting your dog through a detox, as doing it the right way can help prevent serious side effects.
3. Supplement with Prebiotics and Probiotics
Replenish good gut bacteria and repair gut lining with probiotics and prebiotics. You can purchase probiotics just for dogs while feeding them prebiotics like beet powder, sauerkraut, and chicory root to feed their good bacteria.
4. Rebuild the Gut Lining
When treating leaky gut, it's key to rebuild a stronger, impermeable gut lining. Certain supplements and herbs like l-glutamine, enzymes, and collagen powder can help repair the gut lining (8, 9). Contact a natural veterinarian for specific dosages and treatment options.
5. Lower Stress Levels
In order to heal your dog's gut, you're going to have to reduce their stress levels. This could mean hiring a dog sitter if you're away from home often or simply by giving them more attention every day to keep them from getting anxious and bored. Perhaps you could take them on longer walks, or even visit a dog park or a new route in your neighborhood.
Also, make sure they have plenty of time outdoors in the grass and sunshine.
---
The Bottom Line
By treating leaky gut naturally, you'll help your pooch live a better life free of the stress of allergies and inflammation, while also improving their mood and possibly even their behavior.

(Read This Next: 7 Homemade + Paleo Dog Food Recipes)