Kick off your day with this No-Stress 'Shroom Iced Mocha packed with natural antioxidants and adaptogen properties!
No matter how you take your coffee, if you haven't tried adding mushrooms to your brew – you've been seriously missing out! While we love coffee as much as anyone, you can't deny that it can leave you with annoying jitters and crashes at the worst times (like right before a meeting – yikes!).
So when Four Sigmatic claimed their instant mushroom coffee gives you energy without the jitters, we definitely had to try it. PS: This iced mocha isn't your average cup of joe. The exotic chaga and lion's mane mushrooms in the coffee mix are filled with stress-reducing properties from the mushroom's natural adaptogens. Lion's mane in particular helps support cognitive function, while wild chaga mushrooms give your immune system a little boost.
This coffee cookbook is filled with healthy recipes and reveals the natural benefits of your morning brew.
Click here to get your FREE Coffee Book Today!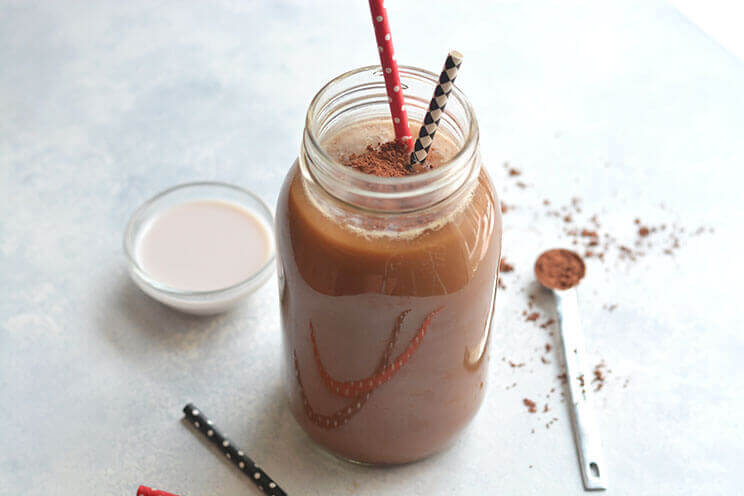 Luckily, it's super easy to make: simply mix a ready-to-go packet with hot water and you're set. The taste is smooth and mild (without the bitterness of most coffees) and the effect is a calm "awakeness". We felt none of the sudden drop in energy or tummy troubles from the acid that you normally get with coffee.
If you haven't tried 'shroomed coffee before, we made an easy and tasty iced mocha to get you started. Along with the awakening 'shrooms, you'll be adding coconut oil for healthy fats, almond milk as a cream and raw cacao powder for chocolatey sweetness. In all, you just need four ingredients for this quick coffee elixir.
To start, simply steep the mushroom coffee mix in hot water for 1-2 minutes, then stir in the remaining ingredients for a chocolatey ombre effect. It's like drinking dessert!
Enjoy your iced coffee in the morning to kick-start your day, as a gentle afternoon pick-me-up, or sip it as a pre-workout drink.
Megan Olson
No-Stress Shroom Iced Mocha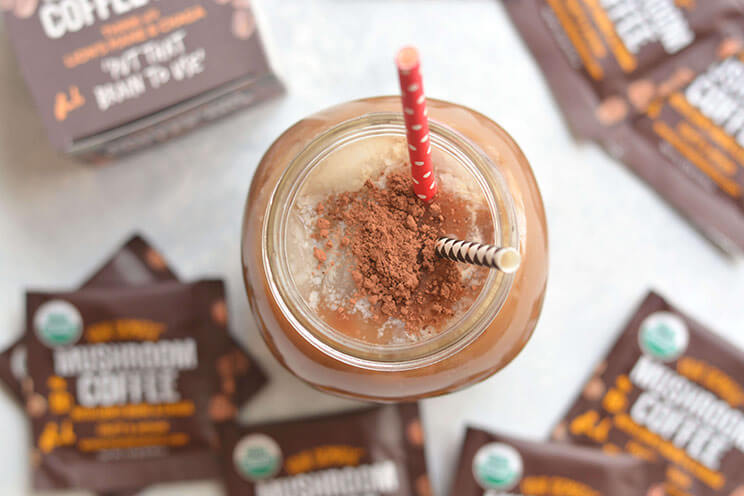 Prep Time:
5 mins
5 minutes
No-Stress Shroom Iced Mocha
Kick off your day with this No-Stress 'Shroom Iced Coffee packed with natural antioxidants and adaptogen properties.
Ingredients
1 packet of Mushroom Coffee with Lion's Mane and Chaga (Four Sigmatic)

8 oz hot water

1 t coconut oil

½ T raw cacao powder

½ cup unsweetened almond milk

Handful ice cubes
Instructions
Add Four Sigmatic packet to hot water. Stir to dissolve powder and let cool for 2 minutes.

Stir in the coconut oil and cacao powder until dissolved.

Pour the unsweetened almond milk over the coffee, add ice and drink up!
Looking for Paleo ingredients? Here are a few we'd recommend:
Mushroom coffee with lion's mane and chaga (Four Sigmatic)
Cold pressed coconut oil (Viva Naturals)
Raw cacao powder (Healthworks)

(You'll Also Love: Thai Iced Coffee with Creamy Coconut Milk)