This easy holiday breakfast frittata is packed with protein and tons of healthy veggies, making for a special breakfast!
One thing I love about breakfast frittatas is that you can easily feed a crowd without a huge amount of effort. Just whisk together some eggs and toss in a few veggies, bake, and you've got a tasty dish that's sure to make all your guests happy.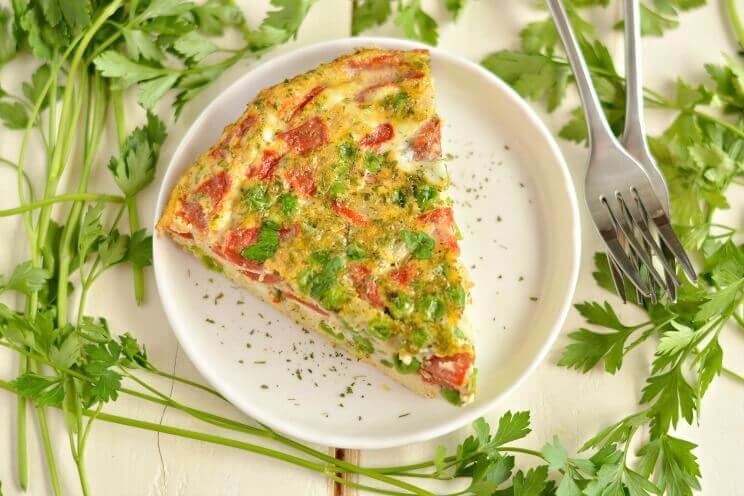 This protein-packed egg bake is "egg-stra" special thanks to its holiday flare! Green peas, red peppers and sun-dried tomatoes make it a colorful, festive meal, while whole food ingredients bring loads of nutrition.
Love Paleo breakfast recipes? Get our free breakfast recipe cookbook here!
I recommend serving it with fresh parsley for added freshness. A slice or two of avocado wouldn't hurt either. You can also tweak the recipe to your taste buds. Bacon, sausage, and other hearty veggies would be excellent in this dish. This breakfast frittata also makes a great dinner and pairs well with a simple green salad.
Megan Olson
Holiday Breakfast Frittata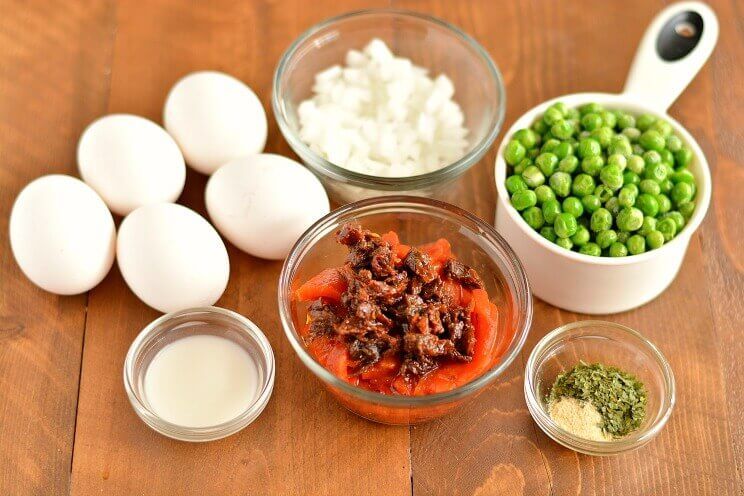 Cook Time:
25 mins
25 minutes
Prep Time:
10 mins
10 minutes
Holiday Breakfast Frittata
This easy Holiday Frittata is packed with protein and tons of healthy veggies, making for a special breakfast!
Ingredients
5 large eggs

5 large egg whites

1 T extra virgin olive oil

4 T unsweetened almond milk

¼ cup white onions, finely chopped

¼ cup sun-dried tomatoes, oil drained and finely chopped

½ cup roasted red peppers, water drained and finely chopped

1 cup peas

½ t garlic powder

Salt and pepper, to taste

Fresh parsley and sliced avocado for topping (optional)
Instructions
Preheat oven to 325°F. Coat a round baking dish with coconut oil.

Heat a medium-sized skillet to medium heat. Add extra virgin olive oil and onion. Sauté 3-4 minutes until onion is translucent.

Stir in sun-dried tomatoes and red peppers. Cook 3-4 minutes then turn off the heat and set aside.

In a small bowl, whisk together the eggs, egg whites and almonds milk with parsley, garlic pepper, salt and pepper.

Add pepper, tomato, onion mixture, and peas.

Transfer batter to the prepared baking dish. Use a spatula to spread out the batter to ensure peas, peppers and tomatoes are distributed evenly.

Bake for 25 minutes, or until edges are golden brown and the center is set.

Remove from the oven and cool 10 minutes before slicing into 6 portions and serving.

Top with fresh parsley and avocado as desired and devour!


(You'll Also Love: Bubbly Hot Bacon Spinach Frittata)